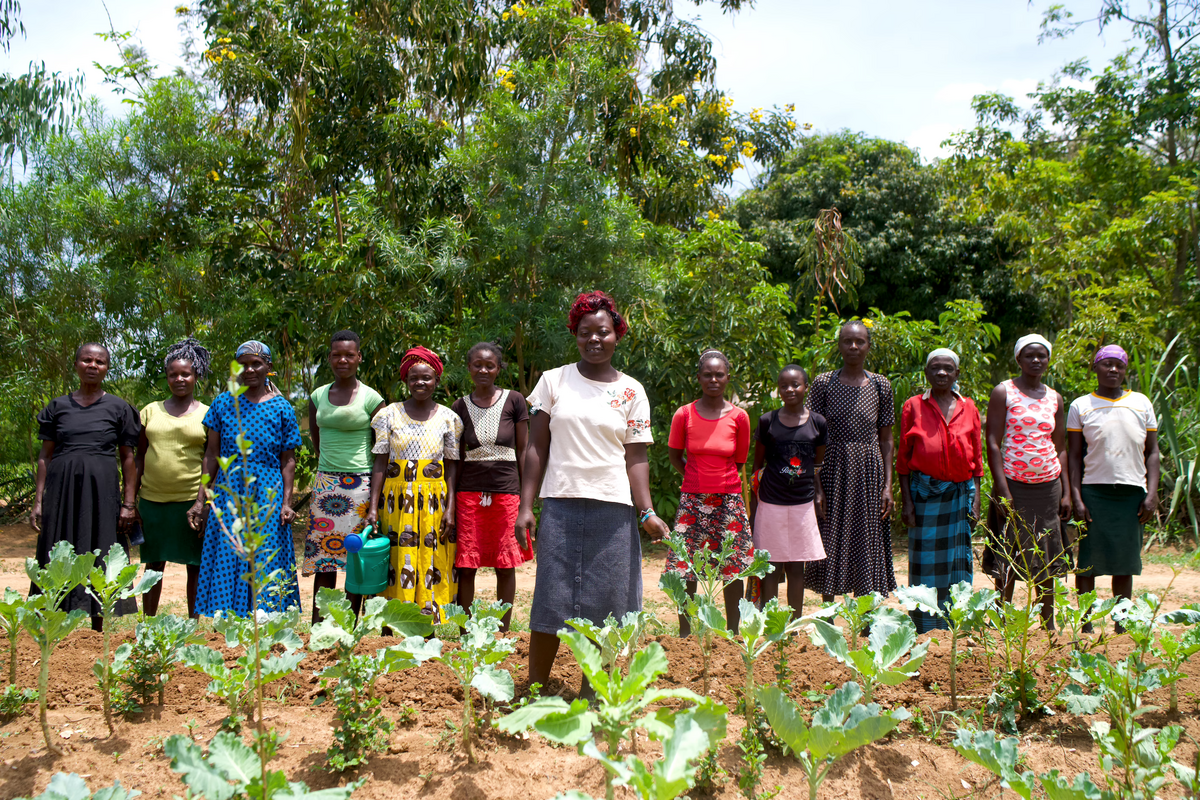 5 Reasons Why the Climate Crisis Affects African Women More Than African Men
The U.N. estimates that 80% of people displaced by the climate crisis are women, and even among populations that are not displaced, women often fill societal roles that make them more susceptible to climate shocks.
The climate crisis and gender inequality are inextricably intertwined. With all corners of the globe feeling the effects of global warming, the impact is disproportionately being felt by women, particularly women in sub-Saharan Africa. Here are 5 reasons why women bear the brunt of climate change:
The majority of women work in agriculture
Agriculture is the engine of growth and rural development in Africa. More than 60% of women in sub-Saharan Africa work in agriculture, producing 70% of the continent's food. Being so dependent on farming means women are more financially vulnerable when climate shocks affect food production.
Women provide food for families
Even though most women do farming work, they are also expected to prepare and cook every meal. As crops fail as a result of climate change, the difficulties women face in fulfilling their societal roles exacerbate. Ann, one of the farmers Ripple Effect works with from Kakdhimu West Village in southwestern Kenya, says: "During the dry season, the vegetables we grow dry up. I live quite far from the water point. When we cannot get water to irrigate our vegetables we cannot provide for our families."
Women collect the water
Ensuring there is enough water and firewood to use at home is time-consuming work in rural Africa. Women in sub-Saharan Africa collectively spend 40 billion hours a year collecting water. If these "unproductive hours" were used elsewhere, then overall society could function more productively. Sarah Odhiambi, a farmer in Agulu Kitu village, southwestern Kenya, said that when it is dry, they get water from "another village which is about three kilometers away." As a result, children are often forced to miss school to take care of their younger siblings. A neighboring farmer, Beatrice Atieno, added that "It reaches a time when all that women in this village do is look for water the whole day."
Land is owned mostly by men
Deep-seated customs and land tenure laws preclude women from owning and inheriting land. In North Africa, fewer than 5% of women are landowners. Across the rest of the continent, the figure is 15%. Therefore, although women are doing much of the work growing food and likely have ideas on how best to adapt, they are widely excluded from decisions about how the land will be used.
Men migrate, but women stay behind to care for family
The U.N. estimates that 80% of people displaced by the climate crisis are women. Migrant women often become exposed to risks and vulnerabilities such as trafficking and sexual or gender-based violence. In some communities, men leave their homes in search of work, leaving women to take care of the family land while also caring for children and parents. Even if couples migrate together—or the women follow later—they carry these responsibilities along with them.
Women must be part of climate solutions
Due to women's disproportionate burden from the climate crisis, they must be included in discussions and decisions about tackling the issue. Women need to be front and center in the planning and implementation of mitigation and adaptation programs.
Only one-third of climate negotiations at COP26 were led by women, and the figures have not improved this year at COP27. Diverse representation is needed to achieve radical action at the global and community levels.
At Ripple Effect, we stand with the NGOs working with women in Africa in calling for an increase in women's participation and decision-making in climate policies. Ripple Effect's Transformative Household Methodology is a tool we are using in our programs to identify gender imbalances that exist in households.
By identifying limitations regarding who has access to and control over resources, we are ensuring that marginalized groups are included in trainings on climate mitigation and adaptation approaches. Results are showing that empowering women remains a critical part of building climate resilience in rural communities.
---
Sofanit Mesfin is a Gender and Social Inclusion Coordinator at Ripple Effect. She has more than nine years of experience incorporating gender issues into project proposals and implementation efforts. Sofanit develops and implements simple and participatory community tools that bring gender transformation at both the household and community levels. Her work feeds into Ripple Effect's strategic objective, which is ensuring inclusion and promoting the voice and agency of marginalized groups, including women, youth, and people living with disability.