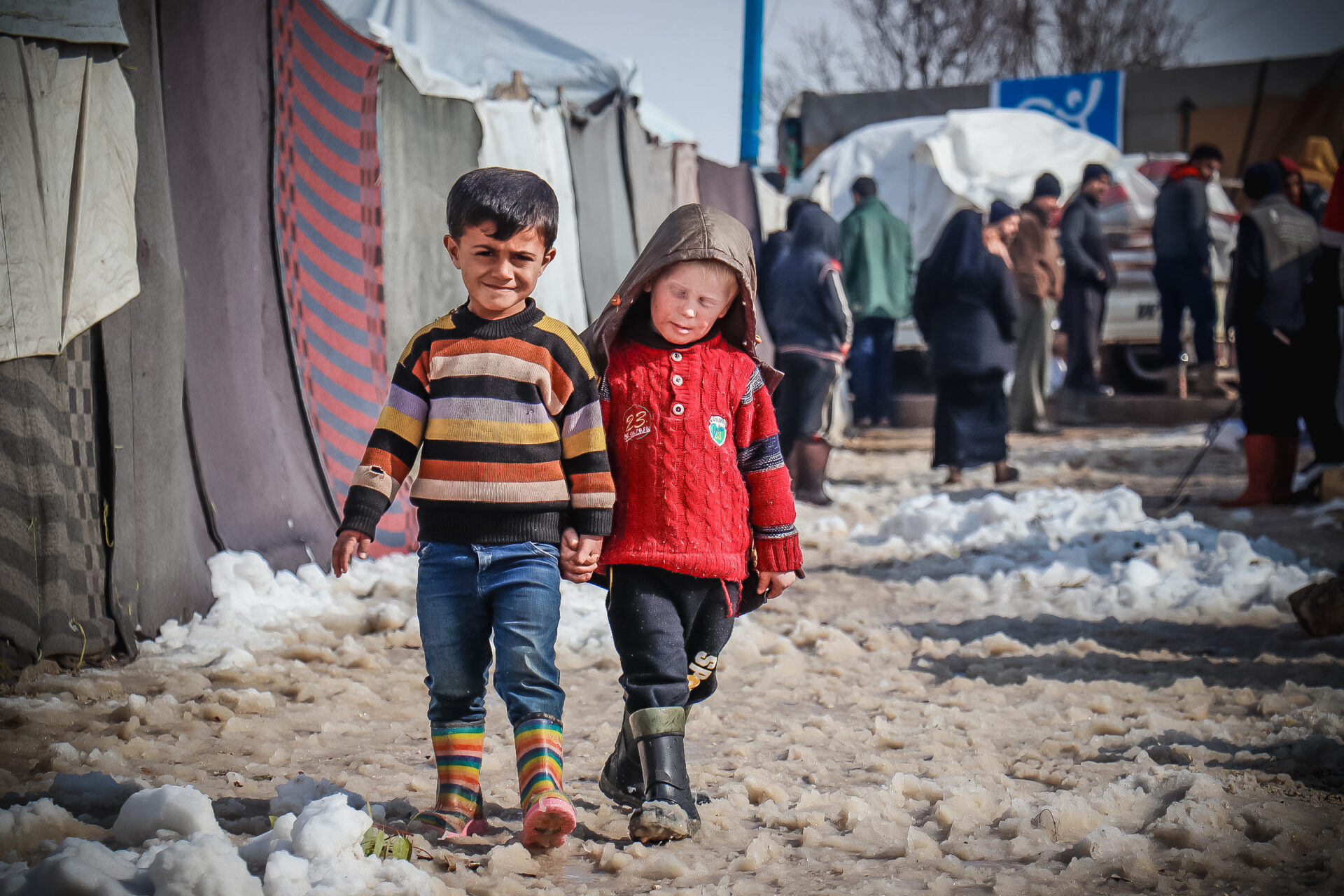 Addressing Growing Protection Needs of Children on the Move
There are more children on the move today than ever before. Of the 110 million people currently displaced, 40% are under the age of 18.
Little Amal, a 12-foot puppet representing a 10-year-old Syrian refugee girl, visited Washington D.C. on September 19 as part of her walk across the United States. While in the U.S. capital, Little Amal participated in a number of events which catalyzed discussion on the unique needs of displaced children on the move. Little Amal's visit prompted various stakeholders, including InterAction and a number of its Members, to host a policy workshop and produce a corresponding policy brief (found HERE). Little Amal's arrival marked an opportunity for the international community to reaffirm its commitment to protect vulnerable children on the move.
Little Amal walks at an unknown location.
Children on the move is an umbrella term for children migrating in a multitude of ways for varying reasons. This includes children migrating voluntarily and involuntarily, children displaced by conflict or natural disasters, refugee children, asylum seekers, internally displaced children, and children born to migrant parents in countries of transit or destination.
Children on the move have unique protection needs and are among the most vulnerable displaced people. They commonly face barriers to continuing their education, receiving proper nutrition, accessing physical and mental health care, and are especially vulnerable to exploitation, abuse, and gender-based violence (GBV).
Research by UNICEF found that 77% of young people surveyed reported encountering some sort of abuse or exploitation while traveling along the Central Mediterranean route, with Women's Refugee Commission finding high occurrences of GBV among both boys and girls. Children traveling across Latin America and the Caribbean have reported losing access to essential resources like healthcare and education due, in part, to widespread violence at the hands of gangs and organized drug cartels. Children traveling along all migratory routes and at all stages of their journey are highly vulnerable to economic and sexual exploitation, trafficking, and environmental hazards. These vulnerabilities are especially pronounced for unaccompanied children, who have been separated involuntarily from family members, or have made the decision to travel alone.
Disruptions to the childhoods of children on the move leave them at a significantly higher risk of experiencing long term physical and mental repercussions. With more and more children spending the majority of their childhoods on the move, the long-term consequences of inadequate protection continue to compound.
Despite the circumstance of their movement, children on the move share a common right to protection and a common urgency for governments to address their needs. It is also important to recognize their agency and lived experiences, many of whom have been traveling alone, by including them in conversations about policies and programs that impact them.
Coinciding with Little Amal's walk, InterAction co-hosted a policy workshop in collaboration with Georgetown University's Collaborative on Global Children's Issues, Save the Children, International Rescue Committee, KIND, UNICEF USA, and other partners.
The workshop, which took place on September 22, 2023, included three panel discussions focused on hearing the lived experiences of children at various stages in their migration and discussed ways to enact policies and programs that increase the protection and dignity of children on the move. The workshop also served as a venue for local organizations, representatives from the U.S. government, and the United Nations to discuss ways to include child protection in global events like the upcoming Global Refugee Forum (GRF).
InterAction and Member organizations developed a policy brief explaining key policy recommendations for child protection. General recommendations included suggested improvements to existing programs like Welcome Corps, the Central American Minors (CAM) program, reunification efforts for unaccompanied Afghan minors (UAMs) and attached Afghan minors (AAMs), and suggested funding recommendations. Key policy recommendations around the GRF included encouraging the prioritization of child rights across the implementation of all GRF pledges, key among them being the pledges on economic inclusion and social protection, and child rights.
Now is a critical moment for the global community to respond to the needs of children on the move with ambitious, multi-sectoral policies that prioritize the rights of children. With the Global Refugee Forum upcoming, there is a unique opportunity to harness the momentum already being made to ensure that all children on the move have the resources necessary to thrive.
To read the full policy brief, click HERE.