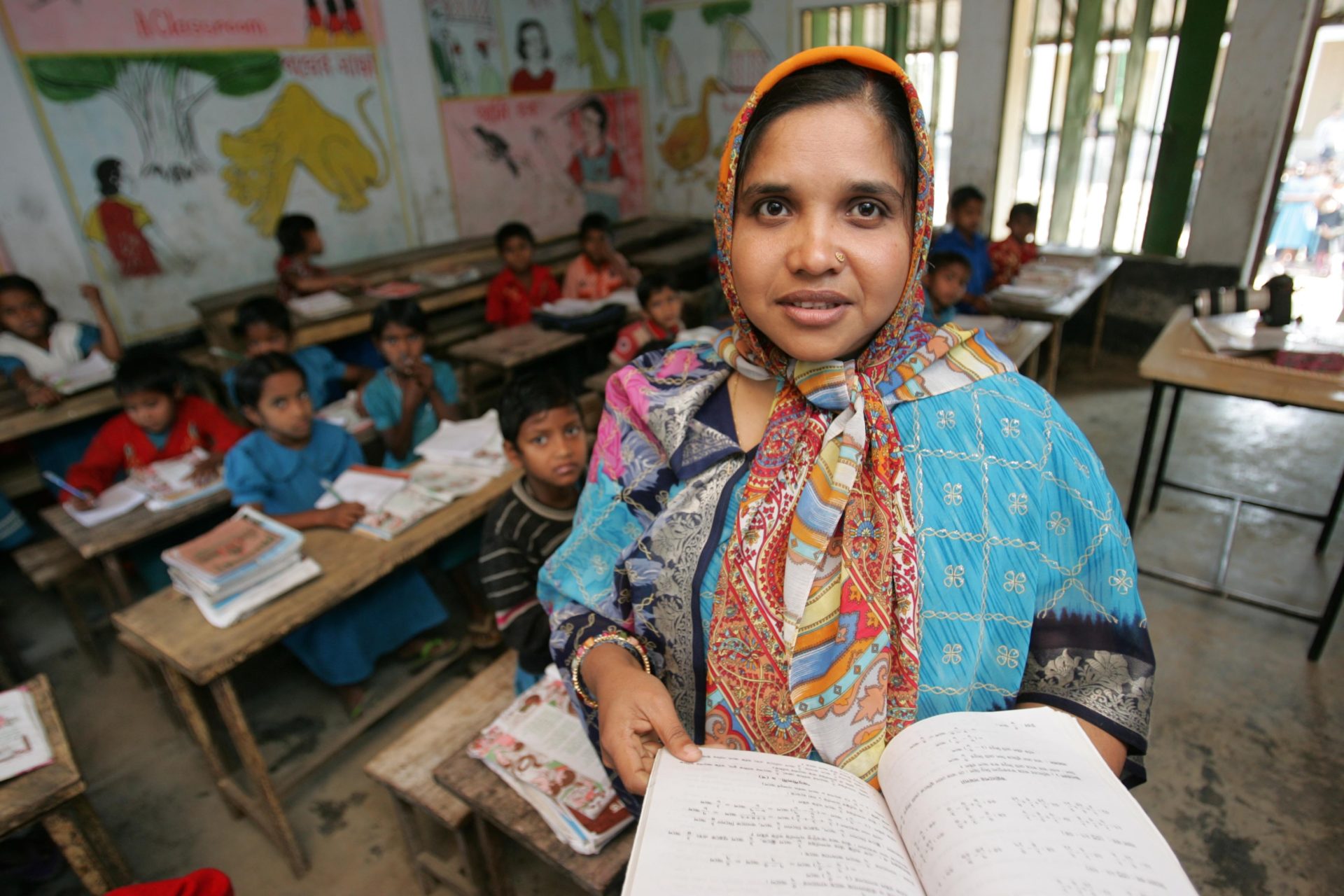 At the Heart of Education Recovery
Celebrating World Teachers' Day
Recovering from major disruptions to education continues to be a global priority as the COVID-19 pandemic persists. Teachers are our best tool to confront these challenges.
On October 5th, World Teachers' Day (WTD) is an earnest reminder of the critical role teachers continue to play in confronting learning loss and strengthening communities, especially now that we are more than a year and a half into the COVID-19 crisis. Guided by the theme "Teachers at the heart of education recovery," this year's celebration highlights the pandemic's effect on the teaching profession and will focus on how policymakers can best support educators in what will be a long recovery process.
Over the past year, disruptions to education have contributed to significant learning loss, economic recession, and academic inequalities. Although educators are at the center of our COVID-19 response, current policies do not seem to value teachers as key stakeholders. Educators have worked tirelessly to creatively adapt their curriculum to accommodate their students' changing needs and have brought needed technologies like internet access and computers to low-income areas. Unfortunately, these efforts have been met with increased workloads, low salaries, and a devaluing of the profession that has sidelined teachers from important policy-making discussions.
It is well established that teacher quality is fundamentally important to student achievement. However, policymakers' lack of support for educators in the recovery process reinforces the role that WTD plays in addressing the needs of teachers around the world.
The acute teacher shortage around the world is not a new crisis and has been exacerbated by job-related stress and burnout due to the pandemic. UNESCO estimates that to achieve universal primary and secondary education by 2030 (Sustainable Development Goal Four), 69 million more teachers are needed worldwide. Globally, team dynamics in schools continue to be disrupted by a lack of innovative reforms and effective teacher training programs that help educators adapt to an online learning environment. Students need consistency in the classroom, and without an honest conversation on how teachers are currently valued around the world, educators will continue to leave the profession. The pandemic is a clear illustration of the need for more teacher support worldwide.
With this in mind, it is important to note that students continue to suffer from low-quality educators and high attrition rates. As a result of COVID-19, we may see the number of children whose learning has been impacted increase by 72 million. Just as concerning, at least 10 to 16 million children are at risk of not returning to school, with the greatest risk posed to school-aged girls around the world. WTD, therefore, is an important forum to bring stakeholders together to discuss how the recovery process can protect high-quality educators and student achievement worldwide.
Today, the International Youth Foundation (IYF) is one of many InterAction Member NGOs spearheading efforts to protect youth access to education. In May 2020, IYF announced the creation of the "Global Youth Resiliency Fund" (GYRF). Among other areas, this fund supports youth-led organizations that promote innovative ways to learn during the pandemic. The GYRF is built on the notion that youth around the world must play a pivotal role in confronting the COVID-19 pandemic and strengthening their communities. In August 2021, 28 awardees of the GYRF were announced, eight of which conduct education programs.
For example, IFY awarded funds to Teresa Boullon, the founder of Un Millón de Niños Lectores. Due to IFY's support, Teresa and her team can empower and train teachers to use innovative digital education tools to adapt how they teach in a post-pandemic world. Located in Perú, Un Millón de Niños Lectores is working to promote new ways students and teachers can continue developing their reading, writing, and teaching skills in an online learning environment. Thanks in part to IFY's support, Un Millón de Niños Lectores has served over 50,000 students and 2,200 educators.
The transformations that have occurred at every level of education require us to critically think about innovative policies that recognize educators as principal stakeholders in this space. Acknowledging teachers as the foundation of a more resilient education system worldwide is one step in strengthening professional development programs, securing safe and healthy working environments, and cultivating a more inclusive recovery process. Not only does this boost retention and recruitment efforts for quality educators, but it ensures that schools are prepared for future shocks.
This World Teachers' Day, it is essential for the future of robust education systems around the world to commit to a recovery process that positions teachers at the forefront of policy decisions. In doing so, school systems will grow, students will once again thrive, and teachers will have the respect and support needed to develop their full potential.