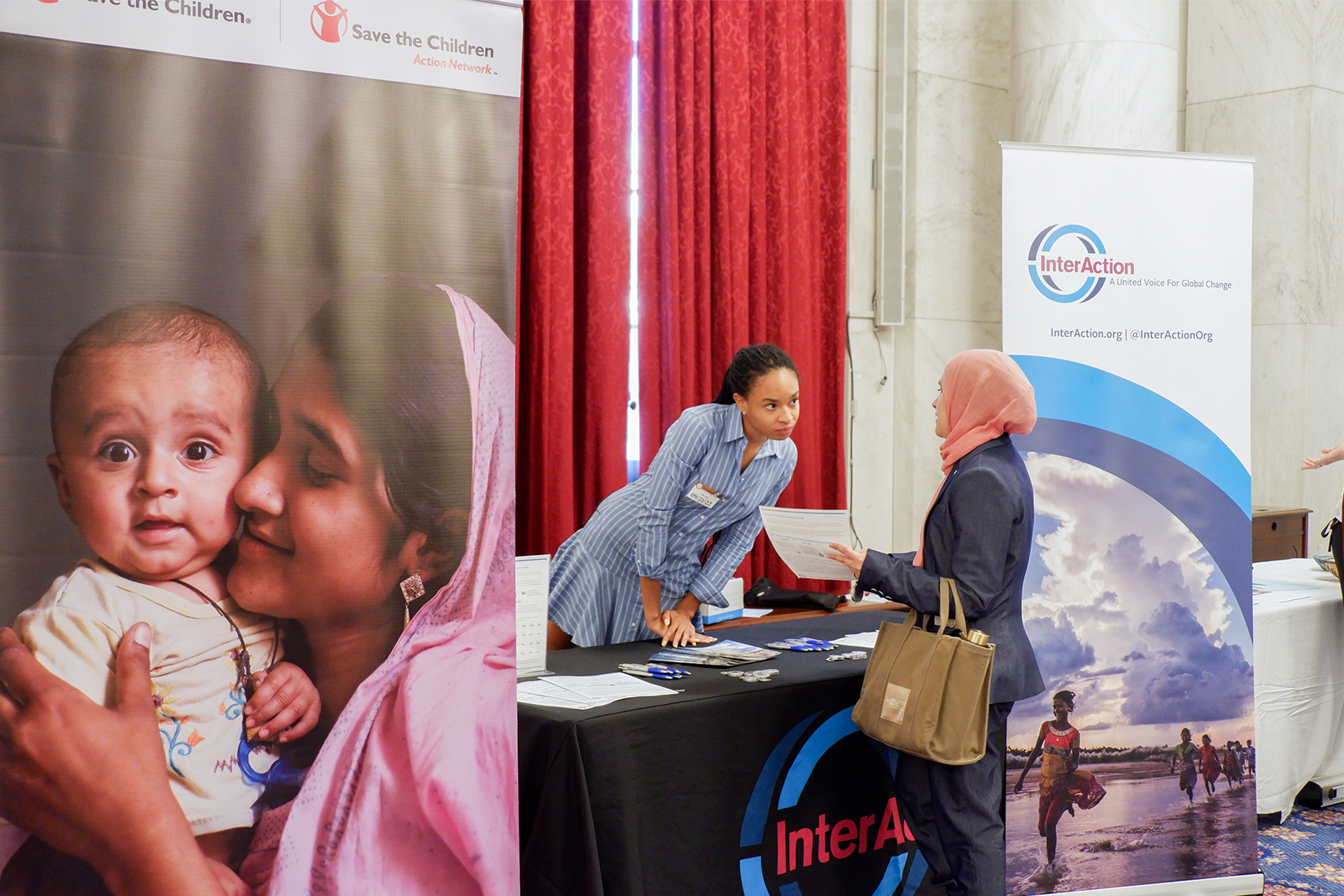 Celebrating U.S. Leadership in Global Food Security, Agriculture, and Nutrition
As world leaders mobilized to combat the unprecedented food crisis at the U.N. General Assembly last week, InterAction took the fight to end global hunger to Congress.
InterAction, Michigan State University, the Association of Public Land Grant Universities, and the U.S. Agency for International Development (USAID) co-hosted a reception to honor the work of the U.S.' flagship food security initiative, Feed the Future. Featuring remarks from Representatives Betty McCollum (D-MN) and Brenda Lawrence (D-MI), and USAID's Bureau of Resilience of Food Security Chief Scientist, Rob Bertram, the event was focused on highlighting the contributions of U.S. university-led Feed the Future Innovation Labs and Feed the Future implementing non-governmental organizations (NGOs) toward ending hunger, poverty, and malnutrition and building resilience in food-insecure communities around the world.
The event was held at a vital moment with Congress currently considering the Global Food Security Reauthorization Act of 2022 (H.R. 8446 and S. 4649). The bipartisan legislation sets priorities for the next five years by improving transparency, strengthening reporting, and updating multisectoral coordination. The bill will ensure that Feed the Future programs remain fit for purpose to strengthen global food systems, build resilience to shock and stresses, improve community nutrition, and enhance agricultural livelihoods.
The reception demonstrated how Feed the Future addresses the root causes of poverty and hunger through collaborative partnerships across public and private sectors, equipping and supporting local communities with the tools to feed themselves. Guests were able to learn about the research and ingenuity of Innovation Labs and the impact of NGO food security and nutrition programs.
During the event, Christy Gleason, Vice President for Policy, Advocacy, and Campaigns at Save the Children and Executive Director of Save the Children Action Network (SCAN), shared a story about the impact of Save the Children's Feed the Future funded "Growth Through Nutrition" program. Prior to participating in "Growth Through Nutrition," Debrie and Yibelu, two farmers in Sostu Tirba, Ethiopia, predominately grew and subsisted on potatoes, but through the program, they received vegetable seeds, chickens, and sheep that helped diversify their family's diet and income sources. The program not only provided agricultural resources but also trained Debrie and Yibelu in improved farming methods and care for pregnant and breastfeeding mothers in their community. Debrie and Yibelu now sell their surplus produce, and their family consistently has diverse and nutritious food on the dining table.
Feed the Future programs are critical to tackling the current global food insecurity and malnutrition challenges and ending the food crisis. While the U.S. must continue to focus on the immediate responses to feed starving communities in the hardest hit countries, long-term agriculture development, nutrition programs, and resilience building are essential. Unfortunately, the next shock is likely just around the corner.
To learn more about Feed the Future and the support for the program, see the InterAction factsheet.