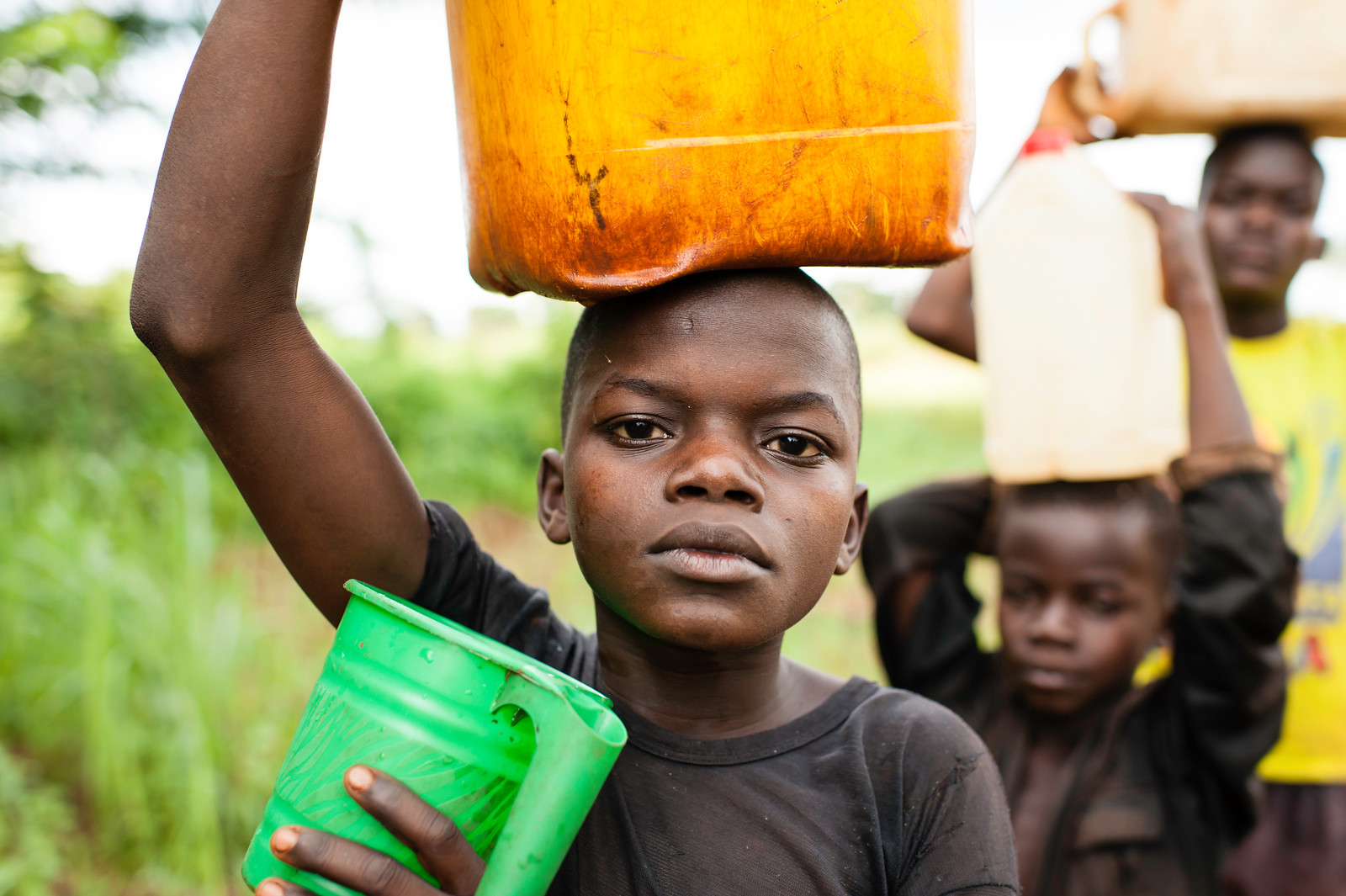 Children and Youth Inclusion in Water, Sanitation, and Hygiene Management
"When wells dry-up, children are the ones missing school to fetch water. When droughts diminish food supplies, children suffer from malnutrition and stunting. When floods hit, children fall ill from waterborne illnesses. And when water resources decline, children cannot wash their hands to fight off diseases."
-Former UNICEF Executive Director Henrietta Fore
Children in low- and middle-income countries are often required to spend hours fetching water instead of attending school or simply enjoying childhood. This can expose them to hazardous water contaminated with water-borne bacteria. Not only can the heavy water containers cause physical damage, but in areas of prolonged conflict, many children are killed or injured before they return. According to UNICEF, around the world, water scarcity affects 920 million children—impacting their health, development, and long-term well-being. As a result, evidence-based water, sanitation, and hygiene (WASH) policies are necessary to improve educational and health outcomes.
Children and Water
Inadequate WASH services and facilities in households, schools, and health centers contribute "directly or indirectly to health and educational outcomes" of children, especially in areas affected by climate change and/or prolonged conflict. The millions of children who must seek alternative options to clean water are vulnerable to life-threatening—yet preventable—malnutrition and waterborne diseases, such as diarrhea, cholera, and typhoid fever. In fact, every two minutes a child dies from a water-related disease, while 160 million children suffer from WASH-related stunting and chronic malnutrition.
After an earthquake struck southwestern Haiti in September 2021, 540,000 children and their families faced threats of diarrheal diseases, respiratory infections, and cholera because they lacked access to safe water, sanitation, and hygiene facilities. Similarly, more than 1.5 million children in Central America were exposed to life-threatening waterborne diseases in the two months after hurricanes Eta and Iota in January 2021. These hurricanes contaminated water systems; destroyed water installations, houses, and schools; and left many families with little food, water, and money to survive.
According to UNICEF, in conflict-affected countries, more children die from a lack of safe water than violence itself. Children under the age of 15 living in areas of prolonged conflict are three times more likely to die from diarrheal diseases caused by a lack of safe water, sanitation, and hygiene than direct violence. And, children under the age of five living in these areas are 20 times more likely to die from diarrheal diseases related to unsafe water, sanitation, and hygiene than direct violence.
Generally, girls who are more involved in household activities than their male counterparts are at a higher risk of experiencing WASH-related illness. Water-fetching—a task primarily done by girls—also exposes them to crime, sexual harassment, sexual assault, and psychosocial stress. Moreover, the social stigmas associated with menstruation, combined with limited access to menstruation materials, unsafe toilets, and insufficient water access, frequently result in girls missing school more often than boys. Compounding these issues, throughout schools in low and middle-income countries, coverage of basic WASH services and facilities remains low with inconsistency in availability, accessibility, and functionality.
2022 U.S. Global Water Strategy
Children and their families continue to suffer from poor decision-making and lack of control in WASH management. As World Water Day 2023 approaches and USAID launches its 2022 Global Water Strategy, it is important to address the challenges within the implementation of WASH programming while simultaneously designing programs that foster youth inclusion, education, and participation in WASH.
The 2022 U.S. Global Water Strategy is due to Congress on October 1, 2022. Although it remains unclear how external stakeholders' comments on connections between WASH and health may be incorporated into the strategy, these conversations must continue until the basic needs of children and youth around the world are met.