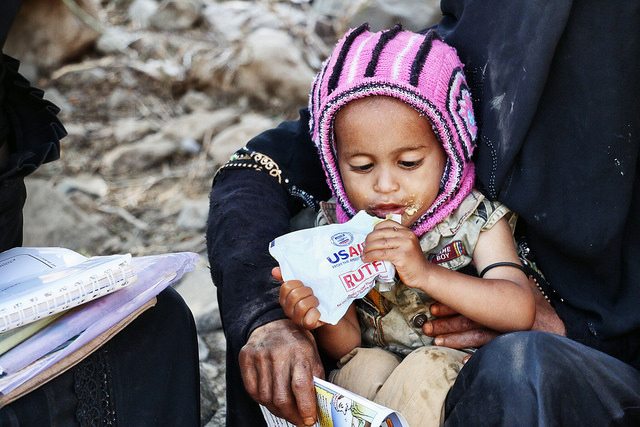 The U.S. Supports a Deadly, Saudi-Led War in Yemen
Congress Must Look Closely to Examine Secretary of State Pompeo's Recent Certification to Continue the War
The civil war in Yemen has left 22 million people in need of humanitarian assistance in the three years since it began, including 8 million people who are on the brink of famine. Continual attacks from a coalition led by Saudi Arabia and the United Arab Emirates (UAE) are the leading cause of the over 16,000 civilian casualties suffered during the conflict and threaten more people each day. Despite the coalition's tactics, it receives direct support from the U.S. government who supplies arms, targeting assistance, and aircraft refueling.
Members of the U.S. Congress have rightly demanded transparency and accountability for U.S. support of these military operations in the face of such human suffering.  In order to continue receiving U.S. assistance, new laws mandate that Secretary of State Mike Pompeo issue certifications that Saudi Arabia and the UAE have undertaken efforts to avoid disproportionate harm to civilians and help facilitate needed humanitarian assistance for vulnerable populations impacted by the conflict.
Even with growing evidence that Saudi Arabia and the UAE have done little to decrease civilian harm and facilitate humanitarian assistance, last week Secretary Pompeo released a certification that continues U.S. support for the war. Though in failing to sufficiently justify his conclusions, the Secretary may undermine U.S. leadership in responding to this crisis.
In response, InterAction CEO Sam Worthington wrote a letter to Congress on behalf of our nearly 220 members and partners requesting Secretary Pompeo publicly testify before Congress to explain his certifications. In addition, the letter asks members of Congress to allow civil society and multilateral organizations to testify to specific certification criteria, such as the difficulties nonprofits face in responding to the crisis on the ground and to explain appropriate measures needed to reduce civilian harm in Yemen.
A public accounting for these actions is critical, and evidence by experts outside the U.S. government should be considered when determining future certifications. InterAction member organizations and other civil society groups should support congressional hearings on this matter and weigh in with both Congress and the State Department about their concerns in Yemen.
Read the full letter from InterAction to leaders in Congress