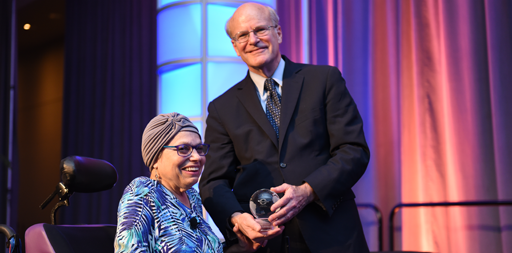 InterAction Announces Call for Entries for InterAction Forum 2018 Awards
Winners to be recognized at InterAction Forum in June for outstanding efforts to empower and assist vulnerable communities around the world
WASHINGTON – InterAction, an alliance of nearly 200 international nongovernmental organizations (NGOs) and partners in the United States focused on the world's poor and most vulnerable, opened submissions for its annual InterAction Forum awards and photo contest.
Everyone is invited to nominate colleagues for the following awards:
Disability Inclusion Award: Recognizes member agencies and individuals who have worked toward greater disability inclusion in programs and management and who have expanded leadership opportunities for people with disabilities.
Distinguished Security Achievement Award: Recognizes exceptional performance in the field of NGO security, such as those who have enabled programming to continue in extremely challenging security conditions, integrated security risk management into program approaches, or driven cultural shifts within the NGO community.
Humanitarian Award: Recognizes an NGO or individuals who have demonstrated extraordinary leadership in support of NGOs and the people they serve.
Julia Vadala Taft Outstanding Leadership Award: Honors outstanding and distinguished leaders in the U.S. NGO community whose career and vision have transcended their own organization by raising the influence and effectiveness of the U.S. NGO sector.
All members of the public are also invited to submit photos for the 16th Annual InterAction Forum Photo Contest that celebrates photographs illustrating effective and inspiring efforts in humanitarian assistance and international development. The InterAction Effective Assistance Photography Award will be presented to the grand prize winner along with a $1,000 cash prize.
Find more information on all award nomination processes and photo contest submissions guidelines on our website: https://www.interaction.org/forum/awards