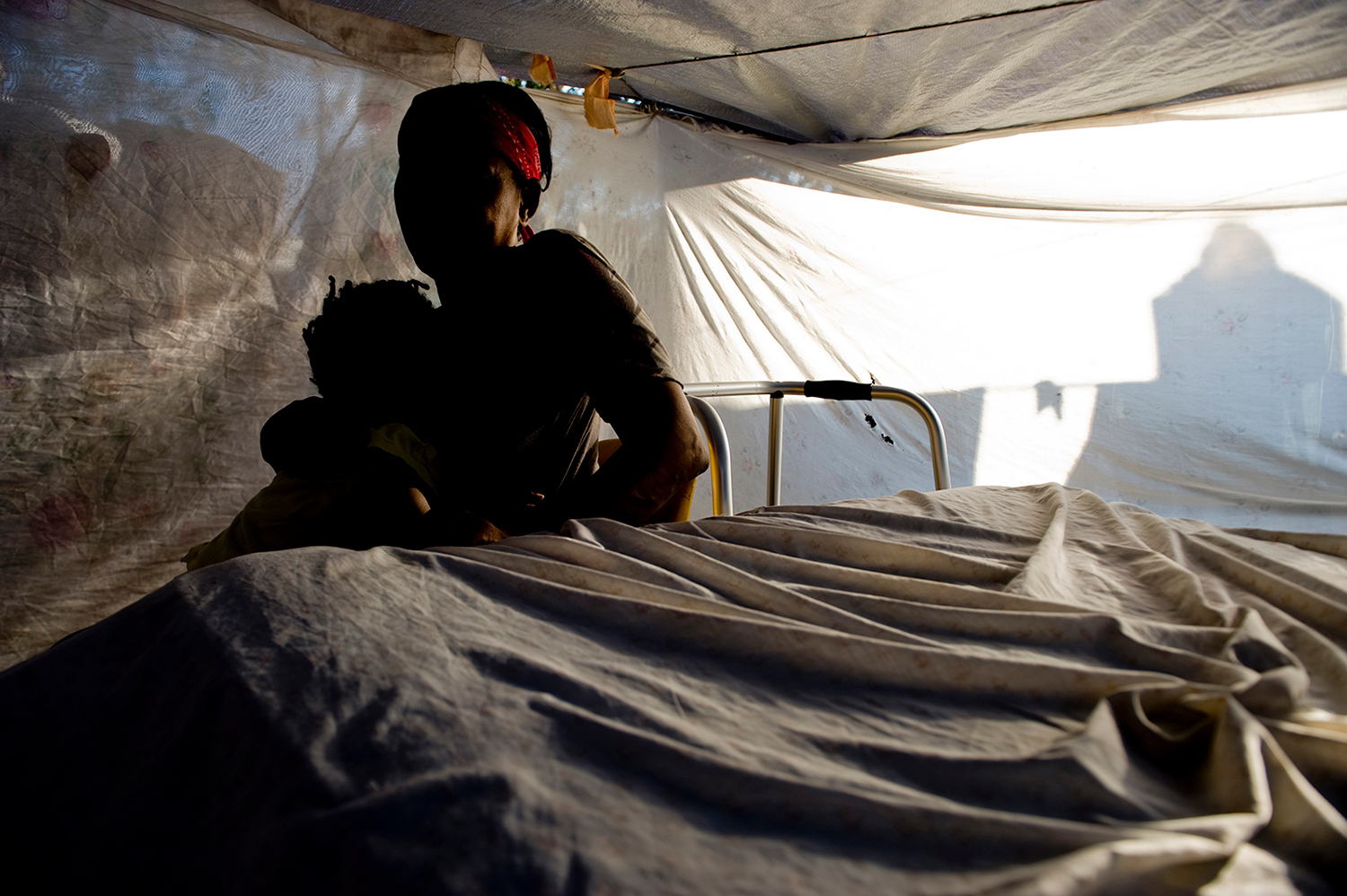 InterAction Member NGOs Respond to Crisis in Haiti
Every day, InterAction Members are working all over the world to combat poverty and alleviate suffering.
As a platform for advocacy and engagement, InterAction features their most recent updates, blogs, and reports that highlight their new and ongoing efforts. This page is updated regularly as a resource for both the public and press.
We're currently spotlighting InterAction Member NGOs' work responding to the ongoing relief efforts following the August 14 earthquake in Haiti.
AUGUST 17, 2021 MEDIA ALERT
---
Mercy Corps Mobilizes Earthquake Response in Haiti
Mercy Corps' 70-strong team in Haiti is joined by additional emergency responders. They hear that in the community of L'Asile, in Nippes, about 50% of homes have been destroyed, there are many people without homes, people crying, worried, bridges out, and roads damaged. Major markets in the area have collapsed, leaving people without much-needed supplies.
"Our team is seeing the extent of the damages here in Nippes. Everywhere is agony. Many, many people are without homes anymore, people everywhere we went were crying, worried. Moving around is very difficult, we found a bridge out and other challenges for getting around and moving supplies. There are aftershocks all through the day."
Our Deputy Program Manager Allen Joseph is available for interviews in French from Nippes and our Acting Country Director Cara Back is available for interviews in English from Port-au-Prince. More HERE.
---
ADRA is Providing Support to Quake Survivors and Internally Displaced People in Haiti
The Adventist Development and Relief Agency is working with a local hospital in Diquini, Haiti, known locally as the Haiti Adventist Hospital, as they provide treatment to the many wounded and injured from the recent 7.2 earthquake. ADRA plans to address the urgent need of 500-2000 survivors with non-food items, including water, tarps, food, and hygiene kits.
ADRA will also be providing aid to internally displaced people as the country is ravaged by violence and gangs. As Haiti braces for Tropical Storm Grace, ADRA will be serving in St. Louis du Sud, Les Cayes, and Camp-Perrin, and will continue ongoing damage assessments.
---
Catholic Relief Services Responds to Haiti Earthquake
CRS staff are working with local partners to coordinate the delivery of life-saving supplies, including tarps, blankets, medical supplies, food, and clean water. Staff in Les Cayes have already delivered tarps to 200 families that lost their homes. We anticipate the need for emergency shelter is only going to increase. More HERE.
---
Americares Sending Medical Aid to Haiti
Americares has nearly $3 million worth of critically needed medicines, and relief items are on the way to Haiti for survivors of Saturday's devastating 7.2-magnitude earthquake and can speak to the medical needs as well as the logistical challenges of delivering aid to the impact zone.
Americares relief workers in Haiti and the United States are preparing additional shipments to supply health workers treating the injured with antibiotics, orthopedic supplies, and other urgently needed items. More HERE.
---
Local LaGonâve Water Desalination Plant Providing Clean Water Relief To Mainland
The Haitian island of La Gonâve off the mainland is home to a major clean water and desalination plant that was a joint investment of World Hope International and GivePower and continues to be managed by local GivePower leadership. Intact and operating after the earthquake and ongoing aftershocks, the solar-powered center is now at the heart of a clean water, sanitation, and hygiene relief response between the two organizations and other key emergency response partners on the ground—as well as in boats and planes. Clean water is being bottled at the center into smart bottles and transported to hard-hit sites on the mainland for distribution. More HERE.
---
Widespread Health Impacts Imminent After Haiti's 7.2-Magnitude Earthquake Leaves Parts of the Island in Ruins
Following the 7.2-magnitude earthquake that hit southwest Haiti on Saturday morning, Project HOPE is deploying members of its emergency preparedness and response team to assess the impacts on health facilities and identify the most urgent medical needs of affected populations.
The team will partner with local organizations for emergency response and offer immediate assistance by distributing personal protective equipment (PPE) and health kits while prepping for logistical and access challenges due to significant damage to roads and buildings. More HERE.
---
Lutheran World Relief and IMA World Health respond to the Haiti Earthquake
Staff from Lutheran World Relief and IMA World Health, both of the Corus International family, are assessing the damage, the urgent needs, and how they can best respond to the August 14 Haiti earthquake. They have committed an initial $100,000 to the emergency response and will likely focus on providing assistance to support essential health services, as most of our programs in Haiti are health-focused. Critical needs are still being accounted for. Therefore, joint response and coordination with other INGOs and the government are ongoing and central to our response plan.
---
Serious Concern For People In Haiti With Disabling Injuries
"From our previous experience, we're expecting an enormous need for rehabilitation," says Anissa Bouachria, Humanity & Inclusion's Emergency Pool Manager. "There are thousands injured, and many of those injuries may worsen or turn into permanent disabilities (amputations)." Humanity & Inclusion's Haitian team counts 50 members, with an uninterrupted presence in Haiti since 2008. More HERE.
---
CWS Stands In Solidarity with Haiti
In response to the 7.2-magnitude earthquake that struck Haiti and subsequent reports of likely high casualties within that country, Rick Santos, President and CEO of Church World Service issued the following statement:
"We stand in solidarity with the people of Haiti following this terrible disaster. During what was already a time of instability, and in a nation that is still recovering from the losses of the devastating 2010 earthquake, the damage from today's earthquake could be catastrophic. Haiti is also in the projected path of Tropical Storm Grace, which could compound the earthquake damage in the coming days. The international community must step up to show Haitians that they are not alone in this time of crisis. Church World Service and our partners in the Caribbean are mobilizing to provide the support that Haitians need now, and we'll be there to help them as they rebuild. To the families experiencing this disaster: our staff, our member congregations, and the American people are united in prayer for you."
CWS programs focus on humanitarian response, sustainable livelihoods, food security, and child protection. In the years since the 2010 Haiti Earthquake, CWS helped rebuild hundreds of destroyed homes. And when Hurricane Matthew struck in 2016, the organization expanded its work to include public schools and more homes. All the while, CWS has helped families become more food secure and find new ways to earn a living.
---
PADF Haiti Earthquake Response
The Pan American Development Foundation (PADF) is working with partners to assess the damage and determine the best course of action to respond to urgent needs. PADF has responded to many of the most severe disasters in Latin America and the Caribbean, including Hurricanes Eta and Iota in Central America (2020), Hurricane Dorian in the Bahamas (2019), the Fuego Volcano eruption in Guatemala (2018), the earthquakes in Mexico (2017), Hurricanes Irma and Maria in Puerto Rico and the Caribbean (2017), Hurricane Matthew in Haiti (2016), and the earthquake in Haiti (2010). More HERE.
---
Airlink Responding to Disaster in Haiti
Airlink is a disaster relief organization working with the aviation sector and other donors to provide free airlift of responders and humanitarian aid for a network of more than 130 NGOs. They are currently transporting urban search and rescue teams, medical teams, and other personnel and have a significant amount of humanitarian cargo requests in our pipeline. Demand for their services will increase over the coming weeks and months and Airlink will continue to support longer-term recovery as well. More HERE.
---
Heart to Heart International's Haiti Response
Heart to Heart International currently has two teams of local Haitian doctors and nurses on the ground in Haiti in the areas impacted by the 7.2 magnitude earthquake. HHI has maintained a health program in Haiti ever since the earthquake in 2010, so the teams were able to immediately respond and started treating people within 36 hours after the quake. The teams are treating patients with fractures, laceration wounds, and other injuries as well as distributing medicine and supplies to local clinics. Hygiene kits that were pre-staged in our Haiti warehouse have also been distributed. HHI will be sending several large shipments of medicines, medical supplies, and hygiene kits to the impacted areas.