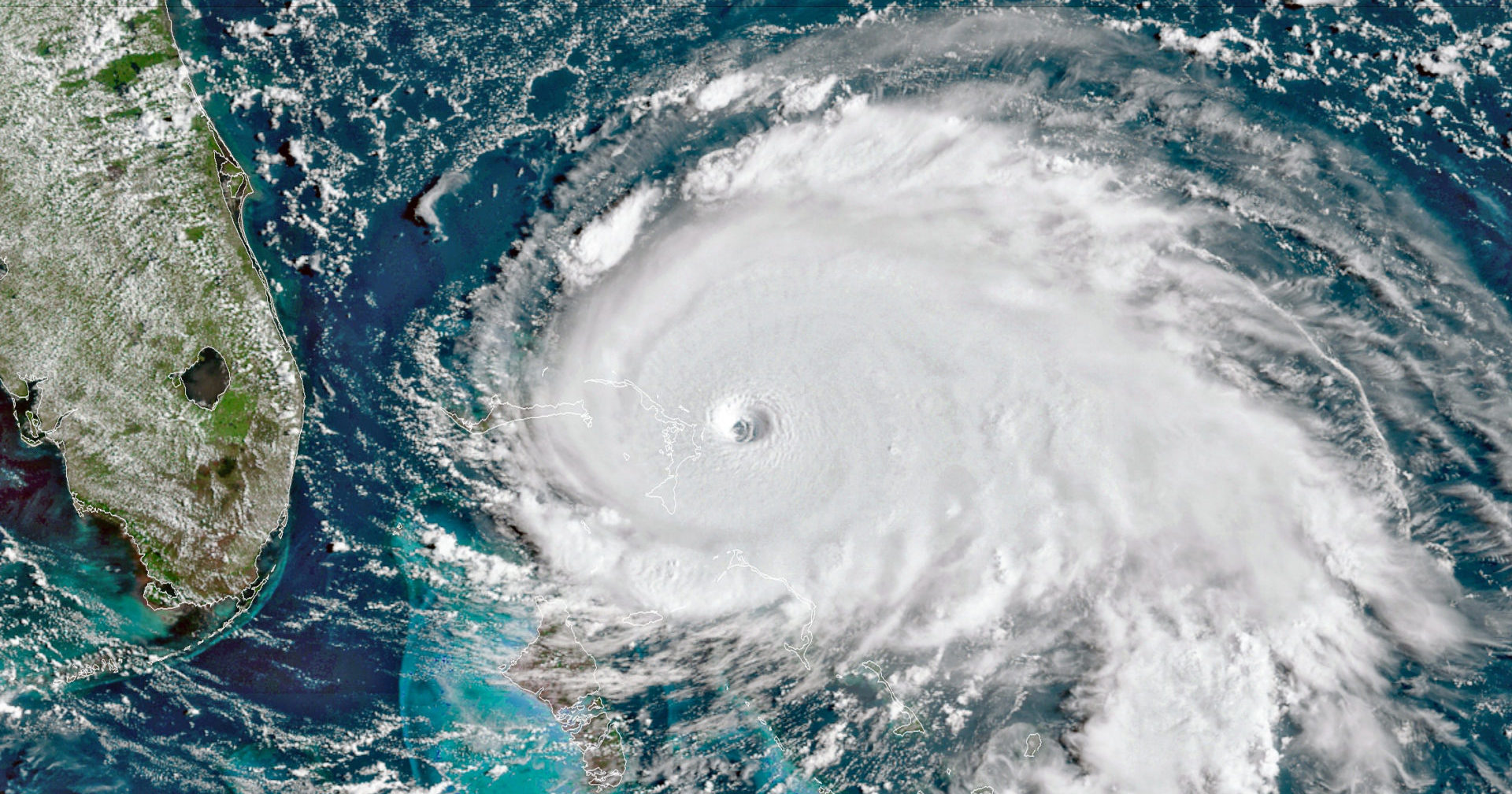 InterAction Members Respond to Hurricane Dorian
On September 1, Hurricane Dorian made first landfall on Elbow Cay, in the Abacos of the northwestern Bahamas. Dorian is the strongest hurricane on record to hit the Bahamas.
Find out how InterAction Members are responding to Dorian and providing help to the people of the Bahamas.
_
Food for the Hungry
Christian humanitarian organization Food for the Hungry (FH) is raising funds to assist partners, to provide food, water, and hygiene items. Additionally, FH is monitoring the progress of the storm in the southeastern US, with the intent to respond if needed. Find out more HERE.
Mercy Corps
Mercy Corps is mobilizing a team of emergency responders — which includes members from their Puerto Rico team — to the Bahamas following Hurricane Dorian's landfall. Mercy Corps' response team is beginning to arrive in Nassau, and are rushing to reach the affected islands of Abacos and Grand Bahama. The team is meeting with emergency managers and other responding organizations to coordinate their response efforts and will rapidly determine the most pressing needs. To learn more or to make a donation to their Humanitarian Response Fund click HERE.
Episcopal Relief & Development
Episcopal Relief & Development is supporting Episcopal dioceses located in the path of Hurricane Dorian as they respond to the needs of impacted communities. The U.S. Disaster Team is conducting regular coordination calls with affected dioceses. In the Caribbean, program colleagues are working through the Anglican Alliance to support the Anglican Diocese of the Bahamas & the Turks and Caicos as diocesan staff begin to assess the destruction from the storm. To learn more about Episcopal Relief & Development's response to Hurricane Dorian and how you can help, click HERE.
Airlink
As part of its mission to mobilize the aviation community in times of disaster, Airlink began transporting relief workers to Florida and other East Coast states before the storm's arrival to ensure a swift response to communities in need. Airlink is assisting more than 15 response partners, including Save the Children, Empact Northwest, Heart to Heart International, and World Central Kitchen. Cash donations from Airlink supporters and travel assistance from Air Canada, JetBlue Airways, and United Airlines are making the response possible. Learn more HERE.
Lutheran World Relief
In partnership with ACT Alliance and other partners, Lutheran World Relief is coordinating a response to Dorian. Learn more HERE.
International Medical Corps
At the request of the Bahamian Ministry of Health (MoH), International Medical Corps is deploying emergency medical teams to Grand Bahama island to provide urgently needed mobile medical services. We will provide immediate outpatient healthcare as we continue to assess the most critical needs for the population of approximately 51,000 people, including medical care, medicine, and water, sanitation, and hygiene.
We've also received a request from the North Carolina Primary Care Association, and we are now working with them to determine how we can best support their response needs.
International Medical Corps is ready to scale our support and further deploy mobile medical teams and our emergency response field hospital to address any needs that continue to be uncovered following the impact of Hurricane Dorian.
Here's more about our response:
https://internationalmedicalcorps.org/emergency-response/hurricane-dorian/
Link to Hurricane Dorian dedicated donation page:
http://bit.ly/IMCDORIAN
Project HOPE
Project HOPE's emergency response team has deployed to the Bahamas. Our first team already on the ground includes a physician, nurse practitioner and logistician, in addition to our director of emergency response. More than 30 Project HOPE doctors, nurses and pharmacists are ready to mobilize as soon as is feasible. With partners, we are organizing shipments of hygiene kits and other essential supplies for immediate delivery to Abaco and other affected areas. Learn more at projecthope.org and make a donation to our Hurricane Dorian Response Fund.
Medical Teams International
Medical Teams International is currently rushing Disaster Health Kits to survivors of Hurricane Dorian in the Bahamas. Learn more about their response and consider donating money toward essential hygiene and water filtration supplies to people whose homes have been damaged or destroyed by the deadly storm HERE.
Catholic Relief Services
Catholic Relief Services (CRS) is working with our regional partners, Caritas Grenada and Caritas Puerto Rico, to coordinate distributions of relief supplies sent the Bahamas by plane.  A humanitarian response team is arriving this week, and CRS will be focusing our response where needs are greatest. To support relief efforts, you can make a contribution HERE.
World Renew
World Renew will support those dealing with catastrophic damage to their homes and the environment in the Bahamas. Learn more about our response effort here. Show God's love and bring hope to disaster-affected communities.
Helping Hand for Relief and Development
Helping Hand for Relief and Development's Emergency Response Team is en route to the Bahamas to conduct a needs assessment on the ground and work with local partners to provide much-needed aid.
Details of HHRD's response to Hurricane Dorian Bahamas Relief and dedicated donation page may be found HERE.
World Hope International
World Hope International (WHI) is in the Bahamas actively responding to the devastation of Hurricane Dorian and using boats to reach people where no flights can! WHI is harnessing solar power to produce clean and drinkable water from the sea, distributing emergency supplies, removing debris – and more.
Learn more HERE.
All Hands and Hearts
In the wake of Hurricane Dorian, All Hands and Hearts will be mobilizing a team to complete the labor-intensive, gritty jobs that are needed to stabilize affected communities: debris management and mucking and gutting homes and other properties. In doing so, we'll listen to the families we serve and work alongside local groups, targeting unmet needs.
During this "response" phase, which can last between two to six months, we expect to serve 50 to 75 households per month, in addition to clearing public spaces that serve entire communities. Our goal is to stay as long as our skills are needed. We have extensive experience in making resilient repairs to homes, schools and other structures; therefore, if local capacity is not enough to serve these needs, we will stay on and rebuild.
To support the efforts of All Hands and Hearts: click here to donate, and click here to volunteer.
All donations are being matched dollar for dollar by Norwegian Cruise Line Holdings.
Adventist Development and Relief Agency
The Adventist Development and Relief Agency (ADRA) has deployed an emergency response team in the Bahamas and is working with local churches and officials to provide aid. ADRA has also established partnerships with Airlink and YachtAid Global to get food and water to access points in the Bahamas. ADRA is also working with Rise Against Hunger to provide meals that will be distributed on the islands of Abaco and Grand Bahama. In addition, clothes and shelter materials will also be distributed. Donations to help people in the Bahamas are being accepted at ADRA.org/HurricaneDorian.
Church World Service
CWS will respond in the Bahamas, particularly in regards to long-term recovery. We are working with our ACT Alliance and other partners to conduct initial assessments. We are standing by to respond in the United States as well—CWS Emergency Cleanup Buckets, Hygiene Kits, School Kits and Blankets are available to affected communities, and we will focus on providing long-term recovery support to vulnerable migrant and refugee populations as needed. Donate HERE.
Brother's Brother Foundation
Brother's Brother Foundation (BBF), a 61-year-old Pittsburgh-based international aid agency, is working with partners including Adventist Disaster Relief Agency, Food for the Poor and Puerto Rico Rises among others in the Caribbean in the wake of Hurricane Dorian's passing. Needs assessments are currently being staged across the Bahamas and plans are in development to move aid as soon as possible. BBF is also coordinating aid with partners across the Southern US coast in anticipation of Dorian's impacts. Disaster supplies, and medical supplies, as well as shipping support, are being made available.
Shipments of requested donated disaster and medical supplies will be sent from BBF warehouses in Pittsburgh and partner agency locations. 100% of funds received for this disaster relief effort will be used to support emergency transportation and other assistance to affected areas. Brother's Brother Foundation will also continue to asses the needs of those affected within the area and monitor the situation as needed with partners on the ground.
Donations to assist with relief efforts are greatly appreciated.  Credit card donations can be made at www.brothersbrother.org.