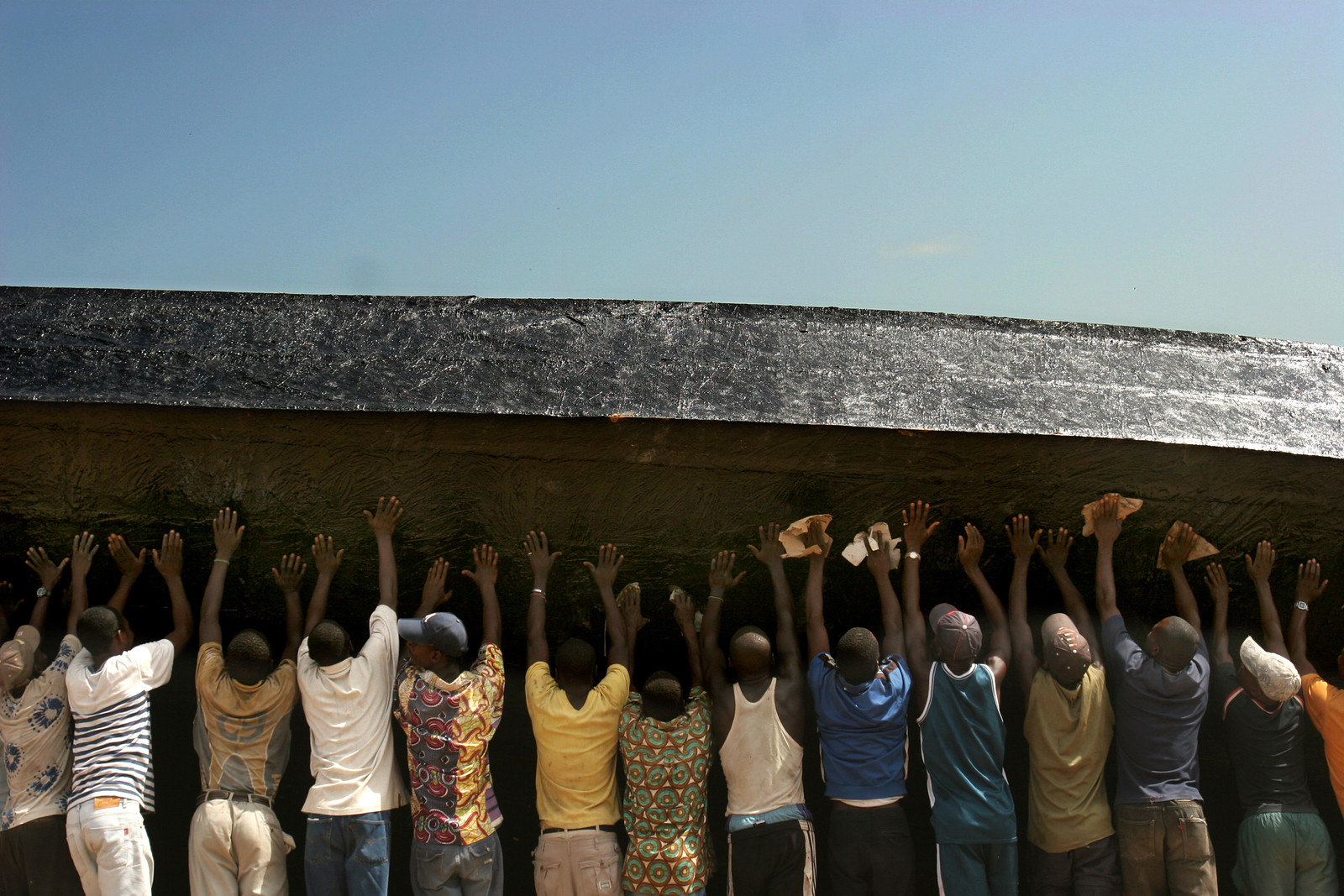 InterAction Member Snapshot: Refugees
Weekly Updates From InterAction Member NGOs Around the World
Every day, InterAction Members are working all over the world to combat poverty and alleviate suffering.
As a platform for advocacy and engagement, InterAction features their most recent updates, blogs, and reports that highlight their new and ongoing efforts. This page is updated weekly.
 OCTOBER 1-7 MEDIA ALERT
---
Action Against Hunger: Artificial Intelligence, Hydroponics, and More—Farmers Adapt to Warming Planet 
Climate Week is here. Here are a few ways that farmers in Africa and Pakistan are adapting to our changing planet in innovative ways.
Artificial Intelligence-generated "traffic alerts" for livestock herders in the Sahel: To anticipate food crises in Africa's Sahel region—where climate shocks like drought, heatwaves, and bushfires are now commonplace—Action Against Hunger created an innovative real-time data collection system.
In Ethiopia, in response to unpredictable rainfall and recurring droughts, farmers are using an innovative method of growing plants without soil.
In Pakistan, as rising seas push inland, salt contaminates the groundwater and soil, leaving low-income families even more food insecure. In response, farmers are trying new approaches, such as saline-tolerant rice co-located with fish farming.
---
Plan International USA: Nine in Ten Girls Experience Anxiety due to COVID-19, New Global Study Finds
Nine in 10 girls (88%) say they are feeling high or medium levels of anxiety due to the COVID-19 pandemic, according to a landmark survey—involving more than 7,000 girls in 14 countries—conducted by girls' rights organization Plan International. For the girls surveyed, aged 15 to 19, the most prevalent fears concerned their own health (33%) and the wellbeing of their families (40%). Nearly one-third (26%) were worried about the loss of household income due to the pandemic. In addition, 97% of girls report that their lives are being negatively affected by COVID-19, the primary driver of this statement is disrupted education. Learn more HERE.
---
Asylum Access México: Mexico Bans Immigration Detention of Children 
On September 29, Mexico's Congress unanimously approved legislation to ban the administrative detention of children. Legal inconsistencies allowed Mexico to send more than 180,000 children to migrant detention centers between 2015 and June 2020, even though Mexican law bans the detention of children in most cases. The new law also outlaws deporting or denying entry of children until a legal determination is made about the child's best interests.
---
Action Against Hunger: 'Baby-Friendly Spaces' in Refugee Camps Improve Mental Health and Nutrition 
Many of the 333,000 South Sudanese refugees in the Gambella region of Ethiopia have witnessed or experienced unimaginable violence. Mental health care is hugely important as these refugees—most of whom are women and children—try to rebuild their lives; it's also vital to their physical health and nutrition. A mother in psychological distress can feel anxiety or insecurity and may lose her appetite or a desire to feed herself and her children.
To respond to these needs and help mothers re-establish the emotional bonds with their children, Action Against Hunger has created baby-friendly spaces near nutrition centers in refugee camps. Here, mothers and children recovering from malnutrition have a safe space to play, bond, and learn about health, child care practices, breastfeeding, and nutrition. Mothers can also participate in mother-to-mother support groups and receive mental health care.
---
ICNL: Migrants' Civic Freedom and COVID-19
While COVID-19 has been called the 'great equalizer,' its trajectory has hit certain populations more than others. Migrant groups, in particular, are being devastated. While experts have warned of dire humanitarian crises if governments do not take swift action, we must consider the long-term effects that the pandemic could have on migrants' civic freedoms. ICNL has several articles and reports that provide in-depth information on the likely impact of the COVID-19 pandemic on the civic freedoms of migrants and groups that provide services to migrants, especially migrant-allied civil society organizations, and stresses the importance of putting into place policies that safeguard migrants' basic rights. Please refer to the following: InterAction blog post, analysis piece, and UNSR report on the right to freedom of association of migrants and their defenders.
---
Jesuit Refugee Service/USA Deeply Disappointed in Refugee Admission Cap
With minutes to spare before the September 30 deadline, the Trump administration announced that the annual Presidential Determination (P.D.) for Refugee Admissions for Fiscal Year 2021 would be 15,000—the lowest in U.S. history. Jesuit Refugee Service USA expresses deep disappointment in the administration's decision to limit further the number of refugees who can seek protection in the U.S. JRS USA urges the administration to actively consult with Congress, as required by the Refugee Act of 1980, to determine how the U.S. can build back the refugee resettlement program. U.S. leadership will play a critical role in overcoming the highest levels of global displacement ever recorded—almost 80 million forcibly displaced worldwide.
"Only through responsibility sharing can the world come together to solve some of our greatest challenges. Resettlement, alongside robust humanitarian assistance, provides much-needed support to those who are most vulnerable in our world," said Giulia McPherson, Director of Advocacy & Operations at JRS USA.
---
HelpAge USA: COVID-19 in La Guajira Colombia 
"We are hugely concerned about COVID-19 breaking out in La Guajira. The health services are already buckling under the strain caused by the large numbers of people living in desperate circumstances. If COVID-19 takes hold, it will be chaos and potentially lead to colossal loss of lives." says Marcela Bustamante, Regional Representative for HelpAge in Latin America and the Caribbean.
As of late July, 395 cases of COVID-19 have been reported in La Guajira, and there have been 18 deaths, but this is in a context where testing facilities are hugely limited. There are fears that the pandemic will spread easily in the area where people live in inadequate and crowded conditions with an acute lack of water and sanitation facilities. There are nearly 5,000 older migrants and refugees that reside within La Guajira. According to a survey of the region—carried out by HelpAge in January 2020—84% of them have no handwashing facilities, and 78% have no access to safe drinking water. This has not improved since the outbreak of COVID-19 and created serious obstacles to protecting a population at risk from the virus.
---
Humanity & Inclusion: People with Disabilities are Too Easily Left Behind Amid COVID-19 Emergency
Humanity & Inclusion teams continue to monitor how people with disabilities are accessing stay-healthy messages, basic hygiene kits, and other protective measures to keep the coronavirus at bay. A report over the summer studied exclusion in 19 countries, and teams continue to monitor refugees in places like Lebanon, Jordan, Bangladesh, Kenya, and beyond. A variety of experts are available to provide updates.
---
GOAL: Increased Humanitarian Assistance for Nomadic and Semi-Nomadic Syrian Refugees
A new research report published with support from GOAL (Oct 2020) highlights the need for increased humanitarian assistance for nomadic and semi-nomadic Syrian refugees and migrant seasonal agricultural workers in Turkey.
These vulnerable groups face difficulties seeking temporary protection registration and often live in substandard accommodation. The research was undertaken in 2019 and 2020, across 20 neighborhoods in Adana, Gaziantep, and Şanlıurfa.
Published by Development Workshop, the report," Unseen Lives on Migration Routes," makes several recommendations in providing support to nomadic refugee communities, including extending tailored assistance to those in need, developing flexible service models, supporting children's access to education, and working to combat prejudices against groups from nomadic backgrounds.
---
Islamic Relief USA: Winter Aid Crucial for Syrian Refugees
After nine years of war in Syria created the worst humanitarian disaster since the end of the Second World War, millions managed to escape to safety in other countries. But for the 12 million Syrians remaining, they are left in urgent need of humanitarian assistance. Islamic Relief USA is working on the ground to provide Winter Aid to help ease their suffering.
Fighting forced Abu Muhammed, 59, and Umm Mohammed, 53, to flee their homes in Idlib, Syria. They ran for weeks, hiding in the village of Bdama, Syria, and then "battles and bombing" in Sahl Al-Ghab (Qalaat Al-Madiq). While dodging bullets, bombs, and shrapnel, they eventually made it to safety in Afrin. "I put some pieces of cardboard on the floor and held my wife," says Muhammad, describing the days the couple spent sleeping in a basement—the only shelter they could find. "It was one of the most difficult times since we left our home." Read more about IRUSA's work in Syria HERE.
---
HIAS: Greek NGOs Call on Government Not to Abandon Migrants at Sea
Twenty-nine human rights and humanitarian aid organizations, including HIAS Greece, called on the Greek Parliament to establish an inquiry into all allegations of unlawful returns of migrants to Turkey by law enforcement officers and other authorities. In an open letter, the groups say the parliamentary inquiry should examine whether any illegal acts identified are part of a de facto government policy at odds with international, European, and Greek law. The groups charge Greek Coast Guard personnel abandoned migrants at sea, on inflatable vessels without motors; towed migrant boats to Turkish waters; or intercepted, attacked, and disabled boats carrying migrants.
---
Catholic Relief Services: School Improvements in the Time of COVID-19
In the Kyangwali Refugee Settlement in Uganda, schools are currently closed due to COVID-19, but that doesn't mean that improvement has been halted. The Karuhinda Primary School opened there in February of this year. Catholic Relief Services has been working on expanding the number of classrooms up to 18, which will reduce classroom congestion, allowing for better physical distancing and a more manageable number of pupils for each teacher. Education is crucial for the refugee population, and with school improvements like the ones taking place at Karuhinda Primary School, students there will be able to thrive and reach their full potential.
---
Interested in joining Interaction? Review our Member benefits and consider applying!
---
Check Out Past Media Alerts!