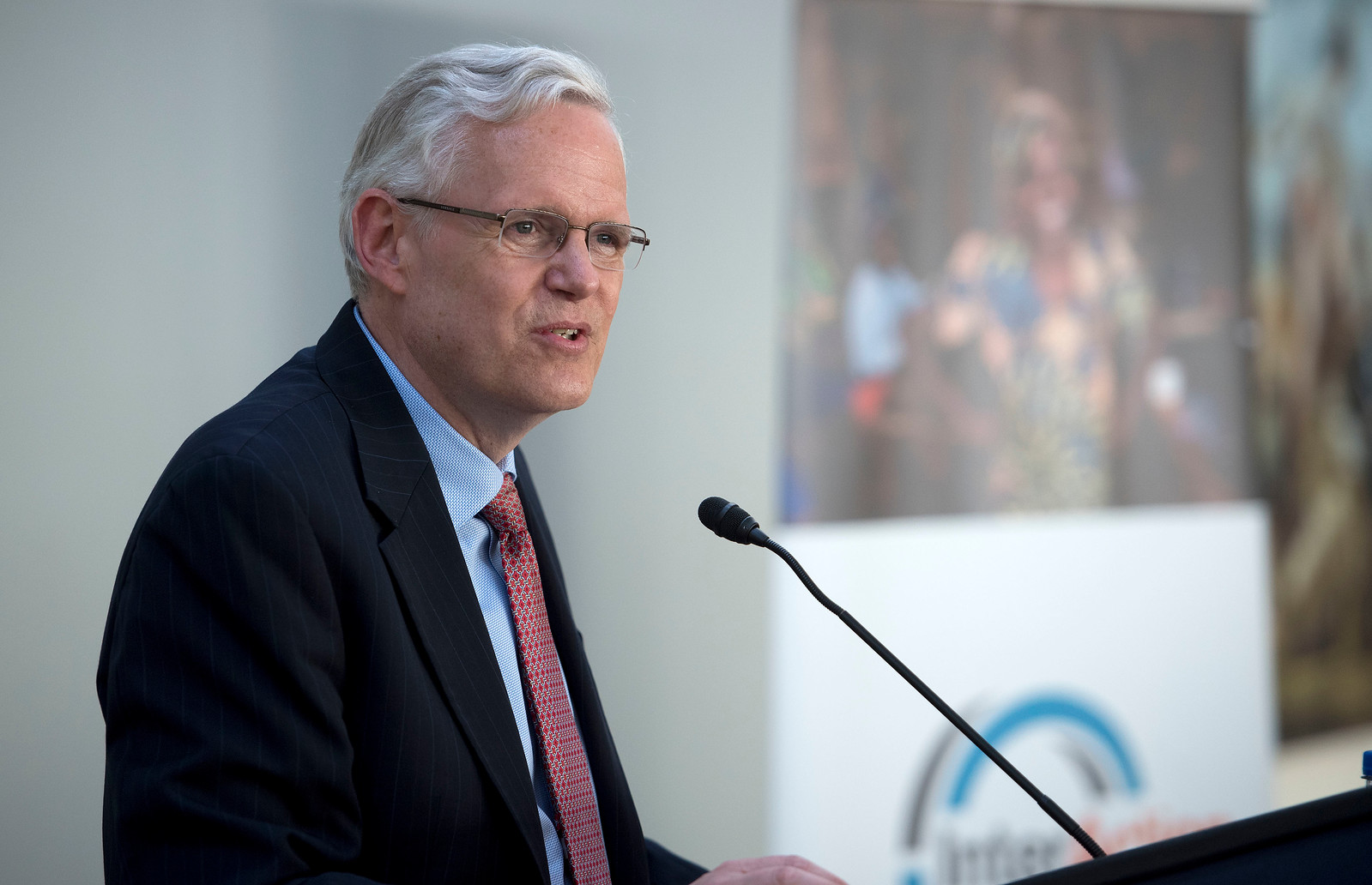 Thanks to You, I am an Optimist
These remarks were delivered at a farewell celebration with colleagues and friends of InterAction.
Thank you all for coming. I am honored by your support on many levels, especially since I deeply respect and admire all of you. Each of you exemplifies what it means to be a professional in roles dedicated to improving human welfare and dignity. Your actions advance the social justice values we all share and the belief that people anywhere who are marginalized deserve the same rights and inherent dignity as the most powerful.
I am going to start by sharing some bad news. It is a reality that you all know well. Unfortunately, today is an incredibly difficult period in history, particularly for many vulnerable populations. It is not hard to make a case for why.
Whenever someone asked me about human welfare around the world, I used to be able to say that we lived at the best time in human history. Infant mortality was dropping, more girls were in school, fewer people were hungry, and life expectancy was the highest ever. For decades we were contributing to this upward trajectory. Then, in 2014 during the Syrian war, we witnessed for the first time, at least in my life, a net increase in global hunger. And since then, our global reality has only gotten worse.
We now face a growing intersectionality and universality of crises that weaves together climate change, a pandemic, geopolitical conflicts, rising hunger, inequality, an economic downturn, and greater gendered violence, among others. These crises all negatively reinforce each other in a downward spiral. It is hard to see where one crisis ends and another begins.
We live in a world where 49 million people are at risk of falling into famine, with an estimated 670 million people—8% of the world's population—continuing to face hunger in 2030. We are witnessing rising temperatures, extreme droughts, and floods that come with a climate crisis which continues to aggravate these trends. And as human conflicts spread, we find ourselves trying to respond to the need of over 100 million people who are now displaced.
For the first time, we are living in a world where the United Nations Sustainable Development Goals, the best gauge of human progress, are headed backward in many places. Whether it is COVID-19 or harsh economic realities that stress families, we see fewer girls in school and a rise in gender-based violence. And there are many more negative indicators.
In response, we increasingly see governments that reject human rights and efforts to build a more equitable world, as they embrace populism and authoritarianism. Oligarchs are strengthening their ability to increase their wealth. This reality is a risk we now share with other countries here at home. Many Western governments are overwhelmed by domestic crises, or because of the war in Ukraine, and are increasingly focusing their efforts inwards.
During this time of crisis, each of your organizations, as you try to advance a social mission around the world, is more stretched than ever. You are playing triage in complex emergencies. At the same time, your organizations must evolve. Internationally, U.S. nonprofits confront justified criticism that we must find new ways to deliver our missions that are better aligned with our values and shift power to local actors.
And yet, despite this complex and harsh reality, I remain an optimist, hopeful that thanks to you we can turn this page of history. I am a principled pragmatist.
We have never been able to advert all the horrible realities of this world, but your work does mitigate harm. As the U.S. international NGO community, we are part of broad, human-centered global development efforts that lift a generation. Our work, our embracing of the humanitarian imperative, is a vital lifeline for millions of people. Your work provides hope to millions of families, helps save lives, and helps a new generation realize their dreams.
These positive actions are amplified by all of you. The results are just as real as today's harsh global statistics. The media just does not talk about them.
Whether you work for a local community organization, an international NGO, the U.S. government, a donor, a foundation, the U.N. or a multilateral agency, a think tank, a university, or the private sector, as a practitioner, academic, advocate, lawyer, or poet, each of you plays a critical role in making our world a better place. You are the heart of this country's international efforts.
Your work matters to a child's mother who will now live, a young political leader who finally has a voice, a farmer who can feed her family, a person with a disability who now has future options, an advocate who can stop deforestation, a city's mayor who commits to advancing the SDGs, or to millions who will benefit from a program you help shape, implement, and launch.
And for that, I thank you.
At InterAction, we have accomplished many things all thanks to a web of dedicated people. As NGOs, we have sought a voice at tables of power, and we have learned to bring ideas and something tangible and relevant to policy decisions. We have learned that there is power in compromise and it can seed the possibility of collective action. And we know we find power in our common humanity.
As a person living with a disability, life has been a challenge but also a blessing. Chronic pain has given me a perspective that I must accept my limitations. It is the first sensation I feel waking up and the last before I fall asleep. My pain has also taught me to see beyond the inherent reality of our human flaws, to see in every person, in every collective of people, the inner beauty and power that shapes a commitment to make a difference. Thank you for your ongoing care and support.
Each of you in this room is shaping InterAction's collective efforts, and I thank you for engaging with us, listening to us, and finding a common purpose. None of this would have been possible without the hard work and dedication of InterAction's staff and management. Working with Members and partners, today's InterAction holds the keys to its future potential, and under the leadership of Miriam Sapiro, InterAction is well positioned for the future.
Lastly, I would like to thank my wife, Renée, for without her, none of what I helped build and create here would have been possible.
Thank you all from the depth of my heart for an incredible 16 years. Please do stay in touch. This journey is not over, and I look forward to working with you in the future. We have much to do.
And, thanks to you, I remain an optimist.