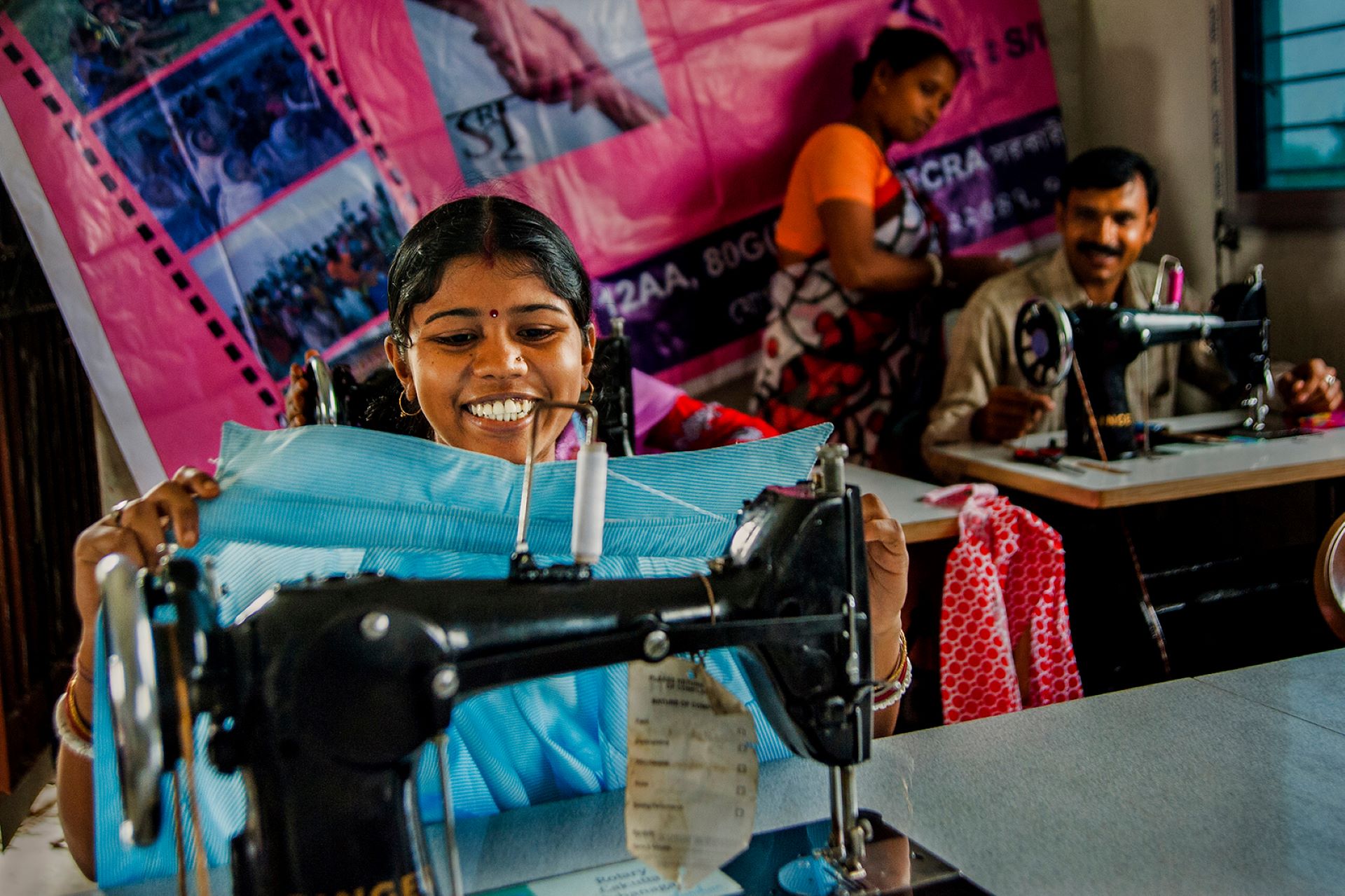 Aid Delivers 2021
Foreign Assistance in the 117th Congress
Foreign aid delivers.
Across the globe, we have made significant progress in global development. More than 1 billion people have been lifted out of extreme poverty since 1990, with major gains made in health, education, and economic development that contribute to human well-being. Despite demonstrable progress, however, development and humanitarian challenges persist. The need for strong U.S. global leadership is more critical than ever. Without America's support, these challenges will leave lasting scars for generations to come.
Around the world, country governments, non-governmental organizations (NGOs), multilateral organizations, local civil society organizations, and donors coordinate to combat inequality; a changing climate; rising levels of global hunger and malnutrition; backsliding in democratic governance; and increasing conflict and displacement. Each presents a grave threat to decades of advancement. Exacerbating this already complex landscape, the COVID-19 pandemic could further erode, and even reverse, global gains.
The United States has a long, bipartisan history of working with and within the international system to advance evidence-based development priorities and solutions. American leadership and engagement—bilaterally and in multilateral organizations—is crucial and drives development successes and principled humanitarian support. Integral to American engagement with the world, such assistance remains a strategic, economic, and moral imperative for the United States.
Poverty-focused foreign assistance works. America's investments have yielded tremendous dividends. In fact, 11 of America's top 15 trading partners were once recipients of foreign aid. Programs are data-driven, cost-effective, transparent, inclusive, and accountable to the American people. At approximately 1% of the federal budget, foreign assistance can continue saving lives, protecting children, improving health, advancing gender equality, and helping families and communities be self-reliant.
Understanding the global impact of development and humanitarian action, and the critical role of U.S. foreign assistance programs, is crucial to the implementation of U.S. foreign policy priorities. These programs deliver effective results that support vulnerable people around the world. The subsequent sections illustrate the impact of U.S. foreign assistance through development and humanitarian programs; highlight the impacts of key U.S. government foreign assistance program sectors and issues; and showcase the fundamental principles that foreign assistance must follow.
We have made needed investments before, and we can do it again. As the 117th Congress convenes, we must all remain committed to restoring and expanding the U.S's role in protecting the world's most vulnerable.
Click to jump to a section: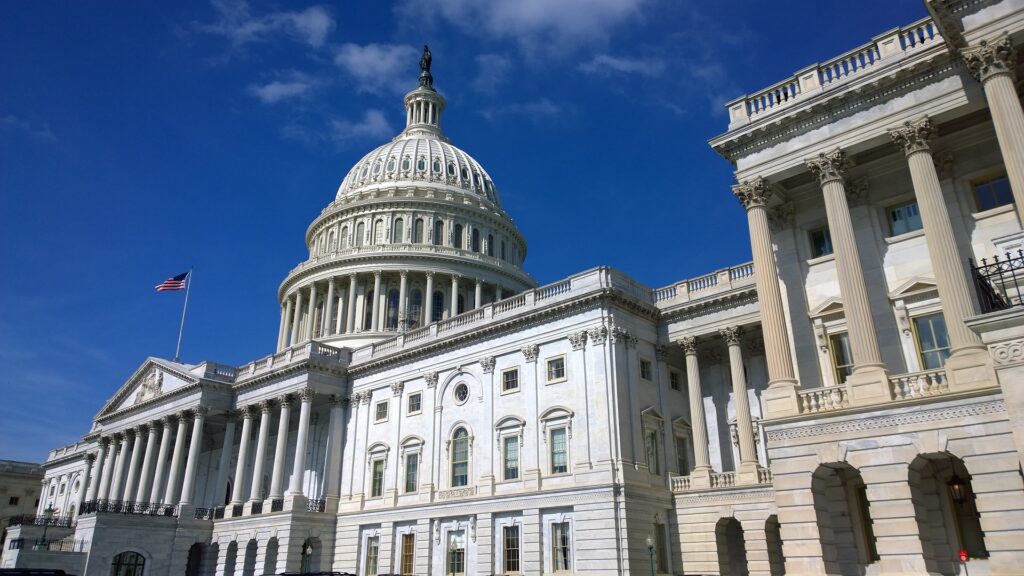 U.S. Foreign Assistance
Foreign assistance is aid given by the U.S. government to support global peace, security, and development efforts and to provide neutral and impartial humanitarian relief during times of crisis.
U.S. leadership and investments impact people worldwide, creating healthier, safer, better represented and more stable communities. U.S. foreign assistance:
Saves lives and reaffirms the rights of individuals.
Makes communities and our planet more resilient to shocks and stressors.
Mitigates crises and reduces the need for emergency humanitarian action.
Increases global prosperity and helps expand markets, supporting U.S. economic interests.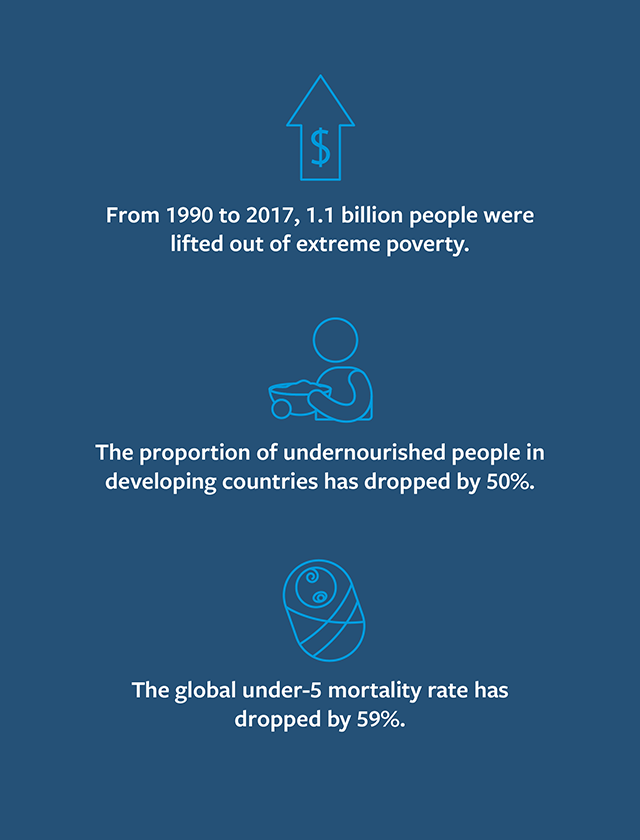 International development
International development programs help communities worldwide as they work to end poverty; support the advancement of human rights; and promote resilient, democratic societies while improving global security and prosperity.
Development Works
From 1990 to 2017, 1.1 billion people were lifted out of extreme poverty. In 1990, about 35% of the global population lived in poverty. By 2013, that percentage had decreased to 10.7%.
The proportion of undernourished people in developing countries has dropped by 50%. From 1990 to 2016, the proportion of undernourished people in developing countries dropped 50%, from 23.3% to 12.9%.
The global under-5 mortality rate has dropped by 59%. The global under-5 mortality rate has dropped from 93 deaths per 1,000 live births in 1990 to 38 in 2019, a 59% decrease.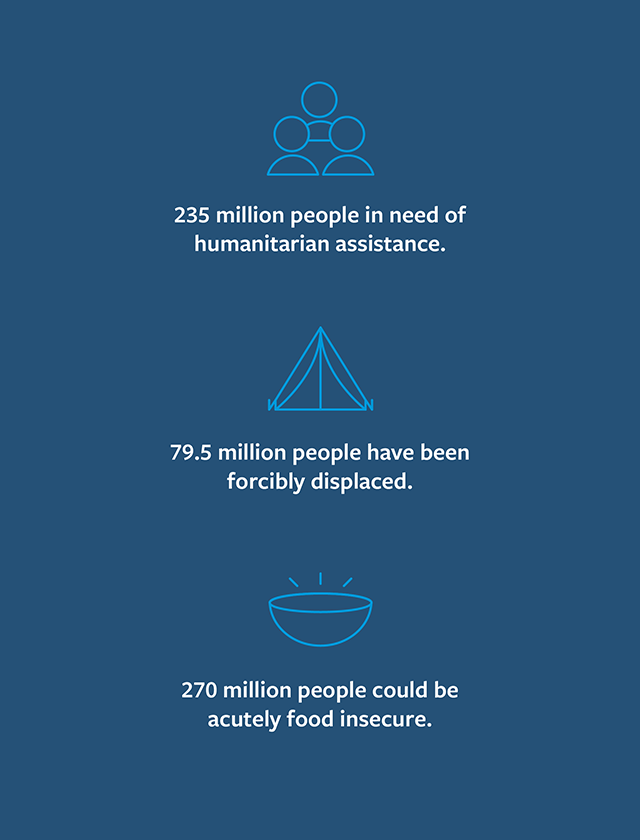 Humanitarian Action
Humanitarian responses assist people affected by disasters due to natural hazards, armed conflict, or other human-made causes.
The humanitarian imperative guides humanitarian NGOs to save lives and reduce human suffering wherever it happens. They operate in accordance with the humanitarian principles of humanity, neutrality, impartiality, and independence, which safeguard the integrity of their purpose to save lives, while furthering the safety and security of aid workers and affected populations.
Global Crises
How the COVID-19 pandemic is Impacting U.S. Foreign Assistance
The COVID-19 pandemic is beginning to reverse decades of development and humanitarian progress.
The pandemic's rapid spread—and resulting movement restrictions, economic downturns, and social and administrative impediments—has disrupted all aspects of development progress and humanitarian response. The World Bank projects the deepest global recession in decades. Without a sustained global approach to combat the virus and its many secondary impacts, the pandemic will continue to erode years of progress.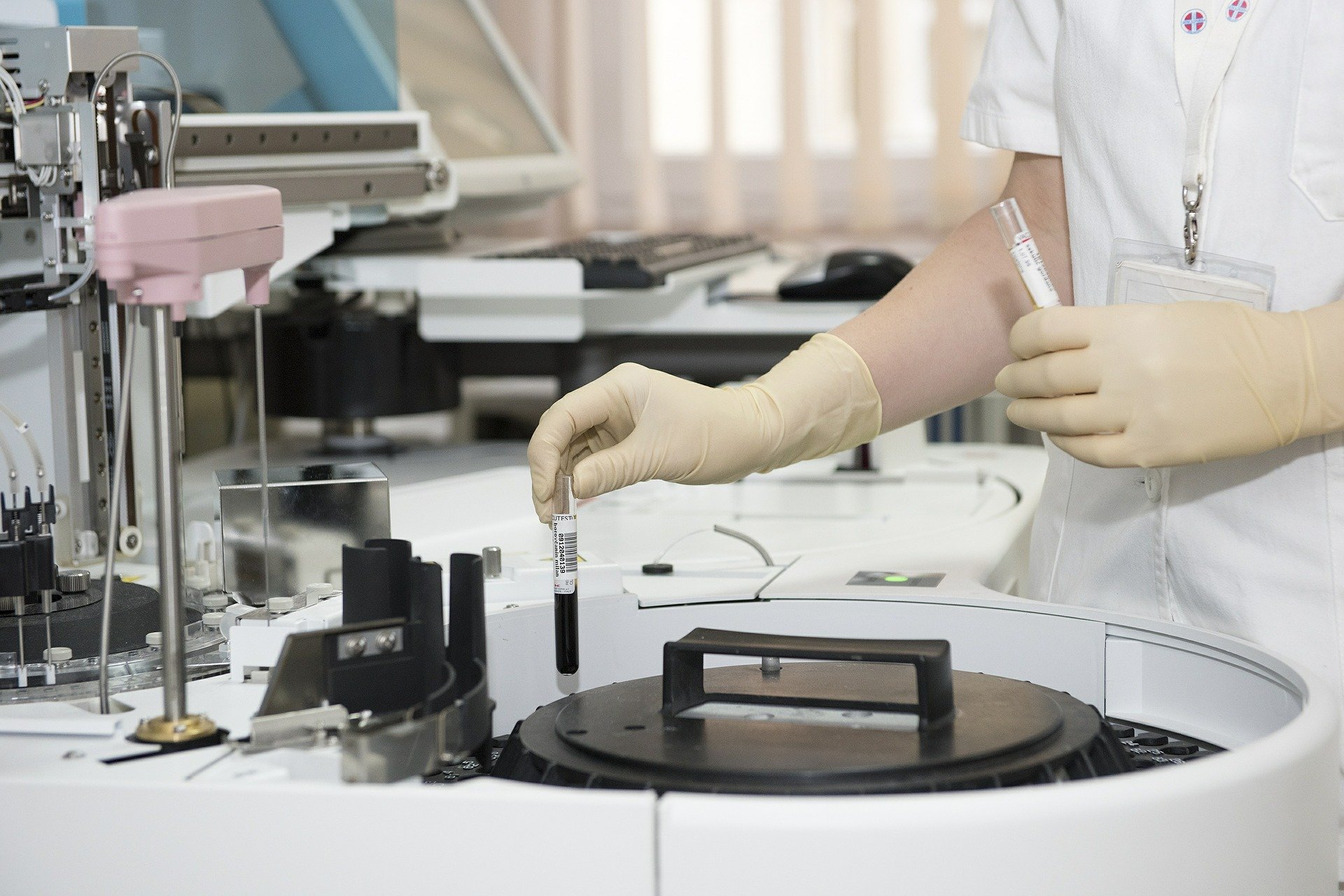 In 2020 alone, COVID-19 was responsible for 71 to 100 million additional people falling into extreme poverty. The number of people facing acute food insecurity have more than doubled in 2020 to an estimated 271.8 million people, and nearly 10 million children are now expected to never return to school. While handwashing has proven to be one of the best lines of defense against COVID-19, 3 billion people are unable to wash their hands in their homes, and COVID-19 presents new threats to water security around the world.
Child malnutrition, protection risks, and death are already on the rise. Due to COVID-19 measures, approximately 80 million children under the age of one in at least 68 countries may miss out on receiving lifesaving vaccines for other diseases. An estimated 91% of children had their education disrupted, and millions of the most marginalized may never return.
COVID-19 is anticipated to lead to 31 million additional cases of gender-based violence in 2020 and result in 13 million child marriages. Further, the pandemic has revealed and exacerbated deep inequalities within societies, leaving those who were already marginalized, including women, girls, LGBTQI+ individuals, sex workers, and refugees, to bear some of the worst effects of this crisis, especially in countries with authoritarian leaders using COVID-19 to consolidate power and crack down on human rights.
The ramifications of COVID-19 will be felt for years, if not decades, and may alter the operational modalities and priorities for humanitarian and development assistance programs.
Impact of U.S. Development and Humanitarian Assistance
U.S. development and humanitarian assistance programs operate across dozens of sectors and issues. Below, you will find a brief description of key areas where they work.
Fundamentals for U.S. Development and Humanitarian Assistance
Poverty-focused development and humanitarian assistance is integral to American engagement in the world and remains a strategic, economic, and moral imperative for the U.S. Yet, our current assistance delivery system compromises what development and humanitarian assistance should be. U.S. global development and humanitarian assistance leadership should adhere to the following fundamentals:
Assistance must be human-centered and effective in accomplishing its long-term goal of ending poverty, hunger, disease, injustice, corruption, and conflict. It should not be instrumentalized or used to leverage short-term political, foreign policy, or military objectives.
The goal of foreign assistance is to build sustainability and capacity for the eventual transition away from assistance, paving the way for other forms of partnership and international cooperation.
Foreign assistance should be transparent, data-driven, accountable, and outcome-oriented. It should be evidence-based, cultivate learning, and use best practices.
Foreign assistance should support locally-led development and humanitarian response to better address community needs and achieve impactful and effective results.
As an investment in U.S. global leadership, foreign assistance funding should be robust, dependable, and timely. Funding levels should be commensurate with global needs, based on locally determined priorities, and reactive to changes on the ground. Once the U.S. commits assistance, it should be delivered.
Foreign assistance programs not aligned with these fundamental principles threaten sustainability of programming and risk further backsliding on the key development and humanitarian assistance objectives previously outlined. For more information on these fundamentals, see the InterAction community's recommendations, "Fundamentals for U.S. Development and Humanitarian Assistance."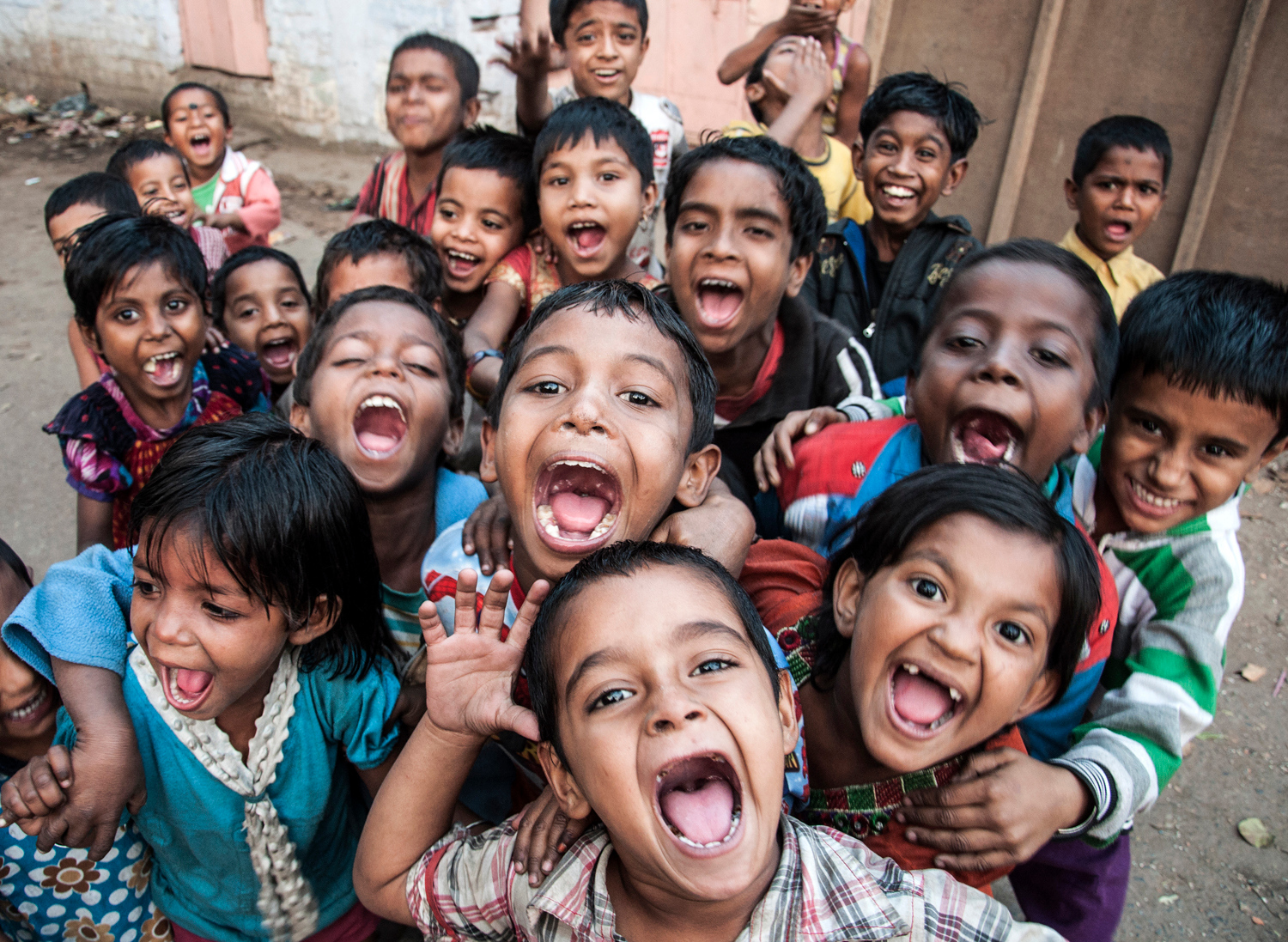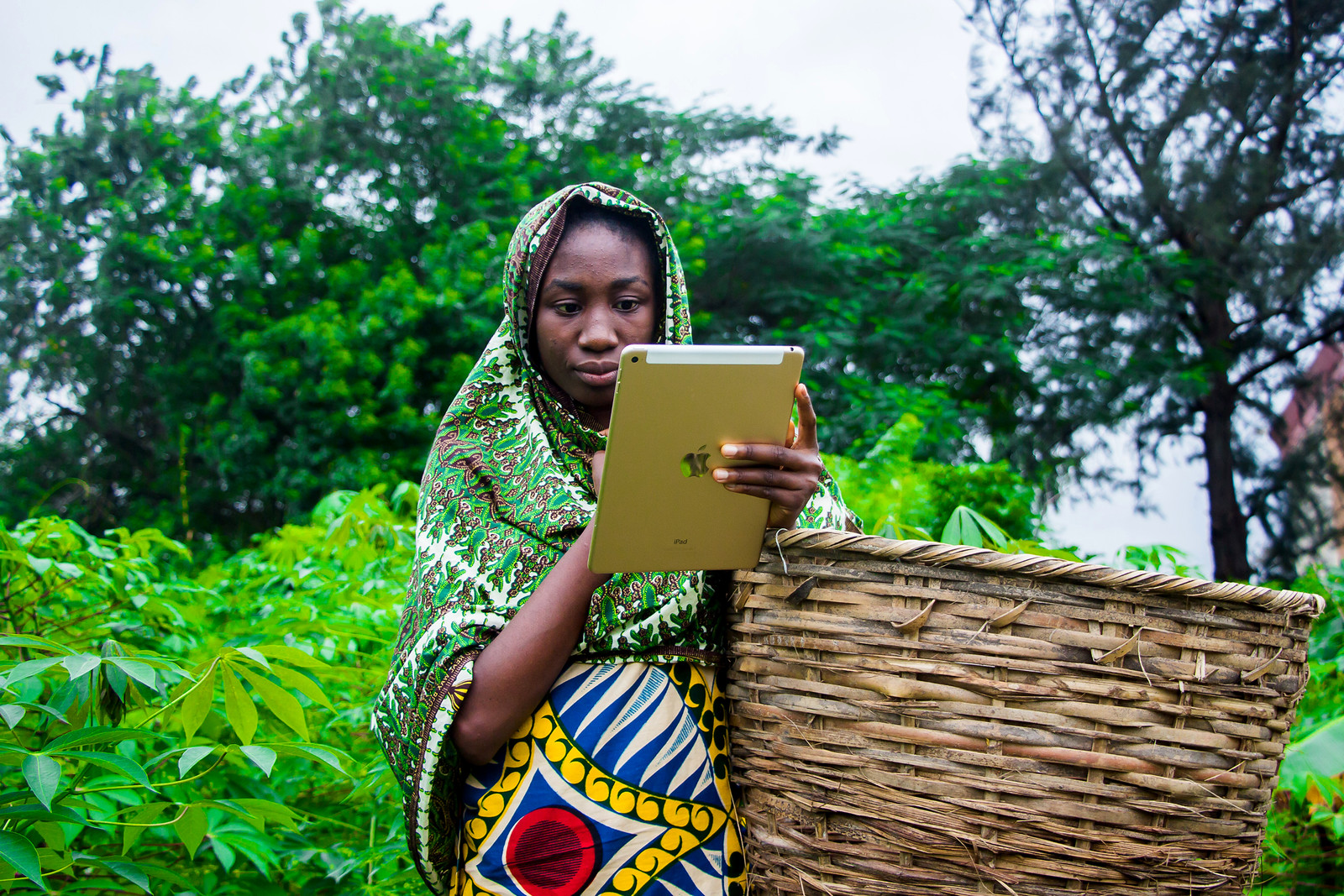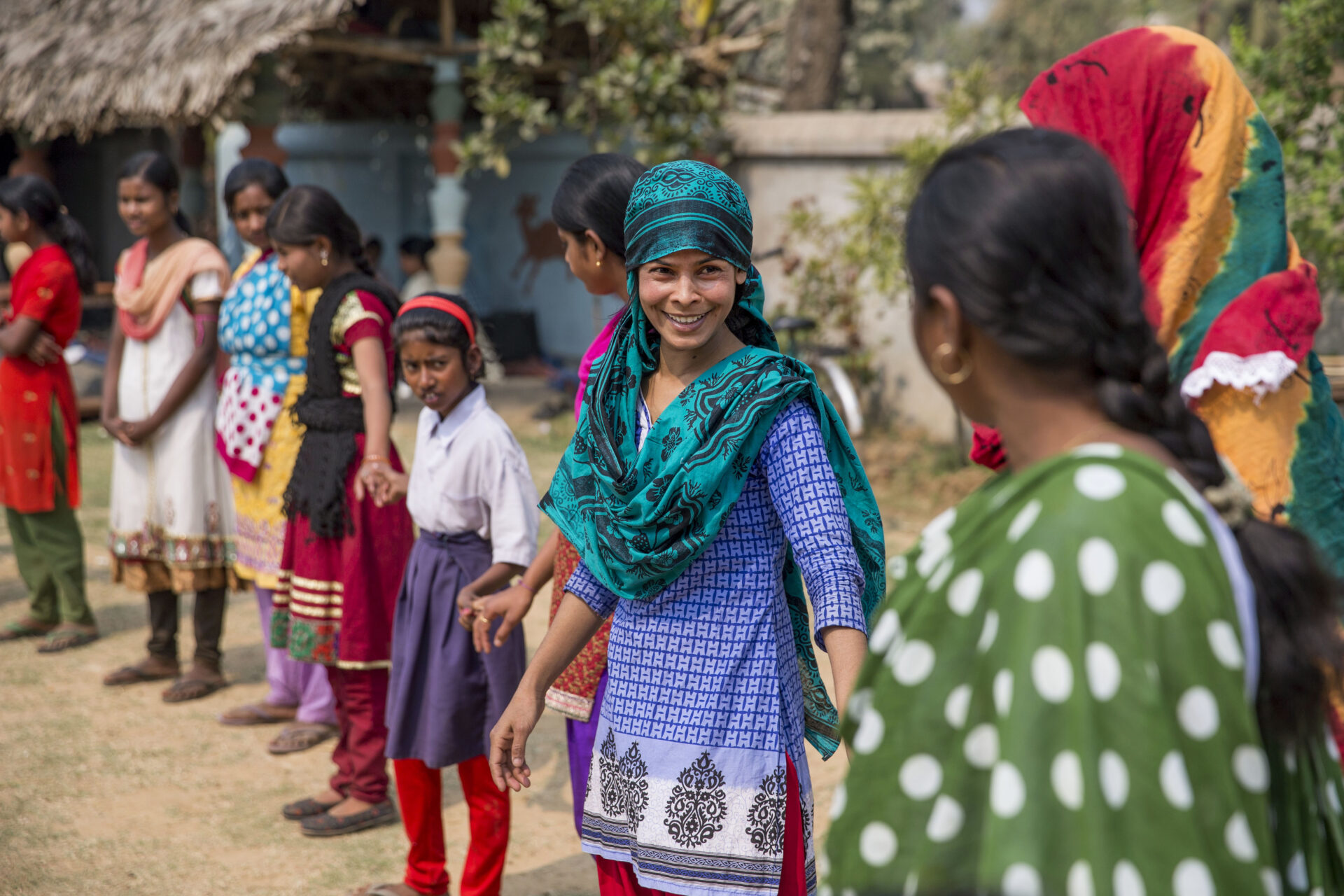 Sign up for our newsletter