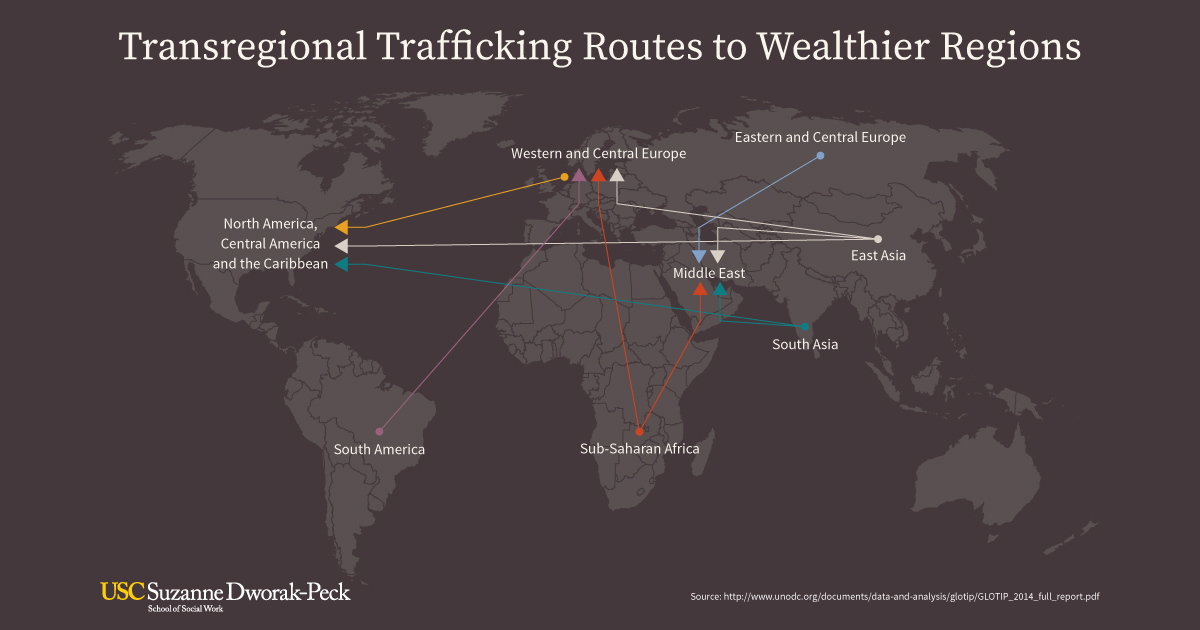 How Global Sporting Events Can Encourage Human Trafficking
The 2018 Winter Olympics convene in Pyeongchang, South Korea this month. But the biennial assembly of the world's greatest athletes may also feature a seamier gathering — of human traffickers and their victims.
Global sporting events have often lured traffickers who exploit women, men, and children for forced labor or the commercial sex trade, says Annalisa Enrile, a professor with the online Doctor of Social Work program at the University of Southern California who has studied the issue.
Amnesty International has documented how thousands of migrant workers from Bangladesh, India, Nepal, and elsewhere constructing a new stadium for the 2022 World Cup in Qatar have been shortchanged wages, stranded in the country and even trapped in slavery labor.
Migrant workers endured a similar plight before the Sochi Winter Olympic Games in 2014. And in 2016, police in Brazil rescued young teen girls from a sex-trafficking ring as part of a sweep in the run up to the Summer Olympics in Rio de Janeiro.
In the United States, Enrile says, major events like the Super Bowl can draw three times the normal volume of sex trafficking. Similar spikes show occur around big trade shows and other venues, "particularly if that conference or convention is very male oriented."
Sexual exploitation accounts for 79 percent of human trafficking, according to the United Nations. Enrile says the traditional locus for American child sex trafficking has been Los Angeles, San Diego and Las Vegas. But that triangle has expanded to include Phoenix and Colorado.
Enrile believes the public has a misimpression of sexual exploitation of minors.
"I think the perception is that … there's a lot of escorts, sugar babying, strippers and this very gray area of the sex industry," Enrile says. The public also may dismiss the issue as "prostitutes that will come out of the city to certain places to literally follow these types of events around where they may make money."
Today's hypersexualized culture has made it more difficult to distinguish between girls and young women who may be voluntarily involved in sexual barter from those who are conscripted into the sex trade, Enrile says. Spotting it is even more difficult at the Olympics and other sporting events that, unlike the Super Bowl or the NBA All-Star Game, unfold in multiple, far-flung locales.
"It's very hard sometimes to even identify the victim and perpetrator," she says. "We're learning more about trafficking. But the challenge is hidden in plain sight."
One area of progress in combating trafficking that has heartened Enrile is the shift by more corporations to demand transparency from their suppliers. The International Labour Organization, a United Nations' agency, estimates 21 million people around the world toil under forced labor. They generate some $150 billion in illegal profits —most of which occurs at the level of suppliers, subcontractors, raw-material providers and others before the goods reach the retailers.
The U.S., U.K., and other nations have enacted laws to require companies to verify their goods are not produced with forced labor anywhere along their global supply chain. Such mandates, Enrile says, can help stamp out illicit labor, even if it's not visible at a construction site for a stadium or a retail store.
"What research is telling us now is that transparency is one of the single largest deterrents in being able to prevent labor trafficking," she says. "Shaming and blaming tactics do not work as well as transparency."