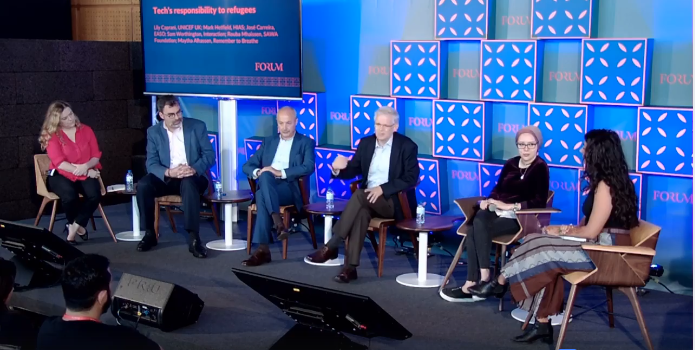 Leveraging Technology to Empower Vulnerable Populations
Last week, I had the opportunity to speak on humanitarian crises, displacement and refugees at the world's largest technology conference in Lisbon, Portugal. The WebSummit convenes tech firms, startups, and venture capitalists to create the tools of the future. Conversations centered on how technology is transforming human life and the promises (and potential dangers) of artificial intelligence. The panels I joined, on the work of NGOs, local humanitarian action, and a need to focus the benefits of technology on vulnerable populations were well received, yet little attention is paid to our world's current inequities, as tech remains largely focused on affluent populations.
How can a transformative and increasingly dominant sector of the global economy embrace its responsibility to vulnerable populations? Innovation can benefit everyone, but we must do better than a trickle-down approach.
It is hard to not be enamored by new solutions provided by technology. People have benefited from the transformative commerce and emergency communications opportunities of mobile phones. NGOs have benefited from data analytics, such as those that can help predict and prepare for disease epidemics and other disasters. Technology and the internet have also propelled a massive disintermediation of resources and leadership in development assistance and humanitarian aid, altering relationships between NGOs and the people of the countries in which we work. Local response and solutions are empowered – requiring NGOs to ask not how our organizations can continue supporting them as we had in the past but how we can be better partners in the future.
We cannot hold back these technological changes nor should we. However, we do have the opportunity to help those in the tech sector understand how they can best develop their products and services to align with our missions and values, such as helping people in the world's poorest places. The mantra of "fail fast, fail often," is espoused as a guiding philosophy but when you are working to save or transform lives, failure could mean the difference between life or death. For this and other reasons NGOs can be quite conservative. Yet, innovating new solutions is essential. We can help tech companies focus on risk for individuals – who must remain at the heart of any pursuit.
We also need to speak up about the unintended consequences of technology. For example, reports and analysis, including commentary recently published in the New York Times, have pointed to Facebook's rapid spread in Myanmar, a country that was until recently a closed society, as exacerbating the persecution and expulsion of the Rohingya minority.
Whether in our implementation of new technologies or through our growing relationship with the tech sector, we need to encourage all who seek to make a positive impact in the world to ask what are the costs of new technological solutions, who are they good for, what are unforeseen downsides to their use, and how do we leverage the new solutions to empower the vulnerable rather than exacerbate their reality.