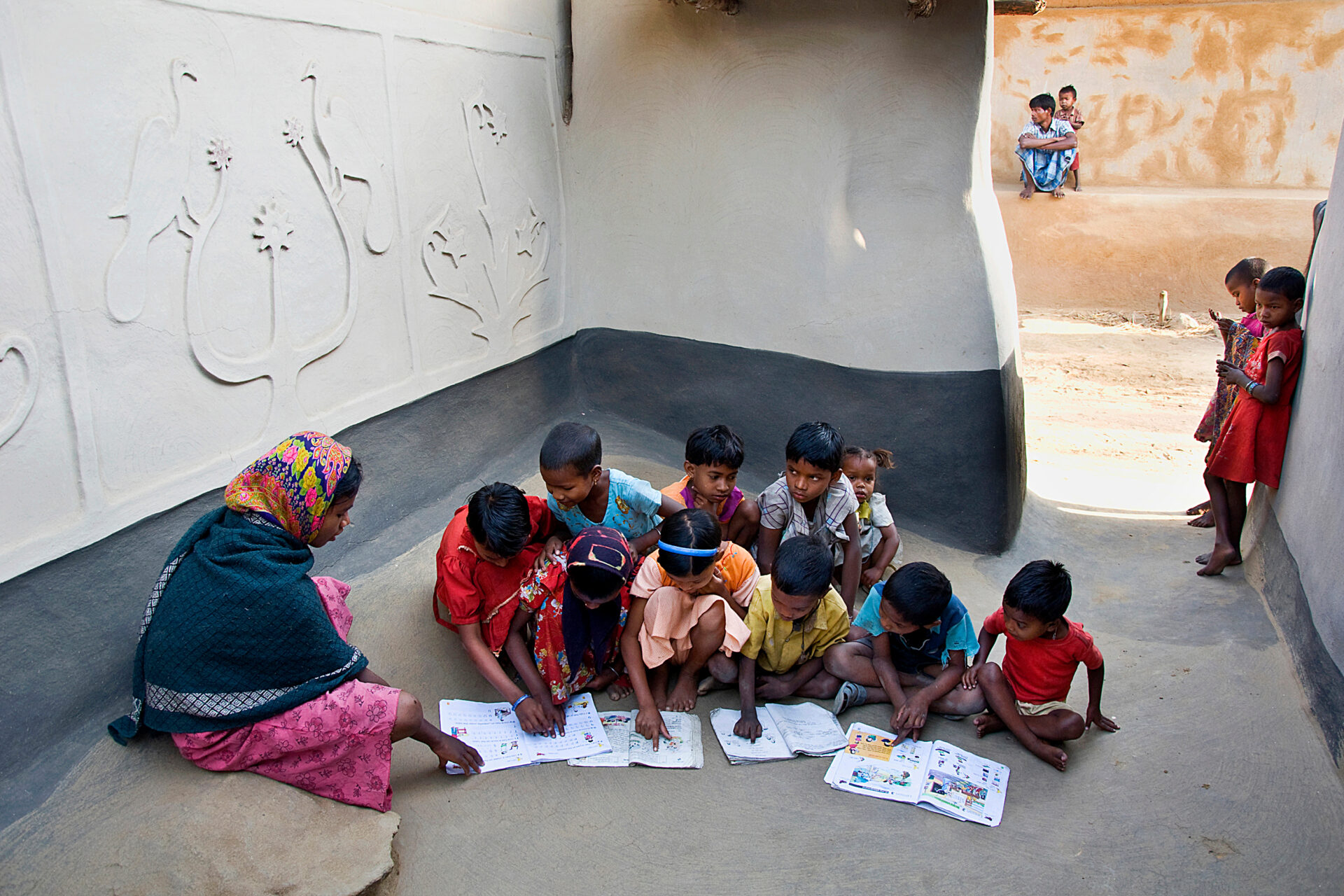 MindShift: A Collection of Examples that Promote Protection Outcomes
A Results-Based Protection Initiative
InterAction is excited to announce the launch of its new publication, MindShift: A Collection of Examples that Promote Protection Outcomes.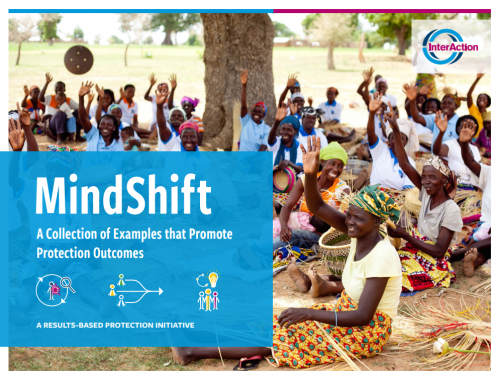 This publication comes at a critical time, as there is increased demand for more evidence that demonstrates how results-based approaches can support protection outcomes. The 13 case examples spotlighted in the publication are a testament to several humanitarian organizations' commitments to embrace the key elements of results-based protection and apply more outcome-oriented ways of working in an effort to achieve protection outcomes. The publication demonstrates what results-based protection can look like in practice. In an engaging manner, each case example helps to pinpoint what specifically is results-based about the example and which enablers were put in place by an organization that allowed for the approach to be taken up and adopted.
What Aspects of Protection are Documented?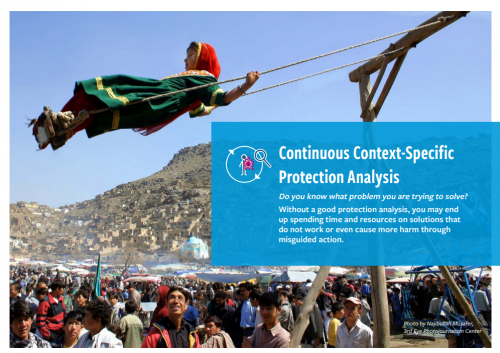 Several case examples demonstrate a focus on continued, context-specific protection analysis: RBP key element #1. For example,

Other case examples highlight emerging good practice in the use of outcome-oriented methods. CIVIC's use of results journals to track their progress towards protection outcomes in Maiduguri, Nigeria, is one example.
Some examples highlight multiple elements of results-based protection. An example of this is JHAJA's work of engaging with gangs in Honduras to reduce protection risks. The emphasis on engaging with perpetrators of violence helps to address the underutilized component of the risk equation—the threat—to work more comprehensively to achieve better protection outcomes. Additionally, JHAJA employs a multi-disciplinary approach in its effort to reduce risk. Their deliberate effort to coordinate and collaborate with other local and national NGOs and Civil Society Organizations (CSOs) in Honduras helps to engage the most relevant actors that can contribute to reducing risk.
How Did We Collect the Examples?
One way in which we collected examples to document was through InterAction's RBP good practice contest. Through the contest, we came across examples like the Community Protection Approach (CPA), which was developed by WeWorld-GVC that uses a community-based and multi-disciplinary approach to tackle protection issues; this example was awarded first place.
In Iraq, the DRC created a participative tool for protection analysis that helps to strengthen the analysis of each component of the risk equation through community-based focus group discussions; this example placed as runner-up. The IRC tool, which takes advantage of fast-paced technology and communication capabilities to identify risk and increase the community's capacities to address risk, was placed as second runner-up in the contest. UNFPA Regional Syria Hub received an honorable mention for its approach to collecting GBV data. These case examples emphasize the significance of contextualization in protection work; risk does not manifest the same everywhere, and so approaches and programs addressing protection risks must be adapted from context to context.
Apart from collecting examples through InterAction's RBP good practice contest, we collected examples through local engagement (Save the Children's participatory risk mapping methodology), through our Results-Based Protection Practitioners' Roundtable (ACAPS' Protection Analysis Canvas), and by conducting interviews and administering questionnaires (Mercy Corps' Experience in Nigeria).
Future Documentation?
InterAction aims to increase its documentation to identify and highlight where efforts are underway to strengthen approaches to achieve protection outcomes. One area that remains weak is what it takes to apply multi-disciplinary strategies in support of protection outcomes. Although there are increasingly good examples of protection analysis and the use of outcome-oriented methods (e.g., Key elements of RBP), documenting the RBP Key element, multi-disciplinary strategies, proved difficult. There are ongoing efforts in the community to find ways for humanitarians to better collaborate and work with each other and with other disciplines, but further experimentation is needed to measure the effectiveness and contribution towards reducing risk.
Another area that remains nascent is the use of outcome-oriented methods to measure and evaluate risk reduction. There are emerging initiatives that will explore how to measure protection outcomes, including InterAction's recently launched results-based evaluation framework to measure GBV prevention outcomes (GBV PEF). Hopefully, future documentation efforts will help guide the humanitarian community to develop tools and methods to fill in this gap in the community's knowledge.
With this new publication of examples, InterAction has highlighted several good practices and innovative approaches by humanitarians aiming to achieve protection outcomes. Thank you to organizations that contributed to the release of MindShift. InterAction will continue documenting examples of organizations doing continuous, context-specific protection analysis and also proactively seek out examples of actors who are experimenting with outcome-oriented methods, multi-disciplinary strategies, and how to measure protection outcomes so that we can learn and strengthen the evidence-base for protection.
We hope you enjoy reading MindShift. If you would like to provide feedback or if you would like to contribute to a future rendition of the publication by providing examples, please reach out to Jessica Lenz, Senior Technical Advisor, Protection, at InterAction.