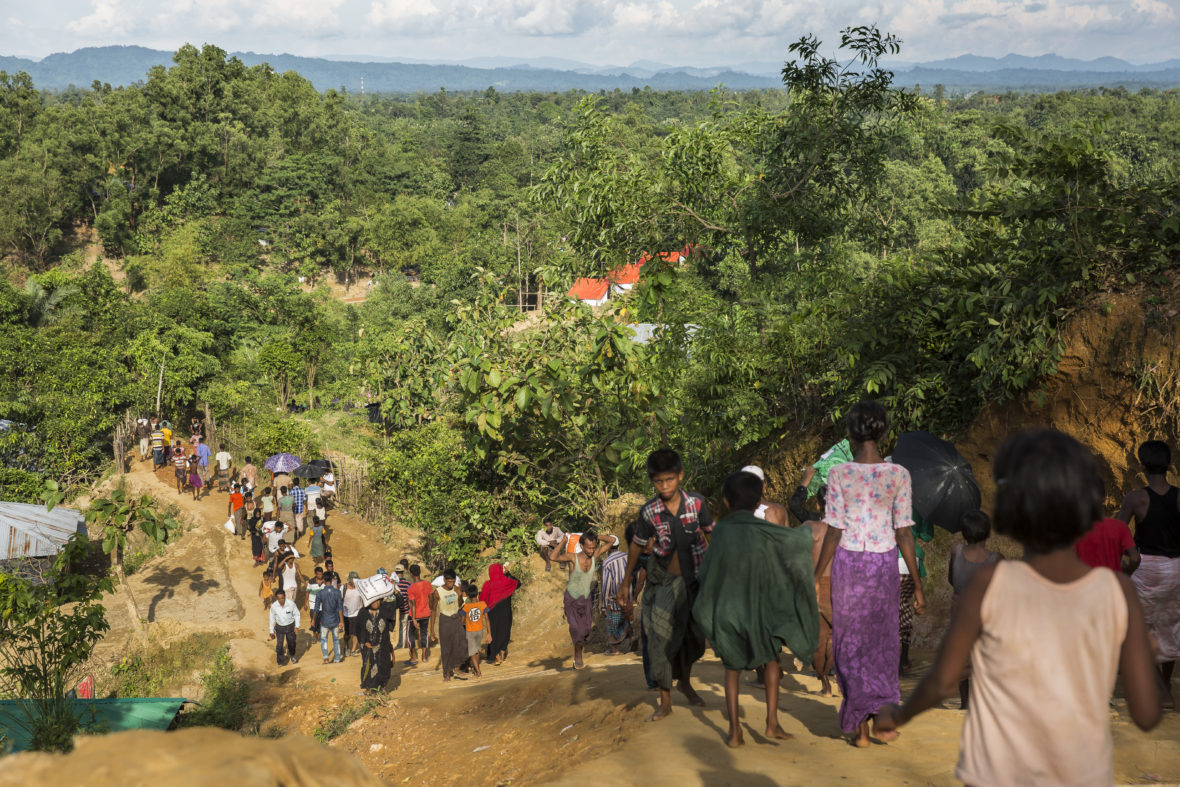 Myanmar Crisis: Recommendations on Aid Delivery in a Changing Humanitarian Landscape
Two years following the Myanmar military's overthrowal of the democratically-elected ruling party on February 1, 2021, thousands of people have been killed in violence sweeping the country while nearly 1.5 million people remain internally displaced.
In Myanmar, food insecurity is on the rise, health and education systems have disintegrated, and nearly half of the population of 55 million people is living below the poverty line.
Rohingya communities continue to suffer from systemic discrimination and a lack of protection mechanisms, including access to legal status within Myanmar. Almost 130,000 Rohingya people remain internally displaced, and over 943,000 live in crowded and increasingly unsafe conditions in Bangladesh.
Disproportionate to the need, Myanmar's Humanitarian Response Plan (HRP) was only 41% funded in 2022.
Despite operating under heavy access constraints, security threats, and severe underfunding, INGOs and local NGOs, the backbone of the humanitarian response, provided lifesaving aid under the HRP and reached more than 4 million people.
Myanmar faces extreme access constraints due to attacks on humanitarian staff and the de facto authorities' adoption of bureaucratic and administrative measures that restrict civic space and limit humanitarian operations.
In October 2022, Myanmar's de facto authorities enacted the Organization Registration Law, which introduced the mandatory registration of NGOs, CSOs, and INGOs with strict administrative and potentially criminal penalties for non-compliance.
Aid actors have already responded by expanding their modalities to continue their daily operations, including cash assistance, remote services, engagement with Community Based Organizations, and increased risk assessments.
However, donors have a central role in ensuring humanitarian assistance reaches those most in need by providing robust and flexible funding to all partners allowing for maximum adaptability and optimal support across the country.
Recommendations
Donors should:
Step up humanitarian diplomacy and advocacy efforts to push the Myanmar Armed Forces (MAF) to respect international humanitarian and human rights law and facilitate the work of international and local civil society actors, ensuring unimpeded access to communities in need of assistance.
Host a donor-pledging event to help raise global awareness of the unprecedented level of humanitarian needs in Myanmar and secure appropriate resources to address them. With humanitarian agencies' support, donors must ensure that Myanmar does not become a forgotten crisis.
Step up diplomatic engagement with regional partners, including neighboring India and China, and support their efforts to welcome refugees from Myanmar. They should avoid refoulement, arbitrary arrest, and detention.
Support ASEAN in developing a comprehensive approach for engagement with all conflict parties to secure humanitarian access and deliver principled assistance across Myanmar.
Ensure all stakeholders, including Rohingya, are involved in future conflict de-escalation processes. While refugees have consistently expressed the desire to return to Myanmar once conditions allow, third-country resettlement and complementary pathways should be explored for Rohingya refugees, as prospects for repatriation or formal integration are currently limited.
Provide necessary exemptions in funding requirements and review partnership arrangements for international and national partner organizations to ensure program continuity and financial sustainability in this complex operational environment and expand direct funding opportunities for local organizations. Donors should adopt flexible reporting and due diligence processes to allow NGO and CSO partners to continue safe and sustainable humanitarian operations.
Donors should advocate with financial institutions inside and outside Myanmar to ensure that enhanced financial due diligence measures are applied in a proportionate and risk-sensitive manner so as not to restrict humanitarian aid flows.
The U.N. Secretariat and U.N. Security Council should:
Push for greater urgency, prioritization, and tougher action by the U.N. Security Council on Myanmar, and not delegate the responsibility for solutions to ASEAN, or individual ASEAN member states. A coherent and unified regional strategy and plan will help mobilize robust support and the backing of the international community, including the U.N. Special Envoy and U.N. Security Council, in the effective implementation of UNSC Resolution 2669 and help secure necessary technical support for the operationalization of ASEAN's Five-Point Consensus.
The adoption of UNSCR 2669 was an important step. It should be followed up with regular briefings by the U.N. Secretary General in open meetings of the Security Council on the situation in Myanmar, including progress on the implementation of ASEAN's Five-Point Consensus and other elements of UNSCR 2669.
The UNSC should work towards a follow-up resolution to UNSCR 2669 that will invite the U.N. Secretary General to periodically provide the Council with written reports on the situation in Myanmar that are then the subject of regular briefings and consultations.
Ensure enhanced support for human rights-focused monitoring, reporting, and accountability, including by extending and resourcing the mandates of the Independent Investigative Mechanism for Myanmar and Special Rapporteur on the situation of human rights in Myanmar.
Ensure that the humanitarian response is scaled up with a new fit-for-purpose coordination architecture in line with the Peer-to-Peer review recommendations under the strong leadership of a full-time Humanitarian Coordinator. Voices of local humanitarian responders must be included in all key actions and processes in the Myanmar humanitarian response.