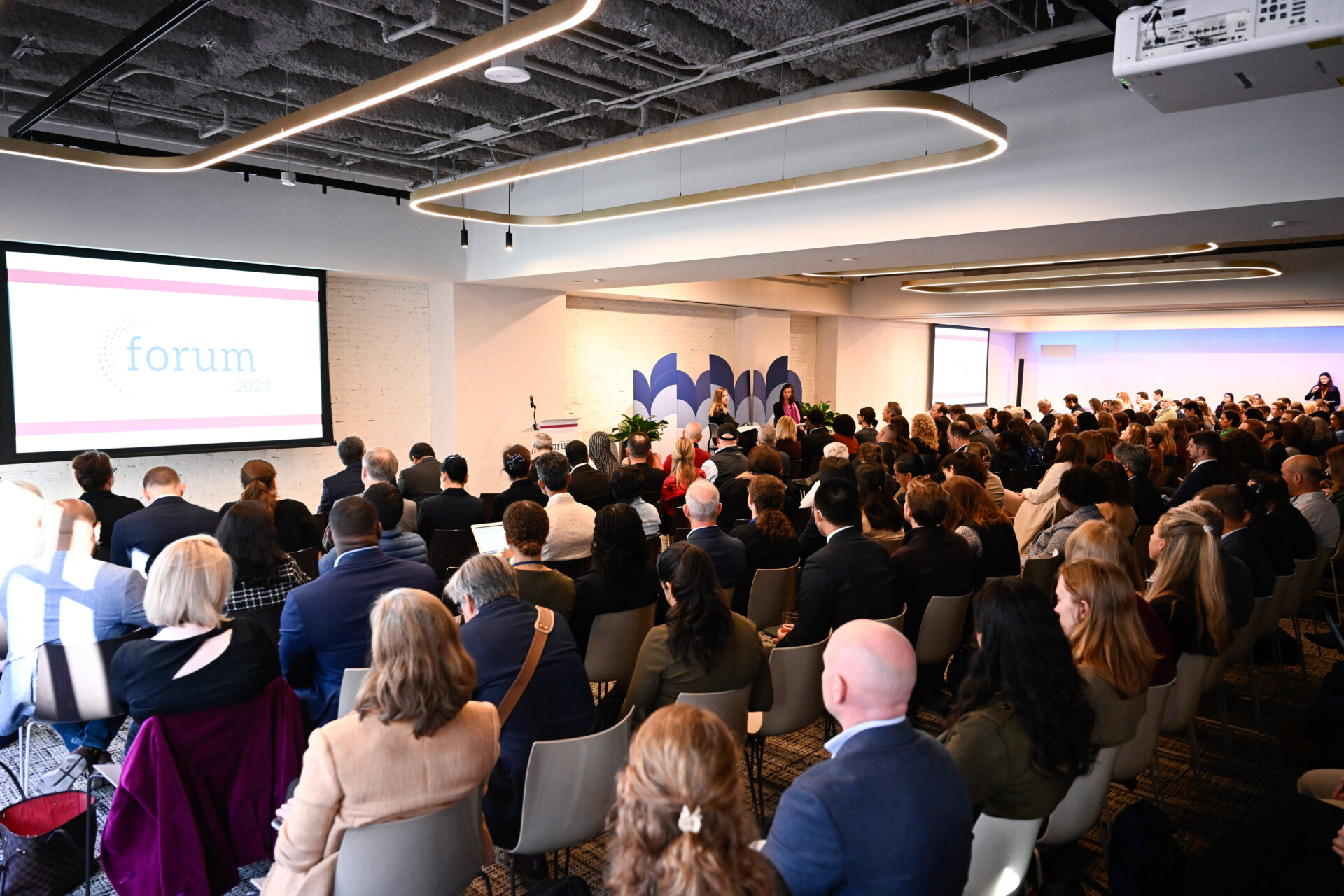 Recapping Forum 2023
A Day to Remember at a Critical Moment
On Thursday, October 19, InterAction welcomed over 300 humanitarian and development professionals to Forum 2023 at Convene in downtown Washington, D.C. The event, shadowed by troubling global conflicts and disasters, provided space for challenging discussions at a critical moment.
Anne Lynam Goddard, Interim President and CEO of InterAction, welcomes attendees to Forum 2023.
Opening remarks by InterAction's Interim President and CEO, Anne Lynam Goddard, echoed this sentiment, noting that "this year has been a tough one" that seems to be "getting worse, day by day." She also thanked our photo contest judges, Christina Assi and Stephen Reasonover. Christina, an AFP journalist, is in critical but stable condition after being caught up in cross-border shelling near the Lebanese border with Israel.
Forum's opening session featured a conversation between Sarah Charles, Assistant to the Administrator of USAID's Bureau for Humanitarian Assistance, and Abby Maxman, CEO of Oxfam America, and Chair of the InterAction Board. The broad ranging discussion tackled how humanitarian and development ecosystem can forge ahead amidst rapidly evolving conflicts, climate issues, international dynamics, and funding realities. Sarah and Abby also addressed the deteriorating humanitarian situation in Gaza.
Sarah Charles, Assistant to the Administrator of USAID's Bureau for Humanitarian Assistance, speaks with Abby Maxman, President and CEO of Oxfam America, and Vice Chair of InterAction's board.
Opening session was followed by three lightning talks: Authentic Storytelling, by Christine Nyirjesy Bragale of FHI 360 and Maria Holsopple of Plan International USA; Financial Access for NGOs: Sanctions and Bank Derisking by InterAction's own Andrea Hall; and The Big Think: Challenges in Making Agrifood Systems Resilience a Reality, featuring Jenny Marron of InterAction and Dina Esposito of USAID.
Intermixed with break times for networking and lunch, the bulk of the day contained 14 breakout presentations across three different sessions (up to five presentations ran simultaneously). Breakout sessions focused on a variety of topics, including:
Locally led development
Public private partnerships
Climate adaptation and resilience
Shifting power to youth advocates
Political attacks on aid and development
Disability-led development
Scaling environment, climate, and conflict interventions
Read the full list of breakout sessions one, two, and three.
Forum closed with a stellar closing panel titled Navigating the Ethical Landscape: AI for NGOs. The panel featured David Ryan Polgar, Founder and President of All Tech Is Human; Nichelle Johnson Billips, Deputy General Counsel of FHI 360; Diya K. Wynn, Senior Practice Manager in Responsible AI at Amazon Web Services' Machine Learning Solutions Lab; and Alex Swartsel, Managing Director of Jobs for the Future Labs. The insightful conversation shed light on what the future of artificial intelligence looks like, ethical issues to consider, and how NGOs can leverage new technologies to their advantage. One thing was clear: AI brings the potential for enormous upside, but conversations need to start being held at all levels of organizations.
Closing session featured a star panel on artificial intelligence and NGOs. From left to right: David Ryan Polgar of All Tech Is Human; Nichelle Johnson Billips, JD, LLM of FHI 360; Deborah Willig of InterAction; Alex Swartsel of Jobs for the Future Labs; and Diya K. Wynn of Amazon Web Services.
The event wrapped up with a networking reception following the closing panel, providing time to decompress after a full day of programming. We thank all those who attended and hope to see you back in 2024.
Additionally, we extend a huge thank you to all Member organizations that coordinated a breakout session: Alliance for Peacebuilding, CARE, Concern Worldwide U.S., Catholic Relief Services, FHI 360, Global Communities, Global Women's Institute, UNICEF USA, IREX, Mobility International, Plan International USA, and Buddhist Tzu Chi Foundation. Without your expertise, the event would not have been possible.
For a more complete breakdown of Forum 2023 programming, visit the event website HERE.