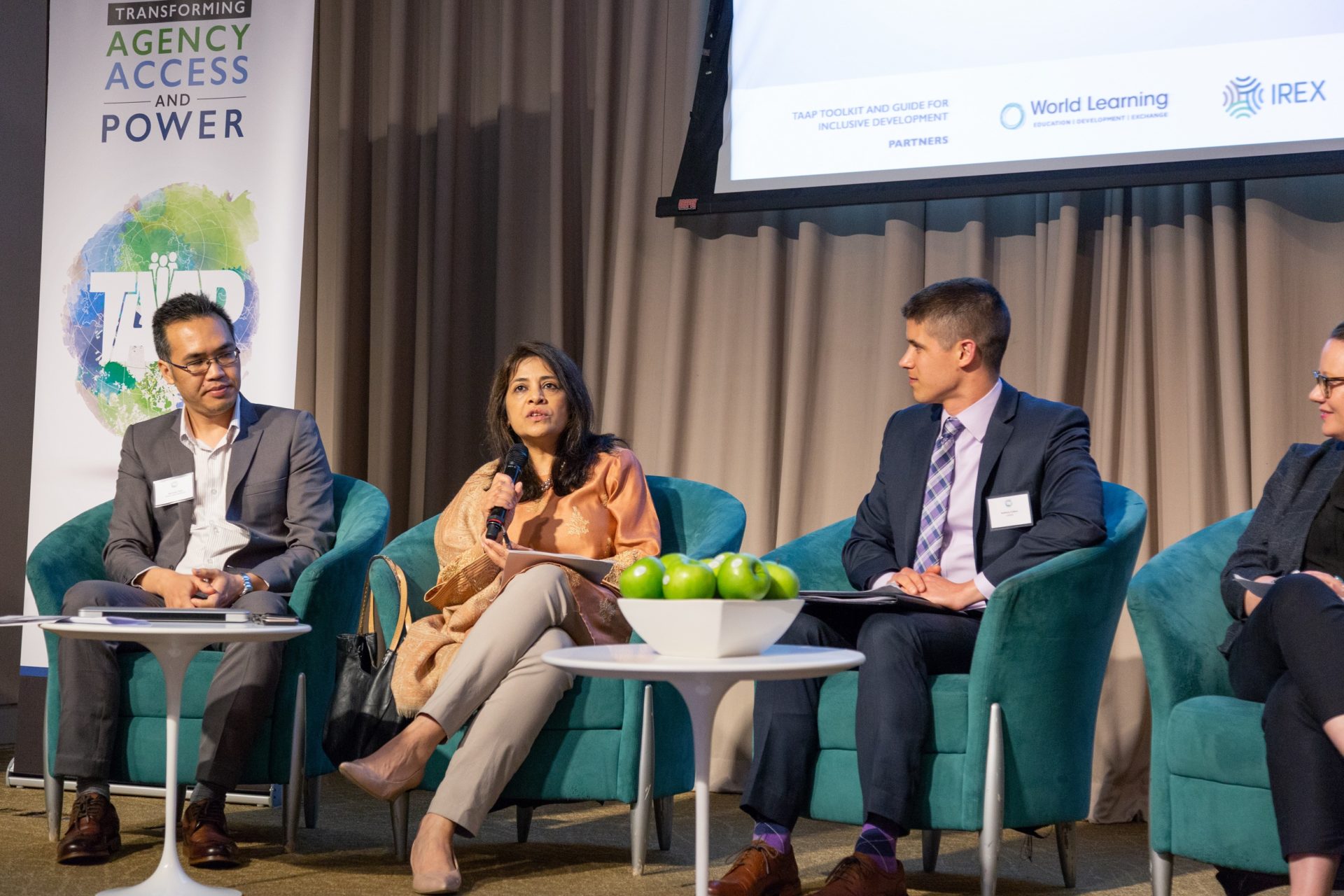 Social Inclusion: The Key to Effective Global Development
The global development community is pursuing historic and ambitious goals. They include: eliminating extreme poverty, providing universal quality education and literacy, advancing peace and security, improving governance, and fostering respect for human rights and dignity for all.
Incorporating social inclusion practices into these efforts is not simply a feel-good exercise; it's central to meeting these goals. When all those affected by an issue are involved in finding and implementing a solution, we are more likely to achieve transformative and enduring change. According to the UN, for example, when women are included in peace processes, resulting agreements are 35 percent more likely to last more than 15 years.
Only by first investigating the changes that different social groups need and want can we make progress. We must listen to and engage with those who have traditionally been marginalized or shut out of society simply because of who they are.
Too often, inclusion is mashed up with "diversity initiatives" that supplement or, even worse, provide window dressing for a development project, instead of being embraced as a central component to achieving a project's goal. We must think bigger and leverage the power of every voice, throughout every aspect of our work, to maximize our impact.
When it comes to achieving real results, we've seen what a difference inclusion makes.
In recent years, a group of global development organizations — including World Learning, IREX, Help Age International, Women's Refugee Commission, Mobility International USA, and Leonard Cheshire Disability — have partnered on an inclusion initiative called The Transforming Agency, Access, and Power (TAAP) Toolkit and Guide for Inclusive Development, which has already begun to change the way we think about and practice social inclusion.
Through pilot testing that took place all over the world — embedded in our development and exchange programs — TAAP partners have made great strides toward ensuring that every segment of the population is present at the table and their voices are truly heard and respected. We're transforming inclusion from a theoretical value to a norm of practice.
In Moldova, IREX — a TAAP founding partner — has been working with local government partners to revitalize the entire library sector, transforming more than 1,000 public libraries into vibrant community hubs that provide citizens with the information and services they need to improve their lives and opportunities to convene with others. Libraries are crucial service points and gathering spots, particularly for marginalized groups — from youth and rural populations who lack employment opportunities to homeless people seeking shelter to women facing domestic violence.
A new library law adopted in July 2017 enshrines librarians' commitment to serving all Moldovans. Making social inclusion central to library operations makes them more valuable to the communities they serve. To give just two examples: A recent TAAP workshop enabled librarians to better serve elderly homeless populations dispossessed during waves of post-Soviet privatization. In addition, several district libraries began cooperating with the Women's Law Center to distribute reliable and timely educational materials on preventing domestic violence and to refer people to local service providers.
In Mongolia, World Learning — the founder of the TAAP initiative — trained a new generation of changemakers in inclusive practices through the Leaders Advancing Democracy (LEAD) Mongolia program. LEAD fellows, who include educators, anti-corruption advocates, and venture capitalists, participated in activities like a "Privilege Walk," which helped them understand the effects of the privilege granted to them by their social group or status.
Trainings on improving social inclusion using the TAAP toolkit were also conducted for the LEAD Mongolia fellows. After these trainings, 79 percent of participants committed to encouraging colleagues and friends to be more inclusive. As one fellow observed: "I understood that social inclusion starts with me. If everyone changes their attitude and starts working toward social inclusion, we will achieve anything."
The LEAD fellows also doubled down on their commitment to integrating social inclusion into their work — whether they're fighting corruption or supporting entrepreneurship. Several of them recently partnered to produce a film, "Journey to Job", exploring how Mongolian's most vulnerable people are disproportionately affected by the unemployment crisis. Others created a project called LEAD Bridge, which supports start-up entrepreneurs from socially excluded populations.
Practitioners, organizations, and policymakers seeking to enhance their efforts through social inclusion can access the TAAP Toolkit and Guide for Inclusive Development, which offers practical tools, technical advice, and hands-on activities for integrating inclusion in any project, at any stage. It is an open-source, living entity designed to adapt alongside our understanding of inclusion.
We aim to embed social inclusion into our own organizations' culture and operations and invite others to join us through the TAAP Community of Practice, which brings users together to share knowledge, cultivate best practices, and solve problems. We believe we must all work together to make inclusion a social norm.
Start today by looking around your own organization and in your programs. Who is not present and why?
---
Carol Jenkins is President and CEO of World Learning, a global NGO creating a more peaceful and just world through education, development, and exchange.
Kristin Lord is President and CEO of IREX, a global development and education organization celebrating its 50th year.