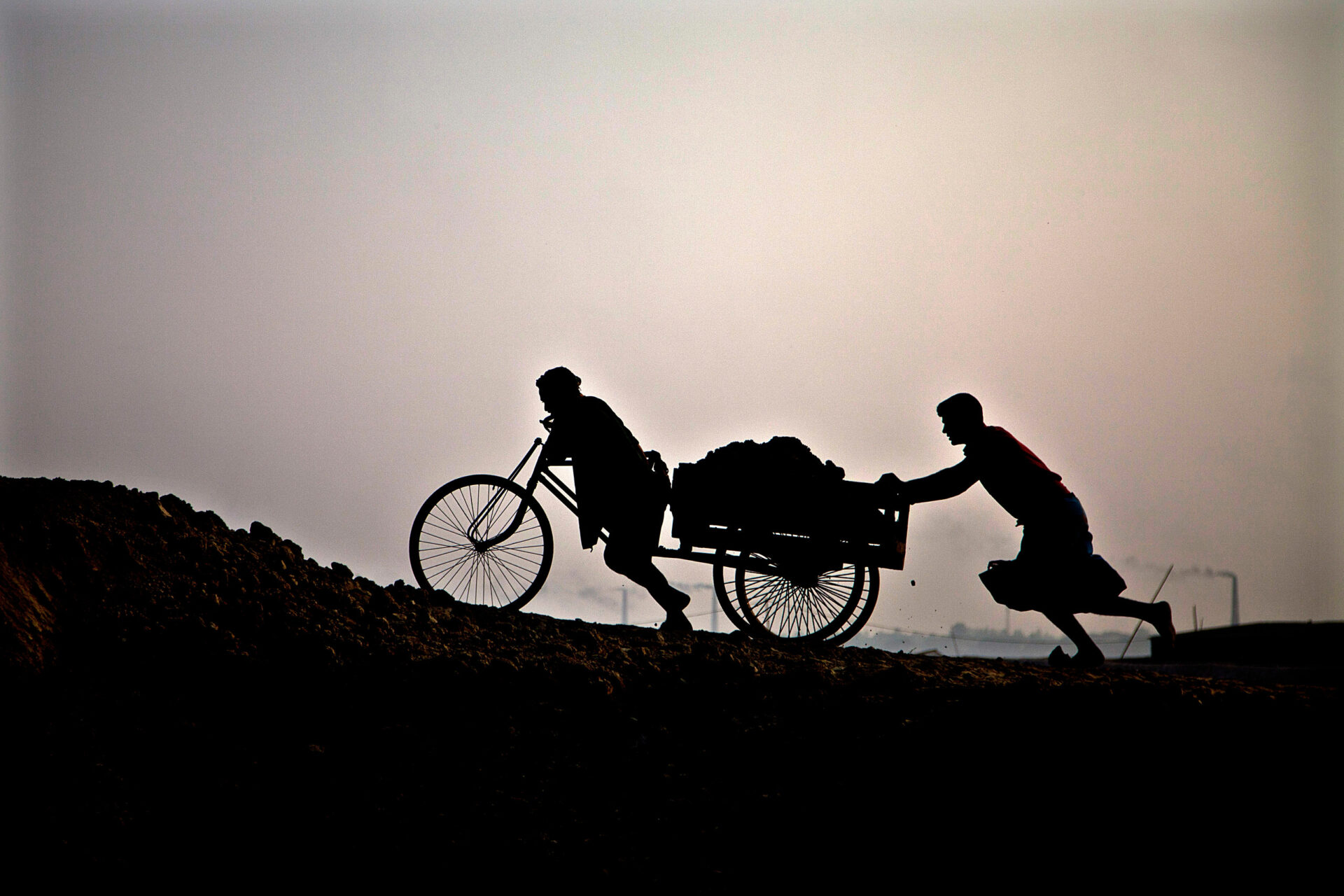 How We're Using Human-Centered Design to Reimagine NGO Aid Map
Since late 2019, InterAction's NGO Aid Map design team has been working to re-create NGO Aid Map to better serve the needs and interests of the NGO community.
The design team chose Meg Kemp of Alma Major—a design strategy consultancy—to help build a human-centered design strategy to engage our audience effectively throughout the process. Working together, InterAction and Alma Major identified four key principles that would guide our process: 1) building empathy; 2) defining the right problem; 3) systems thinking; and 4) testing and iteration. These principles are detailed below.
Step 1: Building Empathy; Checking Assumptions
The NGO Aid Map design team needed to answer a key set of questions: What kind of tool does our audience need NGO Aid Map to be? On which sector-wide challenges can we legitimately hope to move the needle? How can it be more visually engaging? Should it track foreign aid funding patterns more closely? Underlying it all, who exactly is our target audience?
The first step in answering these questions was conducting individual consultations with the InterAction Member organizations that currently submit data about their projects to the Map. In December 2019, we spoke with nine of these Member organizations and found that they use the Map for a variety of reasons:
Visibility of their work, particularly for smaller Members of InterAction.
Helping donors see who is doing what type of work, and where, for coordination purposes.
Partnership development, as the Map shows which other organizations are operating in particular geographies.
Demonstrating a commitment to transparency.
We also spoke with Member organizations that had stopped uploading their project data to NGO Aid Map or had never used it at all. By and large, these included larger NGOs that had their own internal mechanisms for building partnerships, publishing data, and promoting their work, which didn't leave much value in spending limited staff time to update the current version of NGO Aid Map.
Now that we had a sense of the "why?" among our current users, we held individual and group meetings with InterAction staff, which highlighted key elements of the Map's history. Additionally, it created opportunities to bring InterAction Member organizations into the process in a more substantive manner.
The team then reached out to InterAction's Member organizations to learn how the Map could be re-oriented to address the challenges of the sector today.
We selected key staff profiles across development and humanitarian organizations such as Mercy Corps, Catholic Relief Services, Aid Data, JLI, the International Aid Transparency Initiative (IATI), CARE, Alliance for Peacebuilding, USAID, State Department, Development Gateway, Pact, DevResults, WorldVision, and Caritas. We aimed to be as inclusive as possible in order to receive feedback from various staff profiles.
Conveying Impact
We spoke to each group about the same key question: How does your organization convey impact? This seemingly simple question uncovered fascinating, valuable, and highly varied responses, including:
It is broadly difficult to prove causation in the development and humanitarian spheres due to the number of intervening factors that influence development outcomes.
The aggregation of program-level data to the agency-level is extremely difficult because projects, donors, and teams may count outputs differently.
It is a challenge to get Monitoring & Evaluation and Communications consistently on the same page regarding impact data.
NGOs that are best communicating impact data combine program data with data from IATI, World Bank, Annual Reports, and other aggregators but find the most success with additional qualitative activities such as interviews and case studies.
Step 2: Defining the Right Problem
One of the key principles of human-centered design is to design for the right problem. Following our research, we believe that InterAction is best positioned to build an NGO Aid Map to convey our impact as an alliance and the impact of our Members.
With this in mind, we redefined our problem statement: How can InterAction convey to the development and humanitarian aid communities the value and impact of our alliance and demonstrate to policymakers that NGOs can solve global problems with the right support?
And defined our key audiences: development professionals; policymakers and legislative staff; and InterAction policy staff.
Step 3: Everything as a System
Not only is it critical to think of everything as a system, but to consider all the people inside that system. We hosted a design sprint inclusive of people from across the ecosystem, including expertise in policy, advocacy, monitoring and evaluation, development data, and others.
What is a Design Sprint?
A design sprint allows you to gather user feedback quickly and directly from the source. Traditionally, design sprints gather a small group of experts for a few hours per day over a week to work on a given problem and validate our findings.
Goals of the Design Sprint
Our design sprint was designed and led by Meg of Alma Major, and focused on the below key questions:
When talking about InterAction as a coalition, how do we define its impact?
How can we be sure the way we are communicating our coalition's impact is supportive of InterAction's advocacy mission?
Which data would be necessary to show that impact?
Tools and Tricks
We used MURAL, a remote collaboration tool for our design sprint. MURAL is similar to working on a whiteboard live and in-person—it allows a design team to collaborate visually and in real-time.
It was a rewarding experience in which experts across all audiences shared their candid recommendations, concerns, and hopes for the tool. We ended up with guiding principles to prototype, knowing that users were looking for a tool that could achieve a few core functions:
The ability to share human stories.
The ability to have various entry points (data + story).
The ability to sort by indicator or sector.
We also walked away with a broader understanding of our key user types:
NGO Aid Map administrators.
Development professionals.
InterAction policy staff.
Policymakers and their staff.
InterAction Members' communications and business development staff.
Step 4: Prototyping, Testing, Iteration
With what we've learned through the process so far and the refinements we've made to our problem definition, our design team now has a direction and a stronger sense of how NGO Aid Map can be redesigned to better address the challenges of the sector today and showcase the work of InterAction Member organizations.
What's Next?
We'll engage with a software development firm to develop the new and improved iteration of the NGO Aid Map, with multiple rounds of testing and iteration. We're expecting a Fall 2021 launch and will be sharing more details about NGO Aid Map soon!
We've learned so much during this project's design phase and can't wait to see the new version live—stay tuned for details!
Check out a previous blog post for an earlier update of NGO Aid Map's redesign process.