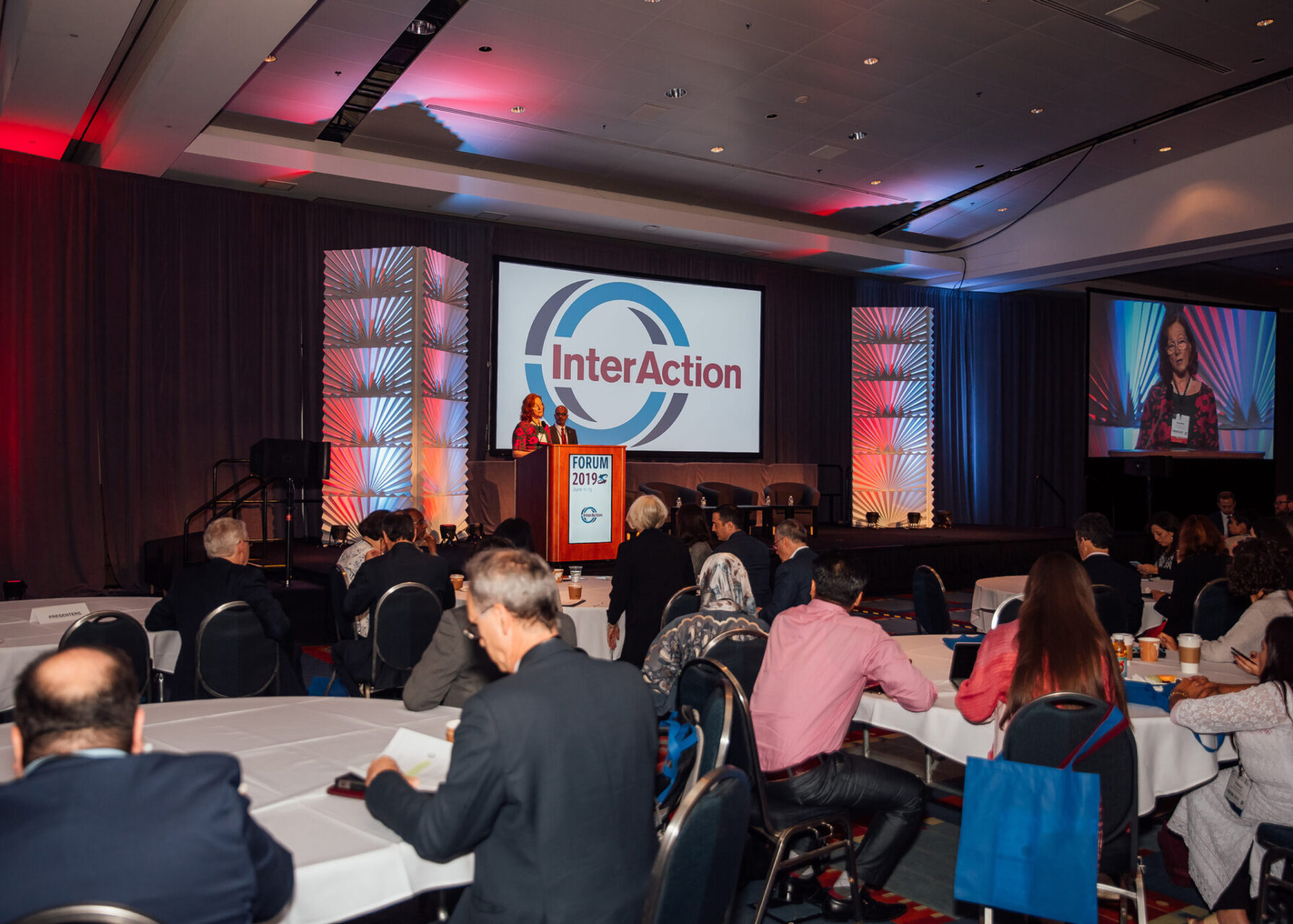 Forum 2019
InterAction Annual Report 2019
InterAction's 2019 Forum brought together organizations, changemakers, and executives from the public, private, and NGO sectors to create a cross-sector conversation that provided solutions to pressing global challenges.
The Forum's general session was opened with Kellie Bentz of Airbnb, Michael Gerson of the Washington Post, and Uzra Zeya of the Alliance for Peacebuilding, who discussed the impact of values-based leadership within their organizations and in supporting the organization's mission.
More than 500 Forum attendees tackled issues regarding building resilience in fragile spaces, organizational intent, governance reform, and understanding the impact of humanitarian programming on gender equality.
During one of the three General Sessions, World Bank CEO Kristalina Georgieva asked the audience to stay in countries that are experiencing conflict to make lasting change. "Be there—because when we are there, together with others, we can create better conditions for people to survive and we can help create peace and stability," she remarked.
In the evening, InterAction took a moment to recognize five outstanding leaders within the global development and humanitarian sectors who have made significant contributions to defend and advance the rights of people living in the poorest and most vulnerable communities across the globe. The award distribution was as follows:
Disability Inclusion Award: Women's Refugee Commission
Distinguished Security Achievement Award: Rafael Khusnutdinov, Save the Children
Humanitarian Award: Janeth Marquez, Caritas Venezuela
Julia Vadala Taft Outstanding Leadership Award: Carrie Hessler-Radelet and Abby Maxman
Co-Recipient of the Julia Vadala Taft Outstanding Leadership award Carrie Hessler-Radelet spoke on the importance of creating safe environments for sexual harassment and abuse survivors, "We must foster corporate cultures that provide a safe environment for those to come forward."
Forum closed with a panel discussion on diversity, equity, and inclusion. Chloe Schwenke, Executive Director of the Association of Writers and Writing Programs, spoke to how NGOs can shape the conversation about universal human dignity through their work, "We need more dignified narratives regarding diversity. Whether it's LGBTI or Syrian refugees, we must agree and believe our diverse stories should be seen as equal!"
Sign up for our monthly newsletter