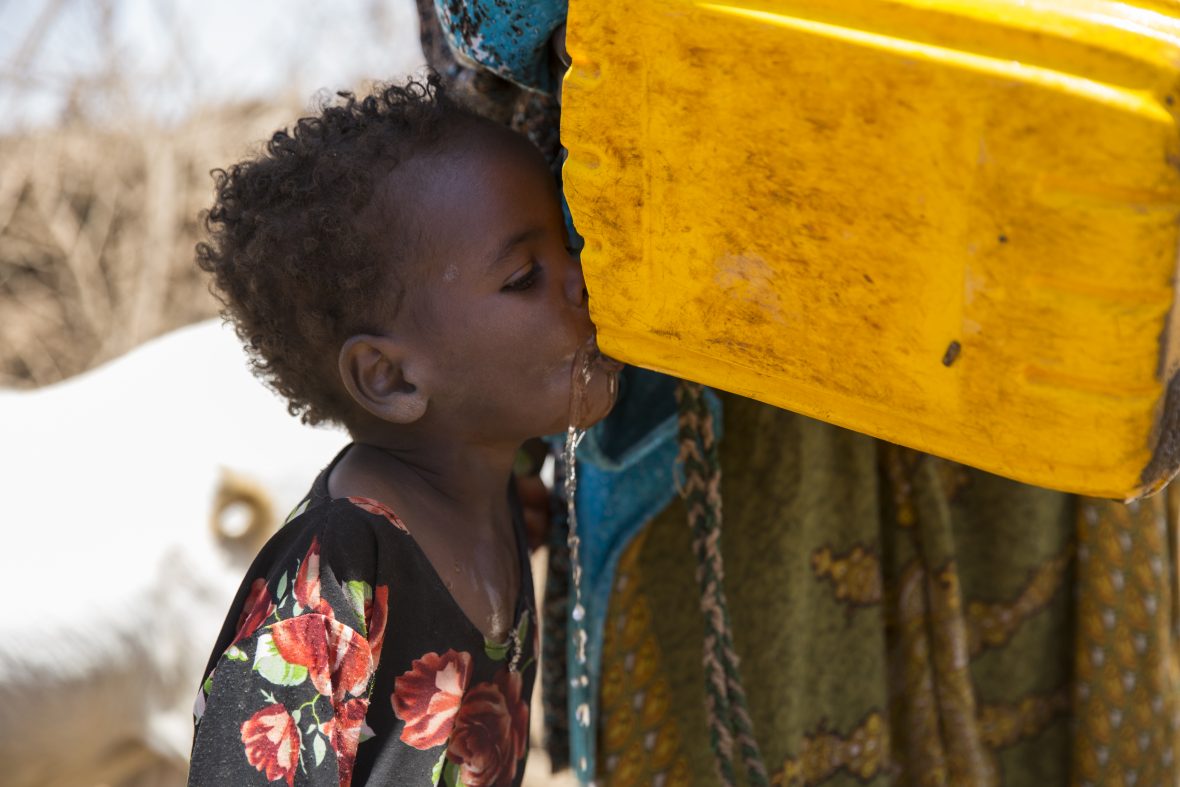 Building Resilience to Fight Climate Change
Communities adapt with just a little help from Concern Worldwide
Would you be surprised to discover that climate change is one of the biggest threats in the fight to end global poverty? It's true — and according to The World Bank, the effects of climate change have the power to push an additional 100 million people into poverty over the course of the next decade.
It's clear: we must tackle climate change if we want to tackle poverty.
Since conflict and climate disasters are two of the biggest drivers of hunger and poverty, building resilience to the specific risks they each present is critical.
Both require urgent action, but the focus here is on climate-related natural disasters, including the widespread droughts caused by El Niño, which leave millions of people without food, pushing them further into poverty, and making recovery more difficult. Across the developing world, progress thought to be sustainable is undone by these recurring, climate-induced shocks.
CHAD
In the 2016 Climate Change Vulnerability Index, Chad was ranked as the world's most vulnerable country to global warming. This is no more evident than in Lake Chad, which straddles its western border with Niger and Nigeria. The total volume of the lake's water — a vital resource to some 50 million people in the Lake Chad Basin — shrank by a staggering 90% between 1963 and 2013.
To the east, periodic droughts and flooding have made life increasingly difficult for farmers. Here, 85% of the population relies on rain-fed crop production to eat and earn money. But with increasingly erratic rains, many face food shortages. Through a consortium called BRACED (Building Resilience and Adaptation to Climate Extremes and Disasters), a multi-agency, mutli-national initiative, helps people like Achta Sakine are given help to battle against the effects of global warming. In Wandalou, the 27-year-old mother of 5 struggled with low harvests.
In this area, Concern has also helped introduce agroforestry, the intentional planting of trees for environmental (and economic) benefits. The crop-friendly trees improve the soil's fertility, and provide mulch, which helps the land retain its nutrients and moisture.
With little income, she was forced to withdraw her children from school. But that changed when she learned about climate smart agriculture, a way of planting crops that preserves as much moisture in the soil as possible. She also started a home garden, of wild and domestic fruits, to encourage diet diversity. The garden helps the soil recover from the planting, so that Achta's harvests are more successful.
As for Achta, she now grows sweet potatoes, beans, peppers, tomatoes, and more. And in the last year, thanks to her home garden, she grew enough to not just feed her family, but send her children to school with the money from selling the surplus.
SOMALILAND
The effects of climate change on Somaliland have been detailed before: a blistering drought has ravaged the area, littering the landscape with the carcasses of livestock that have died from dehydration. Emergency response has been ramped up, but recovery is expected to take at least two consecutive seasons with good rainfall.
Predictions show that for many in Somaliland, there will not be enough to eat, so it is vital not just to help people through this drought, but to help communities better cope with these climate shocks in the future. To do this, Concern is part of the BRCiS Consortium, Building Resilient Communities in Somalia.
Concern has introduced new approaches, such as earthen berms to protect topsoil and help prevent rainwater runoff. Structural improvements are combined with training of farmers on how to make best use of the dry and sandy soil in Somaliland, supplying seeds and tools in addition to training.
One of the most successful initiatives has been the establishment of fruit tree nurseries. These trees continue to produce fruit like lemons and oranges, despite erratic rainfall and long dry spells. They also help soil fertility, increasing the likelihood that farmers will be able to harvest other crops. Fruit tree farmers produced on average 13 bags of each fruit type each year. In Somaliland, these trees provide a surplus of fruit that can be sold for a profit and help many in the community make it through drought.
MALAWI
Malawi was hard hit by the El Niño induced droughts 2 years ago, leading to one of the worst crop failures in a generation. Up to 4 million people needed assistance, and a national disaster was declared by the President. Malawi's economy is dependent on its agriculture, so climate-related shocks are especially damaging.
Fishani Nyirenda's family received vines of sweet potatoes, which can be fairly drought resistant and have a short cycle, meaning they can be planted, grown, and harvested quickly. For Fishani, planting sweet potatoes has been a success. She is no longer as reliant on growing corn, which is very susceptible to changing weather patterns, and she looks to invest the income she receives from selling her surplus. Concern works with communities in some of the worst affected districts to build resilience to global warming. In Malengachanzi District, households have been trained in conservation agriculture, including irrigation training, to maximize water efficiency. This is vital in Malawi, where increasingly erratic weather can cause food shortages.
Concern also worked with nearly 16,000 families in Mangochi, establishing backyard vegetable gardens and planting almost 450,000 trees in woodlands, around homes, and on bare hills and riverbanks. As in Somaliland, these trees help hold dry soil, and increase its fertility to make planting more viable. Vetiver grass was also planted to reduce erosion in flatlands and gullies.
These small climate-focused initiatives have made huge changes to communities here, building their resilience to droughts and floods in the future.
---
This blog post was originally posted at www.concernusa.org and has been adapted for the InterAction site.