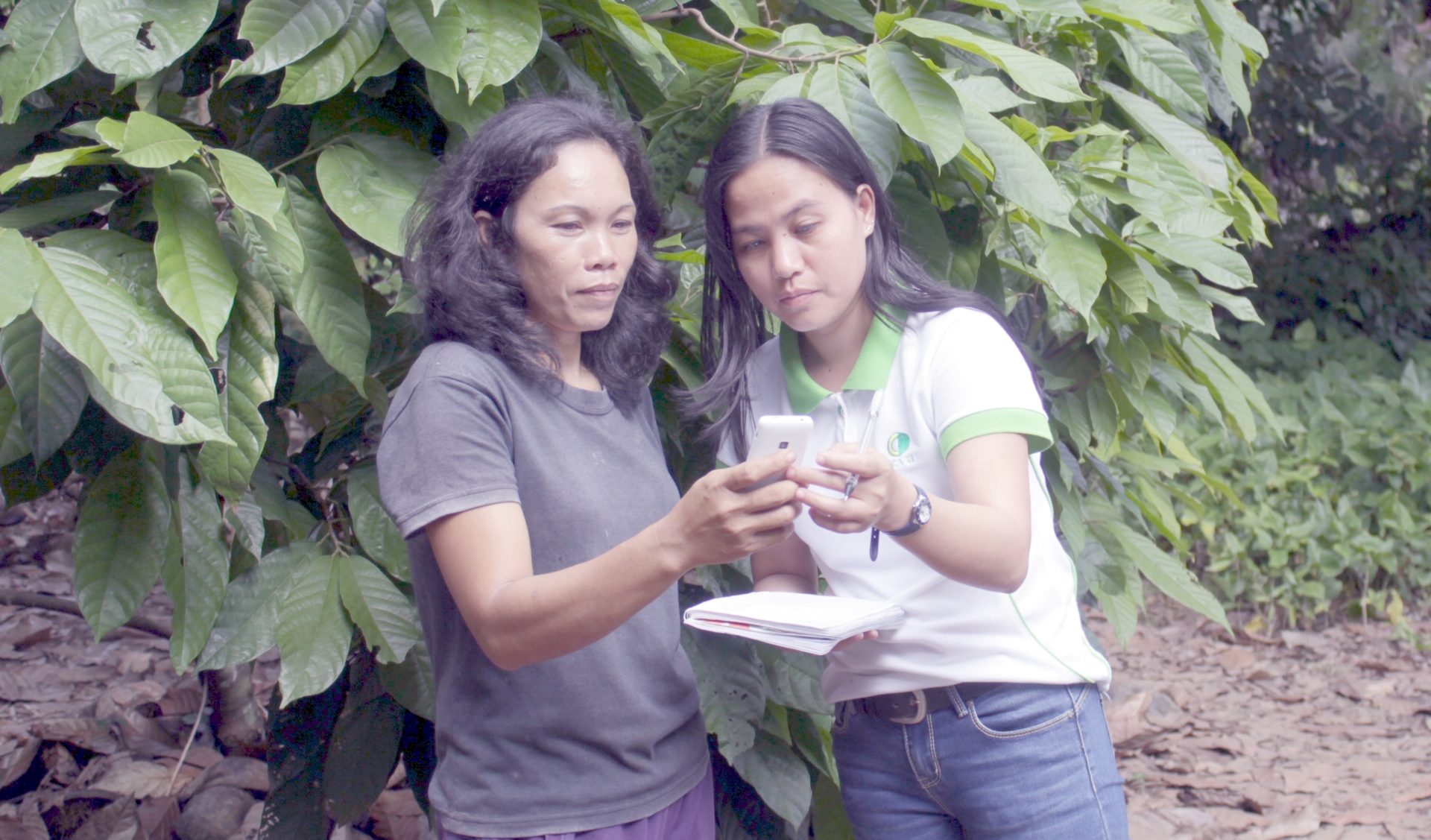 Fighting poverty with data
One September morning in 2017, coconut farmer Edna Bacquiano received an alarming text message on her mobile phone. It warned of the nearby outbreak of a dangerous insect that thrives during dry spells, kills leaves and stunts trees. Today, Edna describes that message as the best she's ever received. It helped save her farm during a pest outbreak that prompted the destruction of 644,000 coconut trees on the Philippine island of Mindinao.
For a Filipino coconut farmer earning less than US $400 a year, the loss of trees means deeper poverty. But, as a member of Grameen Foundation's FarmerLink program—which amalgamates satellite weather data, geo-data, agronomic expertise, farm-level and financial data—Edna was able to take action.  She was one of thousands of farmers not only forewarned of the calamity, but also provided with farming advice and management plans to improve the productivity and sustainability of their farms.
FarmerLink is but one example of the potential of digital technology and data to end poverty and hunger at a time when new approaches are urgently needed. Today, the smart use of digital data and other related technologies should be made core to every major initiative and successful pilot initiatives should be scaled up to reach millions. At the same time, it is essential to have in place policy frameworks that protect individuals and support social good.
Such approaches are rapidly transforming industry after industry around the world. But they have yet to be embraced in the fight against poverty—and that fight is at a pivotal moment.  After 25 years of progress, which saw nearly one billion people exit extreme poverty, the global rate of poverty reduction has slowed from about 1 percent a year to as low as 0.5 percent. More alarming, poverty is rising in Africa and now stands at 41 percent. Meanwhile, global hunger is near a ten-year high, with one out of every nine persons chronically hungry.
Critical to helping is understanding.  Yet we know surprisingly little about the needs and opportunities of those living in extreme poverty, 70 percent of whom are smallholder farmers and their families. Digital data flows—facilitated by mobile phones, smart programs and powerful partnerships—allow us to understand the individual circumstances, behaviors and motivations of the poor.
Just as with the data wizardry at Amazon and Facebook, data about and exchanged with poor people is both individual and scalable. Data analytics allow us to use that information to develop targeted services and products that empower poor people to make better decisions on the right technical and financial support, investments and market engagements.
Opportunities to accelerate the fight against poverty apply not only to agriculture, but also in health, citizen agency and many other key areas for the poor. These can be applied across the landscapes of aid, social investment, government service and humanitarian relief.
As an example, the combination of big data and precision mapping recently enabled researchers to map the hot spots of child mortality from diarrhea across Africa, where it is the third leading cause of death and disease in children. The study found that more than half of these deaths occurred in just 55 of 782 government jurisdictions—allowing national health systems to target their interventions to save lives.
Need for a global framework
Even as the number of pilots and even large-scale applications of digital technologies and data for social good grows, a major gap must be addressed. The private and public sectors must agree upon a global framework for digital data that protects clients and promotes human development as a common good.
Such frameworks are emerging, with varying results. The United States has adopted a market-based approach in which data is primarily used for private gain, with limited protections of privacy rights or applications to social good.  Europe has adopted an activist approach with established rules for client consent, intended to protect the privacy and rights of clients and subjects of data collection.
China's state-led approach relies on central control and censorship but can also leverage the greater common good. For example, it has used data to benefit the country's 200 million farmers through its national fertilizer database. Data analysis led to changes in farm practices that achieved zero growth in fertilizer use, while increasing farm productivity and reducing environmental degradation.
Meanwhile, India officially views digital information as a public good and a private right, according to Nandan Nilekani, Chair of the Unique Identification Authority in India. Data—owned by clients and shared with their consent—is associated with their Unique Identification (or Aadhar) number. In combination with other digital systems, Aadhar enables citizens to access government and financial services online, potentially extending financial inclusion to India's poorest.  This approach intends to balance the interests of the state, the private sector and the clients.
Digital data opens up the connections and the understanding we need to help second billion out of poverty. The troves of data already being collected—including on the world's poor—need to be ethically handled, while future development programs that responsibly leverage data could offer opportunities to reach the global goals of zero poverty and zero hungry in record time.
---
This blog was written by Steve Hollingworth, president and CEO of Grameen Foundation.