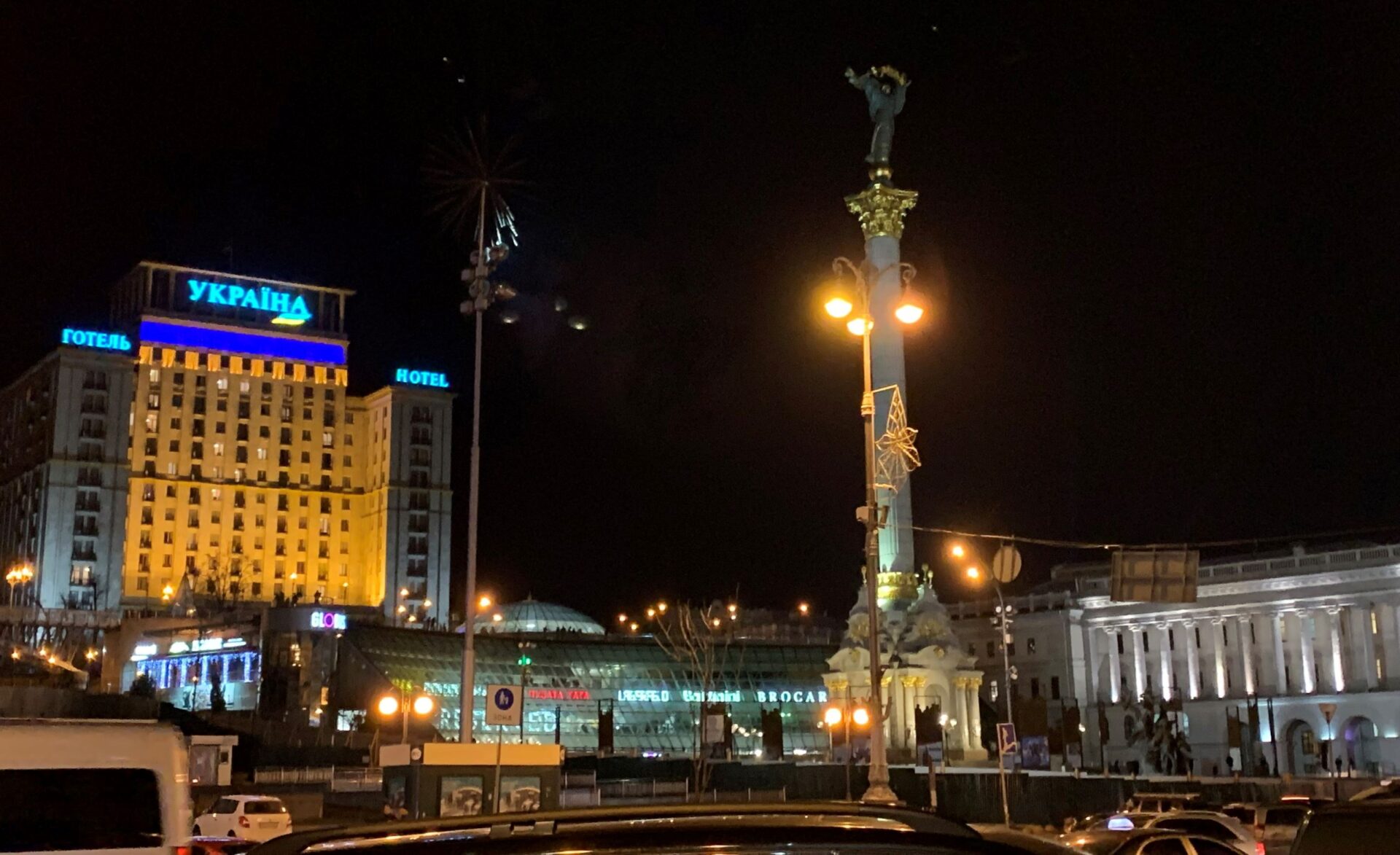 Ukraine: NGOs On The Ground
InterAction provides tailored Media Alerts highlighting the work our Members are implementing around the world. This week's Media Alert focuses on the NGO response to the crisis in Ukraine. If you would like to learn more about any of the following information, please feel free to reach out directly to the point of contact provided.
---
Mercy Corps Prepares Response to Ukraine Crisis
Diana Tonea, Mercy Corps Global Emergency and Cash Advisor from Sighet, Romania (at the Ukrainian/Romanian border), said on February 28:
"Ukrainians are mostly crossing into Romania by foot, the majority women and children who have been separated from their families. They arrive very disoriented and in shock, and while some have friends and family in Romania, many don't know what their next move is. There is a lot of support coming from civil society, local volunteer groups, and local authorities, however there is a clear gap coordinating the relief effort. These border towns are overwhelmed and will be unable to manage this growing influx of refugees without support."
Mercy Corps has team members on the ground in Poland and Romania, available for media interviews, who are assessing the refugee situation to determine the organization's response.
For more information, please email Lynn Hector, lhector@mercycorps.org.
---
International Medical Corps Is Providing Relief to People Affected by the War in Ukraine
This hub page on the International Medical Corps website, which is regularly updated, gives an overview of the global humanitarian aid agency's activities in the country, where it has been providing medical, mental health, and protection services in conflict-affected areas since 2014.
For more information, please email Todd Bernhardt, tbernhardt@InternationalMedicalCorps.org.
---
Project HOPE  On the Ground Responding to Ukrainian Crisis
Project HOPE has deployed team members to Poland, Romania, and Moldova as part of our urgent response to the Ukrainian crisis. Our regional manager for the Balkans, Vlatko Uzevski, is on the ground in Poland, where more than 150,000 Ukrainians have already crossed the border seeking safety.
In addition, Project HOPE is actively shipping two tons of essential medicines and medical supplies to help refugees affected by the Ukraine Crisis. These Interagency Emergency Health Kits (IEHKs) are designed to meet the initial primary healthcare needs of displaced populations in areas where there is no access to medical facilities. These kits include enough supplies to serve 20,000 people for three months.
For more information, please email Cinira Baldi, cbaldi@projecthope.org.
---
Keystone Moldova Provides 700 Meals for Ukrainian refugees
Keystone Moldova has provided 700 meals so far for Ukrainian refugees as part of the first steps of disability-inclusive relief efforts.
As a part of Keystone Human Services in the United States, Keystone Moldova draws on KHS's 50-year history of supporting people with disability and vulnerable children and families within the community. KHS is a large, diverse, multi-national human services provider based in Harrisburg, PA. Keystone Moldova has 20 years of experience in deinstitutionalization, supporting over 600 people with intellectual disability to leave institutions, and has developed hundreds of new, sustainable, inclusive community-based services and worked alongside people with disability to build a network of self-advocates.
For more information, please email Kris Weaver, kweaver@khs.org.
---
Toll-Free Hotline Support Service for Ukrainian Refugees with Disabilities in Moldova
As the Republic of Moldova welcomes Ukrainian refugees, Keystone Moldova offers a crucial service for people with disability within the country—a national hotline support service for people with disability in need of protection, support, and information.
The toll-free hotline gives people with disability, their families, and caregivers access to resources and counseling, as well as a way to report and address rights violations. The hotline has been successfully used during the COVID-19 pandemic to connect people with disability to resources and help ensure equitable access to health services.
For more information, please email Kris Weaver, kweaver@khs.org.
---
Global Communities Stands with Ukrainian Colleagues
"The entire Global Communities family stands with our Ukrainian colleagues and their families. The images from Ukraine are heartbreaking, but our colleagues are incredibly resilient. Their safety, and that of their families, is our most important priority. We are offering a full range of support, including relocation assistance, regular safety and security check-ins, and psychosocial support. We will continue to monitor this rapidly changing situation and do all we can to support our dedicated team in this moment of crisis."
Since 2016, Global Communities has led an international consortium of American, Ukrainian, and Polish organizations to implement the program Decentralization Offering Better Results and Efficiency (DOBRE) across Ukraine, funded by the United States Agency for International Development (USAID). USAID DOBRE works in 100 Consolidated Communities in 10 Oblasts of Ukraine. DOBRE strengthens local governance to deepen democracy, improve conditions for the development of communities, promote gender equality and women's empowerment, and enhance economic sustainability. The program builds the capacity of local governments to more effectively manage resources and deliver services that respond to community priorities, as well as improves citizen engagement and oversight of local governance.
For more information, please email Melissa Silverman, msilverman@globalcommunities.org.
---
World Renew Partners in Ukraine Conflict Response
World Renew is working with global and regional partners to respond to the needs of vulnerable families in Ukraine and addressing refugee needs by helping people flee to Slovakia and Poland. Additional partners in Kyiv will respond when military operations make that possible.
For more information, please email Beth DeGraff, marcomm@worldrenew.net.
---
Medical Teams International Calls for United Global Effort to Address Unfolding Humanitarian Crisis in Ukraine
"We are deeply grieved by the rapidly unfolding situation in Ukraine and urge the immediate cessation of hostilities and respect for international law. We anticipate great humanitarian need and displacement in the region," said Martha Newsome, President & CEO of Medical Teams International. "Medical Teams is swiftly working with our partners to assess how we can be of most effective assistance. As we formulate our response, we are praying and standing in solidarity with the people of Ukraine."
For more information, please email kpiatt@medicalteams.org.
---
Bombing, Shelling in Populated Areas Cause Incredible Suffering for Civilians
According to early reports, 100 civilians have been killed and 300 injured. Bombing and shelling in populated areas cause harm to civilians in a tragically predictable way, which has been systematically observed across conflicts. Humanity & Inclusion calls for an immediate end to the hostilities, and for the protection of civilians and civilian infrastructures from the effects of war. The use of explosive weapons in populated areas must stop. Civilians in Ukraine must have access to humanitarian aid, and their movements must be protected when they flee the conflict.
For more information, please email Elizabeth Johnson e.johnson@hi.org.
---
Americares Emergency Response Team is Ready to Help Families in Ukraine Access Essential Health Care Services
As the conflict in Ukraine escalates with Russian troops attacking and casualties mounting, Americares Emergency Response Team is ready to respond to support families caught in the violence or displaced by the crisis. Americares is prepared to provide medicine, medical supplies, emergency funding, and medical professionals to help families access essential health care services.
For more information, please email Jacqueline Serna, jserna@americares.org.
---
KIND Urges E.U. Protection, Lifelines for Ukrainian Refugees
Kids in Need of Defense (KIND) urges the United States to provide TPS to Ukrainians. KIND and its partners across Europe are focusing on protection efforts that ensure families remain unified and children fleeing alone are safe. We encourage nations to receive those fleeing Ukraine at the border, grant them access to asylum procedures, and help these refugees reach and reunify with family that may have fled to other parts of Europe.
For more information, please email Megan McKenna, mmckenna@supportkind.org.
---
Statement By The Alliance For Peacebuilding On The Conflict In Ukraine
The Alliance for Peacebuilding issued a statement condemning the unprovoked Russian military invasion of Ukraine and calling on the international community to continue diplomacy, support the people of Ukraine with unimpeded humanitarian and peacebuilding resources, and tackle Russia's cybersecurity disinformation campaigns.
For more information, please email Nick Zuroski, nick@allianceforpeacebuilding.org.
---
L.A.-Based NGO, Operation USA, Preparing to Aid Ukrainian Refugees in Poland and Neighboring Countries
As experts anticipate as many as 4 million Ukrainians to be displaced following the Russian invasion, Operation USA—a 43-year-old LA-based NGO—is mobilizing to provide material aid support to groups providing on-the-ground support to refugees in Poland and nearby countries. OpUSA's ability to deliver aid at this time is dependent upon financial support from the public as well as engagement from corporate partners capable of donating supplies—food and water, new clothing, blankets, flashlights and batteries, first aid supplies, health and hygiene items, shelter materials, medical supplies and equipment, and other disaster-appropriate items—in bulk quantities.
For more information, please email Mary Dolan, mdolan@opusa.org.