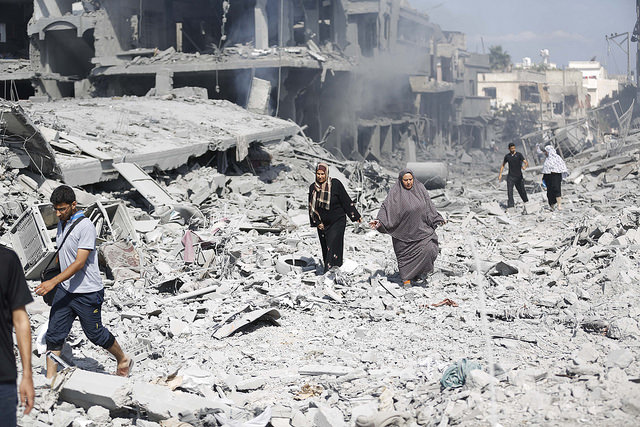 What You Need to Know about the Protection of Civilians During U.S. Partnered Operations
The United States often relies on military partners—allied forces or non-state armed groups—to pursue its strategic objectives. Yet these partnerships can increase the risks posed to civilian populations in armed conflict, including injury, trauma, displacement, even death. A new report, The Protection of Civilians in U.S. Partnered Operations, from InterAction, the Center for Strategic and International Studies (CSIS), and the Center for Civilians and Conflict (CIVIC) suggests that it is possible for the U.S. to affect the conduct of its security partners to minimize the harm to civilians.
What are U.S. partnered operations?
In military operations, the U.S. has increasingly moved toward working with partner governments and non-state armed groups to achieve common security objectives. Partnerships may improve the ability of an ally state to maintain control over its territory, bolster non-state forces in fighting off an enemy, or may signal a unified front in deterring a common adversary—in the U.S.-led coalition and partner actions against the Islamic State of Iraq and Syria (ISIS), for example.
Why are civilians at risk?
In 2017, nearly 12 million people were newly displaced due to conflict within their national borders, bringing the worldwide number of internally displaced people as a result of conflict to 40 million. The impact of fighting on civilians is particularly acute in urban areas, resulting in the destruction of homes, schools, roads, telecommunications infrastructure, and hospitals. This disrupts people's everyday lives and the delivery of critical supplies and assistance.
Humanitarian organizations respond to conflicts by seeking to ensure civilians are safe and their basic human needs are met. However, a confusing mix of policies, legal frameworks, and partnership arrangements guiding partnered operations means that it can be difficult to know who humanitarian actors should engage with, and how, in order to ensure that armed groups conduct themselves in a manner that protects the lives and property of civilians.
---
Listen to an episode of Intercross the Podcast produced by ICRC, featuring report authors, Jenny McAvoy, InterAction Director of Protection, and Dan Mahanty, Director of CIVIC's U.S. Program.
---
What are a few of the key recommendations to address this issue?
For humanitarian and human rights organizations: Play an active role in operational planning to mitigate civilian harm. Civil society organizations should dedicate time and money to understanding military operations, including educating their staff and developing relationships with military actors. Humanitarian and other civil society organizations can help channel information on civilian perspectives and help ensure that they are taken into account, for example, during military planning and in after action reviews.
For policymakers: Design partnerships that incorporate and prioritize the protection of civilians. By anticipating potential issues, the United States can emphasize the importance of civilian protection to partners from the beginning of a program or mission. Successful operations that integrate strategies to protect civilians can enhance perceptions of government legitimacy and effectiveness, and yield concrete results.
For the U.S. military: Reinforce good partner policy and practice. Discussions with partners about assistance and partnership must set an appropriate tone and understanding of shared expectations for conduct and accountability. It is necessary to do this in a way that makes sense to partner forces especially when, during fighting, the learning curve may be accelerated. It is also important for the U.S. military to demonstrate to its partners constructive dialogue and interaction with civilians, local leaders, and nongovernmental organizations.
---
Watch a video from the report launch event hosted by CSIS.
[Comments from Jenny McAvoy, InterAction Director of Protection, begin at 3:04]
Related Resources: