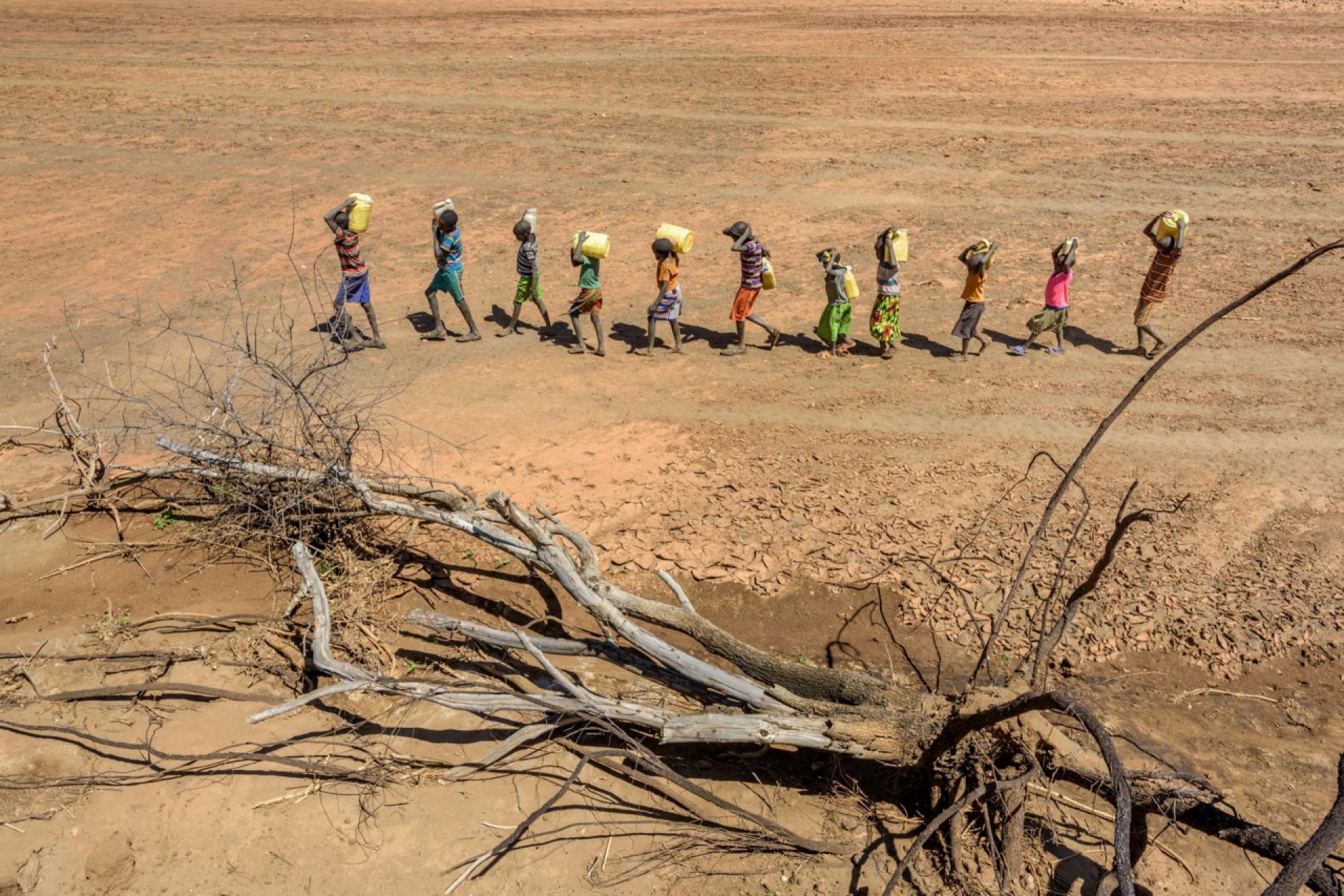 World Water Week Opens Amidst World Water Woes
Water, water every where,
Nor any drop to drink.

-Samuel Taylor Coleridge, The Rime of the Ancient Mariner (1798) 
World Water Week opened in Stockholm, Sweden—and virtually on laptops around the world—on Tuesday, August 23. This week-long conference could not have come at a more fitting time. The world is facing historic levels of water-related natural disasters. Droughts and floods are hitting almost every region of the planet simultaneously. And war is destroying people's access to water, sanitation, and hygiene. No matter where you look, water woes abound.
The worst drought in 500 years has hit Europe. It has drastically lowered the water level in rivers such as the Rhône, Rhine, and the Elbe—rendering them crossable on foot in areas and revealing sunken World War II ships and "hunger stones," which demarcate the water levels during past droughts and their associated famines. The current drought has also had an impact on trade and energy production due to the central role Europe's rivers play in commodity and fuel transportation.
Water crises on the continent have not been limited to climate-induced changes in water levels. In Ukraine, the ongoing destruction of infrastructure by Russia is denying over 1 million civilians of access to basic water, sanitation, and hygiene (WASH) systems.
The African continent has not fared much better. Four consecutive years of below-average rainfall in the Horn of Africa have culminated in the worst drought the region has experienced in more than 40 years. As a result, more than 18 million people are facing extreme hunger and millions have been displaced in Somalia and Ethiopia—forced to abandon their homes in search of food and water. Simultaneously, just to the northwest, Sudan is experiencing an entirely separate water-related crisis, with heavier than normal rainfalls resulting in destructive—and sometimes deadly—flooding in the rural areas south of the capital.
In Asia, China's ongoing and unprecedented heat wave has almost dried up the Yangtze River and has shrunk Poyang Lake, the largest lake in China, by two-thirds. Hydropower, 15% of China's total energy supply in 2021, has sputtered so low that the country is experiencing mass electricity shortages that could potentially prompt a major shift back to coal power. Meanwhile, in western China, flash floods have wreaked havoc in populated areas and devastated lives and homes.
The Middle East, a region familiar with droughts and limited water resources, is facing deadly flash flooding in both Afghanistan and Pakistan. The flooding in Pakistan has affected more than 30 million people and led the country to declare a national emergency. In Afghanistan, the Taliban have struggled to respond to flash floods that have killed more than 180 people and destroyed thousands of homes—a major challenge for a new and tenuous government.
Finally, multiple countries in Latin America are facing major droughts. Chile is continuing to manage an unprecedented 13-year drought, the longest and most severe drought the region has experienced in more than 1,000 years, and has had to turn to water rationing plans to cope with the ongoing crisis. Brazil, meanwhile, is contending with its own drought that is greatly reducing this year's crops of coffee, cotton, and grains.
This confluence of water-related natural disasters and extreme weather patterns shows that climate change is greatly shifting how water flows around the planet. We've known for a long time that climate change can lead to more and deadlier droughts and floods, but this year, the impact is impossible to ignore.
The ongoing crises demonstrate how vital it is to develop water security and climate resilience strategies that will lead to more comprehensive action by global governments and a renewed focus on building global water security by the NGO community and private industry.
World Water Week offers a look into the many ways people, organizations, and governments are engaging in these issues, with many sobering sessions and new data that drive home the importance and urgency of the global climate threat and its impact on water security.
To help showcase just how interconnected water issues are with other sectors and issue areas, two phenomenal InterAction summer interns researched and wrote three blogs related to WASH:
The InterAction WASH Working Group will continue to bring attention to these issues and advocate for more action on every level. For more information about the WASH Working Group, please contact Chris Askew-Merwin, Policy and Advocacy Coordinator at caskewmerwin@interaction.org.