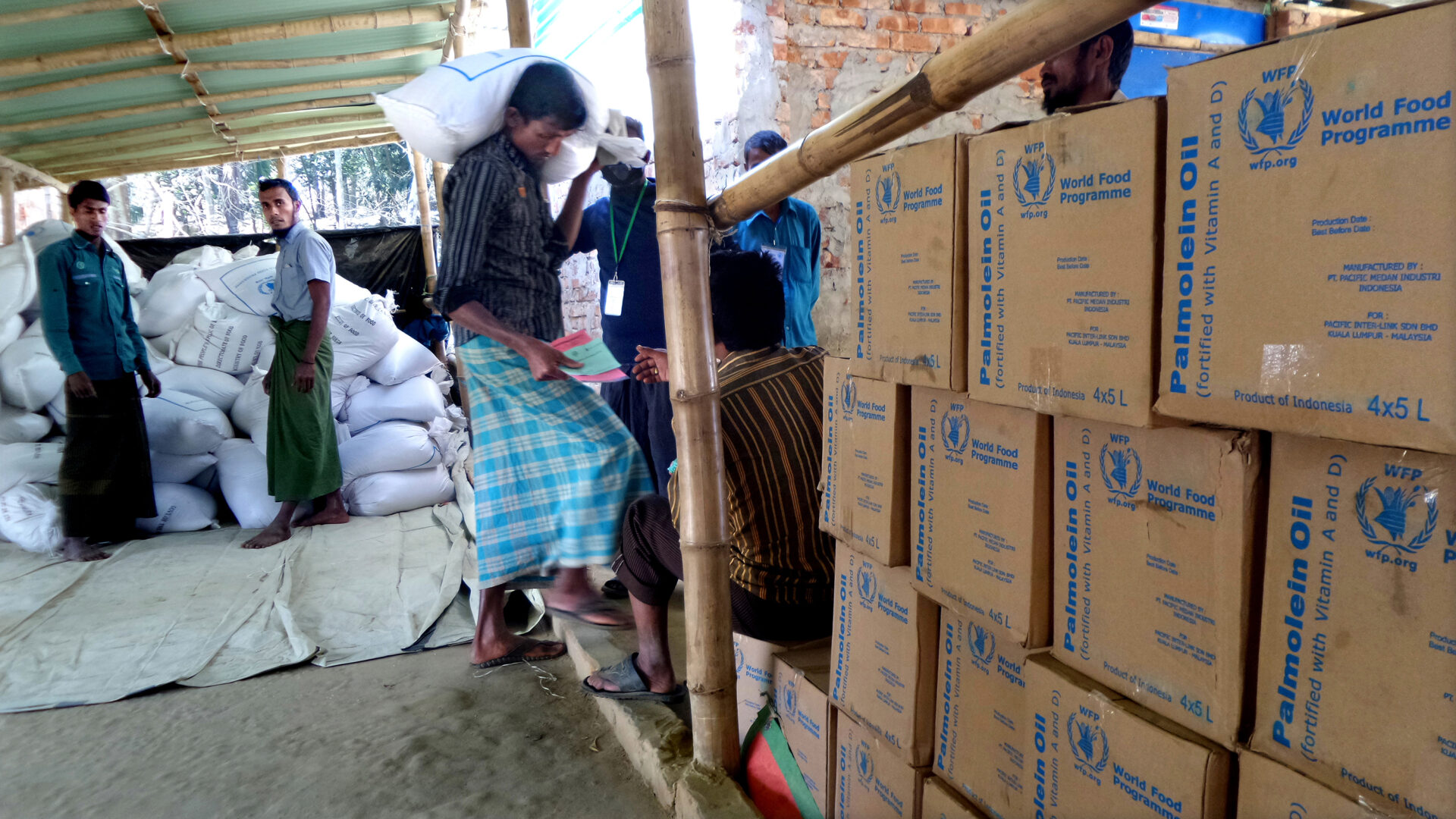 Launching the Risk Management Scorecard
Leveraging Data for Actionable Insights on Organization Capabilities
The scale, scope, and complexity of humanitarian crises have increased significantly over the past decade and show no signs of slowing. From the Horn of Africa to Afghanistan, global humanitarian needs are expanding, as are the risks associated with delivering assistance. Increasingly, NGOs adopt enterprise risk management models to coordinate efforts within their organizations, using a holistic approach to respond to new threats and vulnerabilities that surface.
Yet some risk management processes and capabilities struggle to keep pace with evolving operational or programming realities. Research from InterAction and CDA Collaborative Learning uncovered challenges around how NGOs assess organizational risk management approaches and evaluate whether they are on track to deliver results. Traditionally, organizations use audit and assurance processes to evaluate internal controls and processes. Although these are important tools, they often only capture one side of the story, making it difficult to fully understand root causes underlying poor performance.
InterAction and CDA saw a clear need: a practical way for organizations to better understand the effectiveness of their risk management efforts and identify improvement opportunities fit for rapidly changing contexts. The Risk Management Scorecard (RMS or "the scorecard") is designed to meet this need. Integrating practitioner insights and data collected by InterAction over the last six years, the scorecard is a powerful resource that can be used jointly with other assurance tools to help organizations evaluate and improve their risk management approaches.
Using the Scorecard to Unlock Actionable Insights
The RMS is a diagnostic tool accessible to any NGO interested in identifying strengths and weaknesses in their current risk management capabilities and practices. It gives organizations access to new and actionable insights that are typically difficult to uncover. It will help NGOs and their teams:
Assess the impact current risk management models have on staff, partners, affected communities, and overall program quality.
Identify common risk management traps and how they affect the organization.
Prioritize focus areas for breaking traps, make evidence informed decisions, and continually improve.
Develop greater awareness of how risk management approaches are viewed across the organization and how gaps in understanding or priorities might affect teams, programs, and humanitarian objectives.
As an Excel-based tool, the RMS starts with a survey that takes most respondents 45 minutes to complete. Respondents can instantly access their results in a summary dashboard, explore detailed scores, and identify areas that need immediate attention.
The survey can be completed either by an individual reflecting on their organization as a whole or by multiple individuals responding based on their respective roles. Results are visualized using a "dial chart" showing the areas of greatest weakness and strength for each survey completed, offering rich comparison potential. Users can also explore the detailed responses, highlighting areas that need improvement versus those that can be celebrated.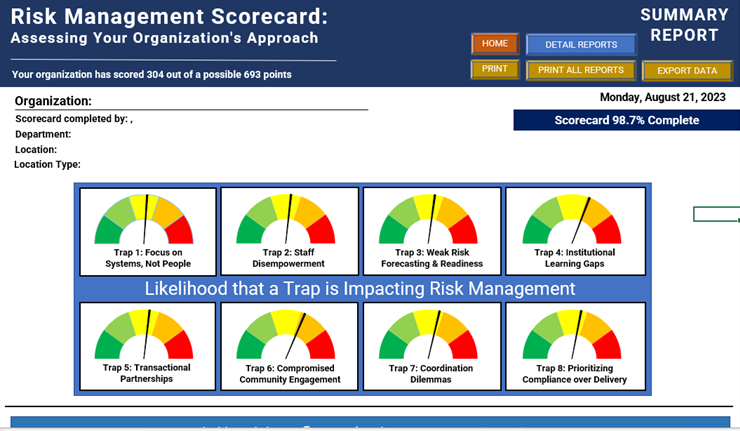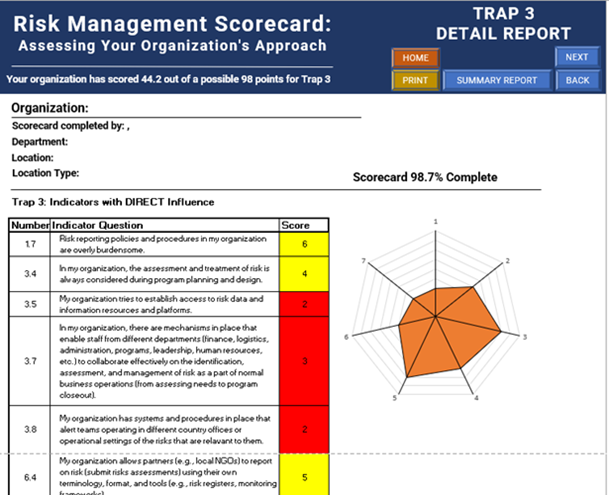 As a standalone tool, the Risk Management Scorecard allows users to export summary and detailed reports to use alongside other internal accountability processes or broader organizational planning. Additional complementary tools and guidance for analyzing the RMS data and insights can be found in the NGO Learning Guide on Risk Management or the accompanying Resource Guide, both developed from the research noted above.
Here are a few ways to consider using the RMS:
As part of a dedicated workshop or learning event on risk management, with findings later aggregated by organizers and presented to leadership for follow-on action.
During a recurring enterprise risk management committee meeting or by individual team members at the country level (e.g., senior management team).
In specific organizational departments or functional meetings (e.g., annual country directors' meeting, global technical meetings, regional meetings, or routine department planning across finance, human resources, operations, or other functions).
With current or potential partners to plan coordination based on relative strengths or to establish systems based on identified needs and gaps.
For strategic attention in senior management team or board meetings.
As your organization uses the scorecard, share your feedback! We are eager to understand how the RMS can help your NGO today and for new humanitarian challenges on the horizon.
—
For more information about the evidence base informing the Risk Management Scorecard, or to access additional resources relevant to risk management in humanitarian action, click HERE or visit the CDA Collaborative website.
For more information on using the scorecard, contact InterAction Senior Manager Lindsay Hamsik at lhamsik@interaction.org.