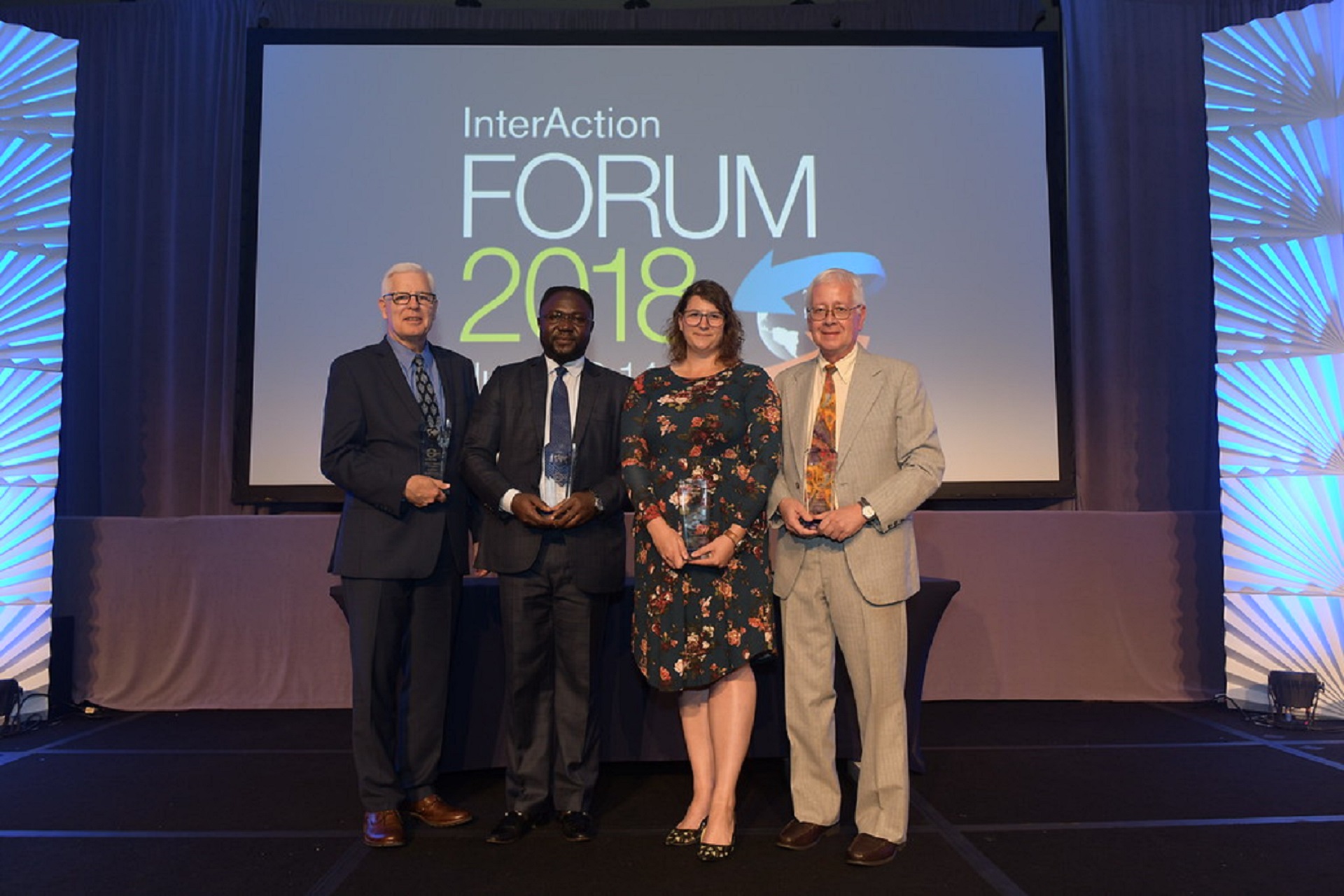 2018 InterAction Forum Award Winners Announced
Every year, InterAction's annual awards recognizes outstanding leaders within the global development and humanitarian sectors. These individuals are leaders who are shaping the evolution of the U.S. NGO sector and generating greater awareness in the U.S. of global poverty.
Our 2018 award recipients have made significant contributions to defend and advance the rights of people living in the poorest and most vulnerable communities across the globe. They have shown leadership to support aid workers subjected to sexual violence, provide HIV prevention services to isolated communities, and secure orthopedic equipment to individuals living with disabilities.
Here are our 2018 award winners:
Heartland Alliance International Nigeria –  Distinguished Security Achievement Award
Since 2009, Heartland Alliance International (HAI) Nigeria has worked to bring high quality and respectful HIV prevention services to some of the country's most stigmatized groups. That effort has grown to become one of the largest USAID-funded HIV programs for key populations – including members of the LGBTI community, sex workers, and people who inject drugs – in Sub-Saharan Africa. HAI has expanded its programming in Nigeria to focus on the needs of women and girls and has been training service providers to work with women and children who have been trafficked by Boko Haram and other militarized groups in Northeastern Nigeria.
Jay Nash – Disability Inclusion Award
Jay Nash is a regional advisor for USAID's Office for Foreign Disaster Assistance based in Kinshasa, DRC.  In 2001, Nash founded StandProud — a volunteer organization — on the belief that a healthy society is one that encourages the full integration of disabled persons into a society in which all people with disabilities have access to orthopedic equipment that will allow them to achieve maximum possible dignity, mobility, and independence. StandProud provides free mobility-enhancing treatment and equipment and improves the dignity and social integration of impoverished children and youth with motor disabilities in the DRC.
Megan Nobert – Humanitarian Award
Megan Nobert is a Canadian born legal professional and academic specialised in international criminal law and human rights. As a humanitarian, Nobert worked in in the Gaza Strip, Jordan, Lebanon, and South Sudan on issues of humanitarian law and gender-based violence. In 2015, Nobert founded Report the Abuse, whose mandate was to end the silence on sexual violence against humanitarian aid workers.  The organization has been instrumental in breaking down barriers within the humanitarian community, inspiring survivors of sexual violence to speak up, and creating the first good practices tools to assist humanitarian organizations address sexual violence against their staff.
Richard Stearns – Julia Vadala Taft Outstanding Leadership Award 
Richard Stearns has been president of World Vision since 1998. During his tenure, Stearns has built a strong leadership team focused on bringing corporate best practices to the non-profit sector which has helped grow the organization into one of the most respected international relief and development organizations in the world. Stearns' passion to raise awareness and support for poverty and justice issues has been instrumental in calling the church in America to respond to some of the greatest needs of our time, most notably the HIV and AIDS pandemic and, more recently, the global refugee crisis.