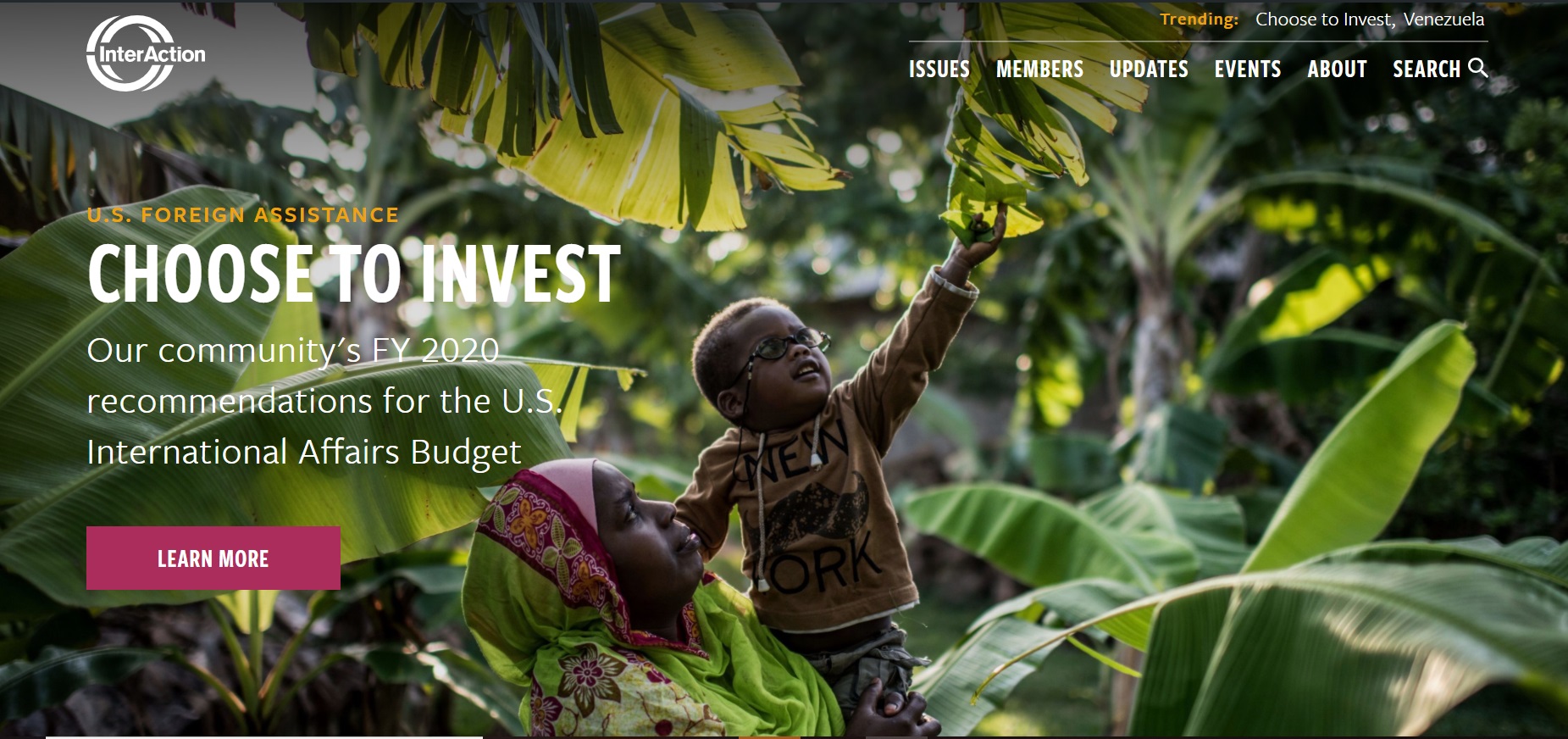 February in Review: A New InterAction.Org, Oral History Initiative, CEO Survey
February was a busy month for us here at InterAction! See what our team has been up to over the last month:
CEO Note
A New InterAction.Org
It is my pleasure to present InterAction's new website (which was made possible thanks to generous funding from the Bill and Melinda Gates Foundation) and branding.  As an organization that represents a diverse but united constituency, having strong messaging and a unique visual identity is at the heart of InterAction's ability to accomplish its objectives. Built around our core strengths, the new site will serve as a communications tool and means to share our community's story, and as a resource for our members, allies, and partners in advancing the role of NGOs and the principles that undergird effective development and humanitarian assistance.
Humanitarian Policy and Practice
Outcome report: Stock-take on the IASC Protection Policy and the Centrality of Protection
In October 2018, two years after the adoption of the IASC Policy on Protection in Humanitarian Action (2016), InterAction and OCHA, on behalf of the Global Protection Cluster, co-convened a stock-take on the implementation of the policy and the IASC Principals Statement on the Centrality of Protection in Humanitarian Action (2013). The meeting took place in Amman, Jordan, and brought together 45 practitioners and humanitarian leaders from diverse agencies, clusters, and country contexts. Key themes of discussion included the challenges of outcome-oriented approaches to protection, working collectively for protection outcomes, and influencing state and non-state parties to conflict for protection outcomes.
The stock-taking exercises resulted in a clearer, shared view of core priorities to fulfill the vision of centrality of protection in practice, particularly through:
Investing in effective leadership for protection outcomes, and
Stimulating analysis, learning and enhanced skill sets for collective protection outcomes.
Membership
Scholarship opportunities available through Middle Institute of International Studies 
The Middlebury Institute of International Studies (MIIS) at Monterey is an academic community committed to preparing students for professional roles in cross-cultural, multilingual environments.  InterAction is excited to re-announce the continuance of the MIIS & InterAction Scholarship.
InterAction is continuing its partnership with MIIS to provide InterAction's staff or InterAction's member organizations the opportunity to apply for a guaranteed $25,000 scholarship toward a MIIS master's program.   With several degree programs in the international development sector, those who are considering a master's program will definitely find something in your area of interest at MIIS, and studying in sunny Monterey, California has it's benefits as well.
InterAction is also excited to announce the graduation of two MIIS/InterAction scholarship recipients:  A staffer from Save the Children and another staffer from Relief International.  And another fun fact, our very own Sam Worthington is an alumni from MIIS and actually met his beautiful wife there.
InterAction Forum
Forum 2019 Registration Now Open
Bringing together the most influential and inspiring organizations, change makers and executives from the public, private and NGO communities, InterAction Forum 2019 is a can't miss event. Forum provides unparalleled networking, topical and diverse breakout sessions and high-level general sessions for professionals addressing the needs of the world's poor and vulnerable through policy, initiatives and solutions.
This year's event will feature 40+ breakout sessions, prominent keynote speakers, InterAction awards presentations, a documentary screening and InterAction Gives Back community service projects. Click here to see more information and a schedule of events.
Fellows Program
New Initiative to Focus on Oral History of Development
In early February, representatives from nongovernmental organizations, universities, and think tanks as well as independent development practitioners met at InterAction to discuss establishing a development history center with InterAction. This new initiative is spearheaded by Jerrold Keilson, a Senior Fellow at InterAction, Michael Gubser, a history professor at James Madison University, and Dina Towbin, a development professional.
This effort plans to collect oral histories from development organizations and professionals; to promote a dialogue between practitioners and scholars; and the launch of pilot projects designed to highlight the value of historical understanding for development practice. At the February launch meeting, participants shared their thoughts on what needs the history collection would fill for the InterAction community and how to align it with comparable government and university efforts.
We welcome your thoughts and potential contributions to this initiative as it grows further, especially if your organization has done your own work collecting oral histories. To learn more, please contact Jerrold Keilson at jkeilson@interaction.org
NGO Futures
U.S. NGO Executive Thoughts on the Future – 3 Takeaways From This Year's CEO Survey
The ecosystem within which global development and humanitarian organizations operate will rapidly change over the next ten years. Sixty percent of NGO executives surveyed believe their organization needs to change more rapidly … yet the same proportion anticipate their business model is somewhat unstable but manageable. Widespread change is ongoing and upcoming.
Unlike during the financial downturn of 2009, advocacy and efforts to shape public sentiment are on the rise. Executives also suggest there is an opportunity to strengthen the knowledge among their board of directors of the changing sector realities and related understanding of how to help organizations thrive.
Given open-ended solicitation of how InterAction can help, executives popularly want to build peer collaboration and influence.
Be on the lookout as InterAction and NGO Futures strive to support adaptation in this changing world.
Links Just for You
The Politicization Of Humanitarian Aid for Venezuela Must End
As Financing for Development Changes, NGOs are Exploring Options Beyond Traditional Aid
UN: Nearly 2 in 3 Syrians in Need of Humanitarian Aid
Members Approve New NGO Transparency Standards and Guidance on Pharmaceutical Gifts-In-Kind